What Is The Whole30 Diet?
Last updated Feb. 19, 2018
Approved by: Krish Tangella MD, MBA, FCAP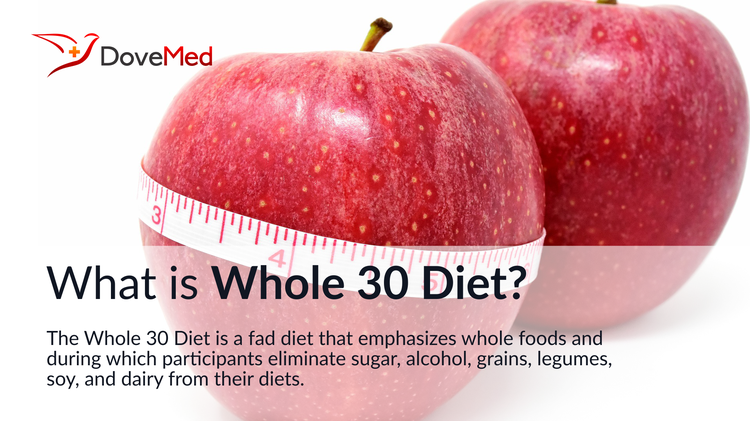 According to the makers of this creative diet, Dallas and Melissa Hartwig, the Whole30 Diet Program asks people to eliminate all major food groups, which comprise their staple diet for 30 days.
---
Certain food groups, such as trans fats, carbohydrates, sugar, dairy and grains, may have a negative impact on your health and fitness, without even you being aware of it. Overindulgence in these food groups can cause decreases in energy levels, leading to increased weight gain. Most of us have a difficult time trying to lose weight due to our unhealthy eating habits. We suffer from a number of disorders, such as obesity, hypertension, hormonal disturbances, and heart disorders, because of our unhealthy lifestyle habits and eating preferences.
To avoid these lifestyle chronic disorders and live a healthy life, we should opt for a cleaner and health-friendly diet.
What is Whole30 Diet Program?
According to the makers of this creative diet, Dallas and Melissa Hartwig, the Whole30 Diet Program asks people to eliminate all major food groups, which comprise their staple diet for 30 days. Stripping carbohydrates, trans fats, sugar, and dairy products from our diet is the core essence of Whole30 Diet Plan. To reduce weight, you should opt for totally eliminating baked, fried, and 'junk' food, as they are a rich source of calories and bad cholesterol. 
Eradicating all harmful elements from our diet will lead to reduction in weight and a decrease in our risk of acquiring common lifestyle disorders like diabetes and high cholesterol. The diet plan has even claimed to improve immunity, cognitive features, concentration power, and general well-being. As a part of the modified paleolithic diet, you can opt for healthier food options such as lean meat, seafood, healthy vegetable oils, green vegetables, and nutritious nuts.
By going for natural or unprocessed foods with minimum carbohydrates and fats, it will help you lose weight and get rid of metabolic disorders like obesity and diabetes. Omitting all the calorie rich and fattening foods from your diet for 30 days will not only help you regain or reset your healthy metabolism, but also reduce systemic inflammation. It will also help you discover how these natural food options will truly have a positive impact on your fitness and general quality of life. 
Why science is encouraging the Whole30 Diet Program?
A scientific paper published in the European Journal of Clinical Nutrition in 2009 established that adopting the Whole30 diet program has led to metabolic and physiologic improvements in the trials subjects. Compared with the subjects that were on a normal staple diet, it was observed that the subjects who were on a Whole30 meal plan showed decreased blood pressure, low cholesterol levels, and improved metabolism. The study also concretely proved that the diet lead to considerable weight loss and a decrease in blood sugar levels in just a month.
So if you are trying to lose weight and have a healthy lifestyle, you can try the Whole30 Diet Program and achieve a fitter physique, better sleep quality, improved physical performance, and higher energy levels.
References and Information Sources used for the Article:
L A Frassetto, M Schloetter, M Mietus-Synder, R C Morris Jr and A Sebastian, Metabolic and physiologic improvements from consuming a paleolithic, hunter-gatherer type diet, European Journal of Clinical Nutrition (2009) 63, 947–955; doi:10.1038/ejcn.2009.4; published online 11 February 2009

C Mellberg, S Sandberg, M Ryberg, M Eriksson, S Brage, C Larsson, T Olsson and B Lindahl, Long-term effects of a Palaeolithic-type diet in obese women: a 2-year randomized trial, European Journal of Clinical Nutrition68, 350-357 (March 2014) | doi:10.1038/ejcn.2013.290

David C. Klonoff, M.D., FACP, The Beneficial Effects of a Paleolithic Diet on Type 2 Diabetes and Other Risk Factors for Cardiovascular Disease, J Diabetes Sci Technol. 2009 Nov; 3(6): 1229–1232

Tommy Jönsson, Yvonne Granfeldt, Bo Ahrén, Ulla-Carin Branell, Gunvor Pålsson, Anita Hansson, Margareta Söderström, Staffan Lindeberg, Beneficial effects of a Paleolithic diet on cardiovascular risk factors in type 2 diabetes: a randomized cross-over pilot study, Cardiovasc Diabetol. 2009; 8: 35. Published online 2009 July 16. doi: 10.1186/1475-2840-8-35

http://www.ncbi.nlm.nih.gov/pmc/articles/PMC3009971 (accessed on 1/2/2015)
Helpful Peer-Reviewed Medical Articles:
Dollar, U. S. D. U. S. Whole 30 Diet-Does it Live Up to Claims?.
Reviewed and Approved by a member of the DoveMed Editorial Board
First uploaded: Feb. 19, 2018
Last updated: Feb. 19, 2018