Morbid Obesity
Last updated Jan. 15, 2019
Approved by: Krish Tangella MD, MBA, FCAP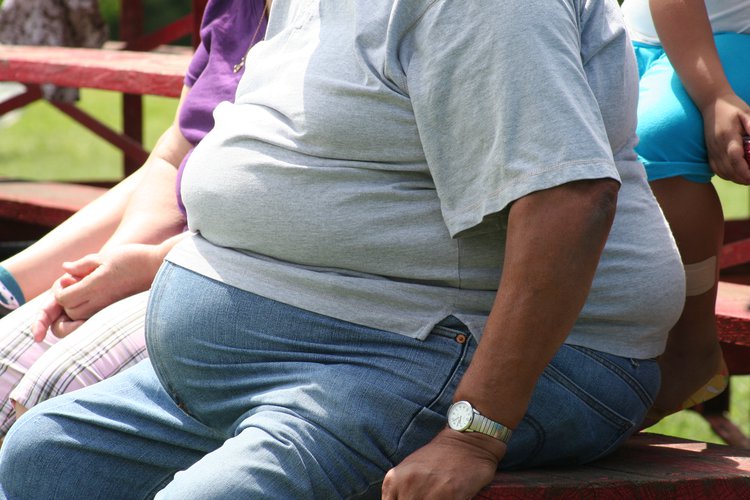 Morbid Obesity is a condition when an individual weighs twice or thrice his/her ideal body weight (a body mass index between 20 to 25).
---
What are the other Names for this Condition? (Also known as/Synonyms)
Extreme Obesity
Grade 3 Overweight
Severe Obesity
What is Morbid Obesity? (Definition/Background Information)
Morbid Obesity is a condition when an individual weighs twice or thrice his/her ideal body weight (a body mass index between 20 to 25)
This condition interferes with one's normal physiological activities and can potentially lead to the development of serious endocrine and cardiac disturbances, as well as some forms of cancerSome risk factors for developing Morbid Obesity include genetic predisposition for obesity; eating foods that are not nutrient-dense, but high in calories; and a lack of adequate sleep
Hormonal abnormalities, issues with metabolism, lack of regular physical activity, psychological problems, and eating disorders are some known causes of Morbid Obesity
The typical symptoms associated with Morbid Obesity include shortness of breath, high blood pressure, depression, and a lack of self esteem. The body mass index or BMI is the most reliable indicator of Morbid Obesity diagnosis
Diet control, exercise, enrolling in weight-loss programs, and weight loss surgery are some frequently recommended treatment options for the condition
Morbid Obesity can lead to complications that include heart conditions, respiratory issues, and metabolic syndromes such as diabetes. Therefore, for a good long-term outcome, an individual is generally advised to follow a diet plan and continue exercising, even after the ideal body weight is achieved
Who gets Morbid Obesity? (Age and Sex Distribution)
Morbid Obesity can occur at any age; it is even observed in very young individuals
The condition is not specific to a gender and both males and females are affected
There is no specific preference for any race or ethnicity
What are the Risk Factors for Morbid Obesity? (Predisposing Factors)
The following are some known risk factors for developing Morbid Obesity
Poor diet: Increased intake of high calorie and low nutrient foods
Sedentary lifestyle: A lack of physical activity leading to less calories being burnt than consumed, thus increasing the risk of an individual becoming obese
Improper sleep: Irregular timing or lack of proper sleep
Genes: Hereditary or genetic factor may also play a role in obesity
It is important to note that having a risk factor does not mean that one will get the condition. A risk factor increases ones chances of getting a condition compared to an individual without the risk factors. Some risk factors are more important than others.
Also, not having a risk factor does not mean that an individual will not get the condition. It is always important to discuss the effect of risk factors with your healthcare provider.
What are the Causes of Morbid Obesity? (Etiology)
Research around the world has shown that one or more of the following factors can contribute to the development of Morbid Obesity:
Poor nutrition
Hormonal issues such as hypothyroidism
Psychological problems that include depression
Lack of exercise
Inadequate sleep or sleeping problems
Eating disorders that include binge eating
Metabolic abnormalities
Genetic factors
Pregnancy and menopause
What are the Signs and Symptoms of Morbid Obesity?
Some typical signs and symptoms associated with Morbid Obesity include:
Having a body configuration that indicates obesity
Low self-esteem
High blood pressure signs and symptoms related to Morbid Obesity that include:

Headache
Lack of energy or altered mental status
Light-headedness
Chest pain and rapid heart rate (in some individuals)

Osteoarthritis causing pain, stiffness, and swelling in the joints
Depression that may lead to insomnia, irritability, crying or anger outbursts, and reduced sex drive
Heart failure signs and symptoms related to Morbid Obesity that include:

Shortness of breath
Fatigue (tiredness)
Swelling in the legs

The quality of life is moderately to severely affected
How is Morbid Obesity Diagnosed?
The most common method for a physician to diagnose Morbid Obesity is through body mass index (BMI) assessment. BMI is a weight suggestion chart based on height, age, and sex
If an individual has a BMI of 40 or more, or a BMI of 35 or higher and shows certain symptoms, then the individual is diagnosed as morbidly obese
Many clinical conditions may have similar signs and symptoms. Your healthcare provider may perform additional tests to rule out other clinical conditions to arrive at a definitive diagnosis.
What are the possible Complications of Morbid Obesity?
Morbid Obesity can result in several physiological and psychological complications that include:
Heart diseases: Hypertension is common in obese individuals. It may lead to heart attack, congestive heart failure, stroke, or arterial blockage
Diabetes: Type II diabetes is 10-times more common in individuals who are obese than those who are non-obese. Elevated blood sugar levels may sometimes lead to kidney failure, blindness, and tissue damage throughout the body
Cancer: Research has reported that women who are obese have a higher risk of breast, ovarian, and uterine cancers. Similarly, research from around the world indicates that men who are obese have a higher risk of esophageal, colon, and prostate cancers
Infertility: Women may experience changes in sex hormone levels; this can potentially lead to irregular menstrual cycles and infertility
Degenerative arthritis: Morbid Obesity can cause damage to the lower back and joints leading to degenerative arthritis. Osteoarthritis of spine can cause chronic pain due to nerve compression
Obesity hypo-ventilation syndrome occurs in those who weigh over 350 pounds or more. This condition may cause blood thickening and lung failure
Respiratory conditions: Sleep apnea, asthma, and  bronchitis are common respiratory conditions observed in those who are obese
Venous stasis causing varicose veins of the legs
Gastroesophageal reflux disease with associated signs and symptoms
How is Morbid Obesity Treated?
Morbid Obesity is generally treated using the following measures:
Proper diet control
Weight loss programs (long-term)
Weight loss surgery (in case of severe Morbid Obesity)
Pharmacologic therapy using medications
Treating associated complications such as:

Electrolyte imbalance such as decreased potassium levels (hypokalemia)
Hyperuricemia, which increased blood uric acid levels
Psychological sequelae or associated mental depression and emotional stress
Signs and symptoms due to gallstones (cholelithiasis)
How can Morbid Obesity be Prevented?
Following measures may help prevent Morbid Obesity from developing:
Regular exercise, which should be performed daily, if possible
Following a proper diet and healthy lifestyle
Avoiding out-of-control eating of 'high in fat' food content, more so if you are obese
Regular monitoring of weight
What is the Prognosis of Morbid Obesity? (Outcomes/Resolutions)
The prognosis for Morbid Obesity depends upon the associated complications and response to weight loss treatment.
Individuals with severe underlying complications and/or those who do not respond to treatment have poorer prognosis
Those who are severely obese have a risk of dying from a heart attack 40 times greater than those who are not obese
Repeated losing and regaining of weight encourages the body to store fat and may increase the risk of developing heart disease
Individuals who lose weight and do not continue regular physical activity are reported to regain their lost weight within two years
Therefore, the primary factor in maintaining weight loss is a long-term commitment to regular exercise and proper eating habits.
Additional and Relevant Useful Information for Morbid Obesity:
Bariatric surgery is a surgical procedure where the stomach size is either reduced, resected, and/or its intake volume limited, to ensure a critical weight loss. Hence, it is also known as weight loss surgery
The following article link will help you understand bariatric surgery:
https://www.dovemed.com/common-procedures/procedures-surgical/bariatric-surgery/
What are some Useful Resources for Additional Information?
References and Information Sources used for the Article:
http://www.nhlbi.nih.gov/health/health-topics/topics/obe/diagnosis.html (accessed on 04/02/2016)

https://www.urmc.rochester.edu/highland/bariatric-surgery-center/questions/morbid-obesity.aspx (accessed on 04/02/2016)

http://www.ncbi.nlm.nih.gov/pmc/articles/PMC3527647/ (accessed on 04/02/2016)

http://www.obesityaction.org/understanding-obesity/severe-obesity (accessed on 04/02/2016)
Helpful Peer-Reviewed Medical Articles:
Sturm, R., & Hattori, A. (2013). Morbid obesity rates continue to rise rapidly in the United States. International Journal of Obesity, 37(6), 889-891.

DeWind, L. T., & Payne, J. H. (2014). Intestinal Bypass Surgery for Morbid Obesity: Long-Term Results. JAMA, 312(9), 966-966.

Li, J. F., Lai, D. D., Lin, Z. H., Jiang, T. Y., Zhang, A. M., & Dai, J. F. (2014). Comparison of the long-term results of Roux-en-Y gastric bypass and sleeve gastrectomy for morbid obesity: a systematic review and meta-analysis of randomized and nonrandomized trials. Surgical Laparoscopy Endoscopy & Percutaneous Techniques, 24(1), 1-11.

Abdennour, M., Reggio, S., Le Naour, G., Liu, Y., Poitou, C., Aron-Wisnewsky, J., ... & Miette, V. (2014). Association of adipose tissue and liver fibrosis with tissue stiffness in morbid obesity: links with diabetes and BMI loss after gastric bypass. The Journal of Clinical Endocrinology & Metabolism, 99(3), 898-907.

Marrs, C. C., Moussa, H. N., Sibai, B. M., & Blackwell, S. C. (2014). The relationship between primary cesarean delivery skin incision type and wound complications in women with morbid obesity. American journal of obstetrics and gynecology, 210(4), 319-e1.

Lee, W. J., Ser, K. H., Lee, Y. C., Tsou, J. J., Chen, S. C., & Chen, J. C. (2012). Laparoscopic Roux-en-Y vs. mini-gastric bypass for the treatment of morbid obesity: a 10-year experience. Obesity surgery, 22(12), 1827-1834.

McElroy, M. J., Pivec, R., Issa, K., Harwin, S. F., & Mont, M. A. (2013). The effects of obesity and morbid obesity on outcomes in TKA. The journal of knee surgery, 26(2), 83-88.

D'Apuzzo, M. R., Novicoff, W. M., & Browne, J. A. (2015). The John Insall Award: morbid obesity independently impacts complications, mortality, and resource use after TKA. Clinical Orthopaedics and Related Research®, 473(1), 57-63.
Reviewed and Approved by a member of the DoveMed Editorial Board
First uploaded: April 29, 2016
Last updated: Jan. 15, 2019