How To Add Superfoods To Your Diet
Last updated April 20, 2021
Approved by: Krish Tangella MD, MBA, FCAP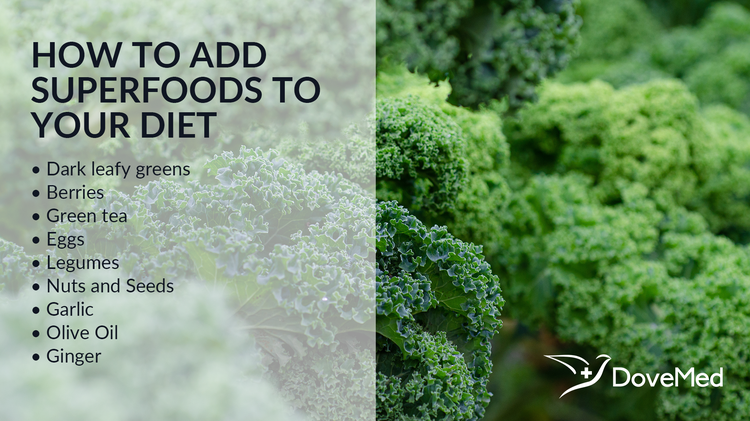 The term superfood is simply a marketing term and has not been officially defined by literature in a conclusive manner.
---
The myth of superfoods
The term superfood is simply a marketing term and has not been officially defined by literature in a conclusive manner. The European Union (EU) has in fact banned the use of the word superfood on any kind of packaging unless the food item has been scientifically proven to be an actual superfood. 
The misinformed term of superfoods is mainly focussed on identifying a particular food item and marketing it as being the healthiest food. This trend is actually an exploitation by marketing firms by making use of the fact that healthy lifestyle choices can reduce risk for developing chronic diseases. The food industry in particular wishes to convince ordinary people into believing that eating just a few food items can magically cancel out all the risks of getting diseases. 
One example is given by the National Health Survey (NHS) is that companies market garlic as a food item that contains items that can reduce cholesterol and blood pressure. But the problem is that when research on so-called superfoods is done by companies, they research on samples that are too small to be found in the actual food. It means that one would have to consume almost 28 cloves of garlic in real life to achieve the results of the lab tests on the usefulness of garlic.
Evidence about the supposed benefits of superfoods has been inconclusive so far in scientific literature. One study by the European Food Safety Authority (EFSA) in 2011 found that eating foods rich in anti-oxidants did not result in people getting healthier. Most literary evidence either turn up with no conclusive evidence or varied evidence.
Alternative to superfoods
Organizations like the British Diabetic Organisation (BDA) have said that if people continue to believe in superfoods, they might make more wrong choices about their diet, which could increase their risk of contracting chronic diseases. An alternative idea suggested, is to have a balanced diet, instead of relying on superfoods as a magical pill to relieve oneself of diabetes for instance. Including a variety of foods in one's diet is said to be a much better and surer way of ensuring lower chances of health problems. One suggestion is that the more color on one's plate, the more healthy one's diet becomes is a very popular saying. It can be considered to be somewhat true because if there is more color, it means more types of vegetables, meats, protein-containing nuts, have been included in the diet, making it nutritious.
Conclusion
So in retrospection, rather than blindly follow foods labeled as superfoods, it is advisable to have a varied and balanced diet. Avoid falling for the superfood marketing gimmick and creating a super bad health situation for yourself.
References and Information Sources used for the Article:
http://www.nhs.uk/livewell/superfoods/pages/what-are-superfoods.aspx (accessed on 04/20/2021)

Tetens, I. (2011). Guidance on the scientific requirements for health claims related to antioxidants, oxidative damage and cardiovascular health.

http://www.telegraph.co.uk/foodanddrink/healthyeating/11158676/The-myth-of-the-superfood.html (accessed on 04/20/2021)
Helpful Peer-Reviewed Medical Articles:
Agin, B., & Jegtvig, S. (2009). Superfoods for dummies. John Wiley & Sons.

Daly, M. (2014). 7 superfoods to eat this summer.

Wolfe, D. (2009). Superfoods: the food and medicine of the future. North Atlantic Books.

Smith, S. (2013). Superfoods Index. Simon and Schuster.

Pratt, S., & Matthews, K. (2006). Superfoods: Fourteen foods that will change your life. Random House.

Calderon, C. (2017). Six Latino 'Superfoods' You Should Add to Your Diet. NBC News.

Diederichs, K. (2009). Superfoods. Ethos, 2009(4), 06-07.
Reviewed and Approved by a member of the DoveMed Editorial Board
First uploaded: April 20, 2021
Last updated: April 20, 2021