What Are The Health Benefits Of Garlic?
Last updated Oct. 27, 2016
Approved by: Krish Tangella MD, MBA, FCAP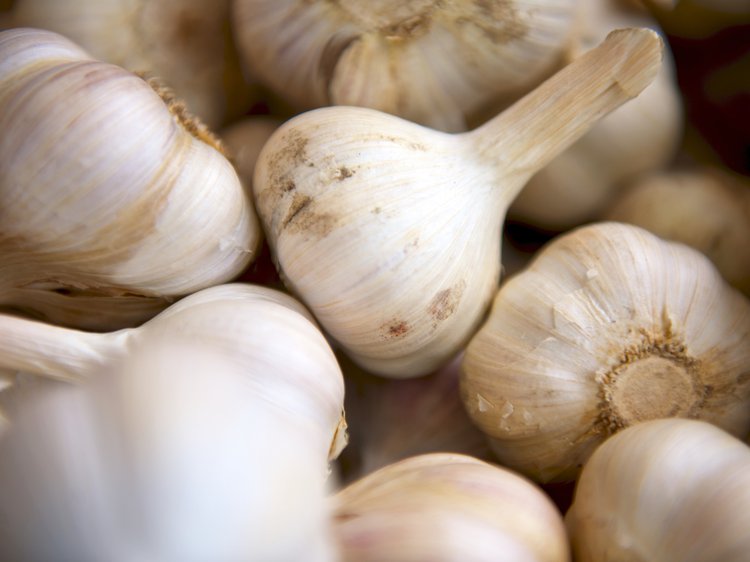 Garlic is a very popular herb with a pungent smell and distinct flavor like no other herb. With more than 7,000 years of human consumption and use, it has been found to help individuals with diabetes.
---
Garlic is a very popular herb with a pungent smell and distinct flavor like no other herb. Garlic is related to the onion, shallot, leek, chive, and rakkyo in the genus, Allium. Garlic is the oldest known medicinal plant variety on the planet. With more than 7,000 years of human consumption and use, garlic is native to central Asia and has long been used as a frequent herb in the Mediterranean region, as well as in Africa and Europe. Not only does it add flavor to cooking, but there are also several benefits of garlic that can have a positive impact on one's health. 
Garlic can improve an individual's high cholesterol and high blood pressure. Studies have suggested that the active compound in garlic, allicin, can prevent bad cholesterol from increasing. Researchers from Ankara University sought to determine the effect garlic extract supplementation had on blood lipid (fat) profiles of individuals with high blood cholesterol. The participants were monitored for four months and had their blood lipid parameters, as well as kidney and liver function, checked. The researchers found that garlic extract supplements reduced high cholesterol levels and blood pressure in individuals with hypertension. Allium relaxes the blood vessels and fights against thrombosis, or blood clots.
Garlic has been found to help individuals with diabetes. Diabetes can harm the body, resulting in damaged kidneys, defective nervous system functions, heart problems, and poor eyesight. Garlic oil extract has the potential to help individuals with diabetes reduce these symptoms. Long-term alcohol abuse can lead to alcohol-induced liver injury (ethanol-induced liver injury). Researchers from the Institute of Toxicology at the School of Public Health at Shandong University, China, have found that a compound, called diallyl disulfide (DADS), in garlic may help protect against ethanol-induced liver injury.
Adding garlic to homemade chicken soup is great for many reasons, especially when one is ill. Garlic consumption has been known to boost the function of the immune system. A 12-week study suggested that the average length of cold symptoms was reduced by 70% from five days without garlic to just one and half days when garlic was used.
Researchers from the Medical University of South Carolina reported that three compounds from garlic, namely DAS, DADS, and DATS, showed promise in destroying brain cancer cells.
Garlic has the potential to protect the brain. Garlic contains antioxidants that support the body's protective mechanisms against oxidative damage. Oxidative damage can cause cancer and many other related diseases. Antioxidants seek out and eliminate harmful chemicals, called free radicals, that cause oxidative damage to DNA (the blueprint of the cells). These effects may protect against cell damage and aging. It may also reduce the risk of Alzheimer's disease and dementia. The best way to experience the benefits of eating garlic is to eat it raw, or close to raw, as a temperature above 140 degrees Fahrenheit can destroy the compound allicin.
Additional Resources:
Garlic. (n.d.). Retrieved December 2, 2014, from http://umm.edu/health/medical/altmed/herb/garlic
Moriguchi, T., Saito, H., & Nishiyama, N. (1997). ANTI‐AGEING EFFECT OF AGED GARLIC EXTRACT IN THE INBRED BRAIN ATROPHY MOUSE MODEL. Clinical and experimental pharmacology and physiology, 24(3‐4), 235-242.
Durak, I., Kavutcu, M., Aytaç, B., Avcı, A., Devrim, E., Özbek, H., & Öztürk, H. S. (2004). Effects of garlic extract consumption on blood lipid and oxidant/antioxidant parameters in humans with high blood cholesterol. The Journal of nutritional biochemistry, 15(6), 373-377.
Zeng, T., Zhang, C. L., Song, F. Y., Zhao, X. L., Yu, L. H., Zhu, Z. P., & Xie, K. Q. (2013). The activation of HO-1/Nrf-2 contributes to the protective effects of diallyl disulfide (DADS) against ethanol-induced oxidative stress. Biochimica et Biophysica Acta (BBA)-General Subjects, 1830(10), 4848-4859.
Fashner, J., Ericson, K., & Werner, S. (2012). Treatment of the common cold in children and adults. American family physician, 86(2), 153-159.
Josling, P. (2001). Preventing the common cold with a garlic supplement: a double-blind, placebo-controlled survey. Advances in therapy, 18(4), 189-193.
Gunther, W. H. (2013). Garlic and other alliums–the lore and the science.Journal of Sulfur Chemistry, 34(1-2), 208-208.
Helpful Peer-Reviewed Medical Articles:
Rahman, M. S. (2007). Allicin and other functional active components in garlic: health benefits and bioavailability. International Journal of Food Properties, 10(2), 245-268.
Tsai, C. W., Chen, H. W., Sheen, L. Y., & Lii, C. K. (2012). Garlic: Health benefits and actions. Biomedicine, 2(1), 17-29.
Borek, C. (2001). Antioxidant health effects of aged garlic extract. The Journal of nutrition, 131(3), 1010S-1015S.
Tattelman, E. (2005). Health effects of garlic. Am Fam Physician, 72(1), 103-106.
Amagase, H., Petesch, B. L., Matsuura, H., Kasuga, S., & Itakura, Y. (2001). Intake of garlic and its bioactive components. The Journal of nutrition, 131(3), 955S-962S.
Kim, J. Y., & Kwon, O. (2009). Garlic intake and cancer risk: an analysis using the Food and Drug Administration's evidence-based review system for the scientific evaluation of health claims. The American journal of clinical nutrition, 89(1), 257-264.
Ruddock, P. S., Liao, M., Foster, B. C., Lawson, L., Arnason, J. T., & Dillon, J. A. R. (2005). Garlic natural health products exhibit variable constituent levels and antimicrobial activity against Neisseria gonorrhoeae, Staphylococcus aureus and Enterococcus faecalis. Phytotherapy Research,19(4), 327-334.
Kik, C., Kahane, R., & Gebhardt, R. (2001). Garlic and health. Nutrition, metabolism, and cardiovascular diseases: NMCD, 11(4 Suppl), 57.
Rivlin, R. S. (2001). Historical perspective on the use of garlic. The Journal of nutrition, 131(3), 951S-954S.
Reviewed and Approved by a member of the DoveMed Editorial Board
First uploaded: Oct. 27, 2016
Last updated: Oct. 27, 2016