7 Health Benefits Of Spinach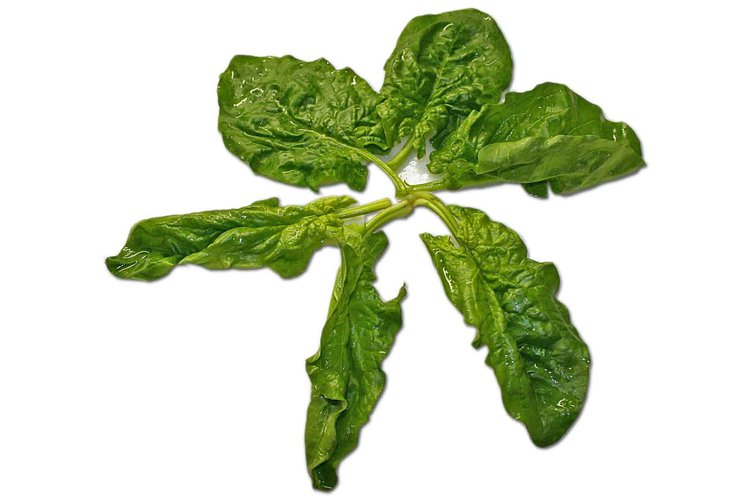 It is a rich source of beta carotene, lutein, and xanthene, which benefit eyesight. Beta carotene can be converted to vitamin A.
Spinach (Spinacia oleracea) is a flowering plant in the family of Amaranthaceae. It is native to central and southwestern Asia. Spinach has a high nutritional value and is extremely rich in antioxidants, especially when fresh, steamed, or quickly boiled. The dark leafy greens are essential for skin, hair, bone health.
Here are the 7 health benefits of spinach.
1.     Spinach can help improve eye health and prevent eye damage.
Spinach is a rich source of vitamin A, lutein, and zeaxanthin, which benefit eyesight. These vitamins and antioxidants could help prevent people from suffering from itching eyes, eye ulcers, and dry eyes. Lutein and zeaxanthin both act as strong antioxidants, preventing the eyes from the harsh effects of ultraviolet rays that potentially lead to cataracts.
2.     Spinach contains anti-cancer properties.
Spinach contains chlorophyll, which can block the carcinogenic effects of heterocyclic amines generated when grilling foods at a high temperature. Also, various components in spinach like folate, tocopherol, and chlorophyllin act to treat and protect patients suffering from cancer.
3.     Spinach may help treat people with asthma.
A study published in the Turkish Journal of Pediatrics suggests that antioxidant vitamins like alpha tocopherol, beta carotene, and ascorbic acid, found in spinach, are decreased in children who suffer from asthma attacks even during asymptomatic periods of the disease.
4.     Spinach can help lower and maintain blood pressure.
Spinach has a very high content of potassium and a low content of sodium. Folate also contributes to the reduction of hypertension and relaxes blood vessels, while maintaining proper blood flow.
5.     Spinach can help improve bone strength and density.
Spinach also has a high calcium content. However, the oxalate content in spinach also binds with calcium, decreasing its absorption. On the other hand, spinach is a good source of vitamin K, which functions in retaining calcium in the bone matrix. Sufficient vitamin K consumption may also reduce urinary excretion of calcium.
6.     Spinach can help the brain's cognitive function.
Several components of spinach like potassium, folate, and various antioxidants are known to provide neurological benefits. Folate has been known to reduce the occurrence of Alzheimer's disease and cognitive decline. Potassium has been linked to increased blood flow to the brain and heightened cognition, concentration, and neural activity.
7.     Spinach may help strengthen your muscles.
The antioxidant C0-Q10 plays a significant role in strengthening muscles, especially heart muscles which continuously pump blood to all parts of the body. C0-Q10 can be used to prevent and treat many cardiovascular diseases like coronary heart disease, heart failure, and high blood pressure.
References and Information Sources used for the Article:
Spinach, raw Nutrition Facts & Calories. (n.d.). Retrieved July 11, 2017, from http://nutritiondata.self.com/facts/vegetables-and-vegetable-products/2626/2
Bottino, A., Degl'Innocenti, E., Guidi, L., Graziani, G., & Fogliano, V. (2009). Bioactive compounds during storage of fresh-cut spinach: the role of endogenous ascorbic acid in the improvement of product quality. Journal of agricultural and food chemistry, 57(7), 2925-2931.
Hanif, R., Iqbal, Z., Iqbal, M., Hanif, S., & Rasheed, M. (2006). Use of vegetables as nutritional food: role in human health. Journal of Agricultural and Biological Science, 1(1), 18-22.
Joshua, Z. P., & Suleiman, M. M. (2012). The effect of cooking time on the vitamin C, dietary fiber and mineral compositions of some local vegetables. Science World Journal, 7(1), 29-30.
Otari, K. V., Gaikwad, P. S., Shete, R. V., & Upasani, C. D. (2012). Protective effect of aqueous extract of Spinacia oleracea leaves in experimental paradigms of inflammatory bowel disease. Inflammopharmacology, 20(5), 277-287.
Edenharder, R., Keller, G., Platt, K. L., & Unger, K. K. (2001). Isolation and characterization of structurally novel antimutagenic flavonoids from spinach (Spinacia oleracea). Journal of agricultural and food chemistry, 49(6), 2767-2773.
Kalayci, O., Besler, T., Kilinc, K., Sekerel, B. E., & Saraclar, Y. (2000). Serum levels of antioxidant vitamins (alpha tocopherol, beta carotene, and ascorbic acid) in children with bronchial asthma. The Turkish journal of pediatrics, 42(1), 17-21.
Abdel-Aal, E. S. M., Akhtar, H., Zaheer, K., & Ali, R. (2013). Dietary sources of lutein and zeaxanthin carotenoids and their role in eye health. Nutrients, 5(4), 1169-1185.
Zahed, N. S., Ghassami, M., & Nikbakht, H. (2016). Effects of coenzyme Q10 supplementation on C-reactive protein and homocysteine as the inflammatory markers in hemodialysis patients; a randomized clinical trial. Journal of nephropathology, 5(1), 38.
Perez, V., & Chang, E. T. (2014). Sodium-to-potassium ratio and blood pressure, hypertension, and related factors. Advances in Nutrition: An International Review Journal, 5(6), 712-741.