7 Health Benefits Of Fennel
Last updated May 24, 2016
Approved by: Krish Tangella MD, MBA, FCAP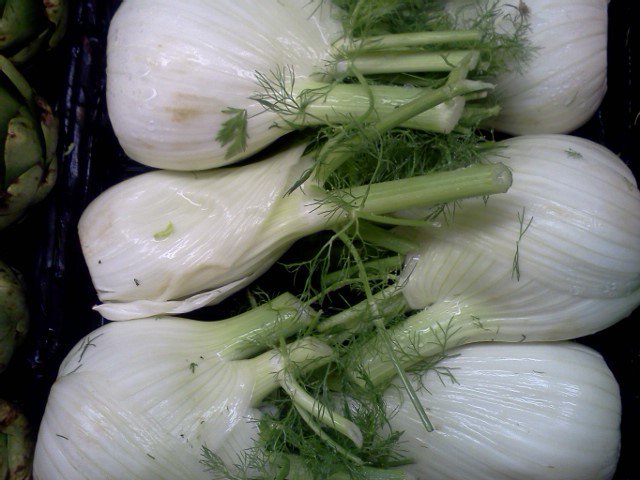 Fennel (Foeniculum vulgare) is a flowering plant species in the celery family Apiaceae or Umbelliferae. It is a highly fragrant and palatable herb with culinary and medicinal uses.
---
Fennel (Foeniculum vulgare) is a flowering plant species in the celery family Apiaceae or Umbelliferae. It is a highly fragrant and palatable herb with culinary and medicinal uses. It is indigenous to the shores of the Mediterranean but is used in many cuisines like  India, Pakistan, Afghanistan, Iran, and the Middle East.
Here are 7 health benefits of fennel.
1.     Fennel can assist in the antioxidant defense.
Fennel possesses a good amount of manganese, which is an essential cofactor in some enzymes essential in antioxidant defenses.
2.     Fennel can help you promote oxygen to your body.
Copper and iron are essential for the new red blood cell formation. People with a deficiency of iron can lead to anemia, fatigue, and muscular weakness making their days harder to navigate. 
3.     Fennel can help improve cognitive functioning.
The amount of iron in fennel leads to increased hemoglobin production and increases blood flow. Proper amounts of oxygen and iron in the brain lead to improved cognitive performance and a decrease in cognitive disorders like Alzheimer's disease and dementia.
4.     Fennel can help maintain a healthy blood pressure.
Fennel has a high potassium to sodium ratio that can help people with hypertension. They are well known because of its high potassium content. One tablespoon of fennel contains 97 milligrams of potassium, compared to just 5.1 milligrams of sodium. This helps the blood vessels relax and maintains appropriate blood pressure.
5.     Fennel can help you sleep better at night.
Fennel can help individuals sleep with its high content of magnesium, which is a mineral that is directly linked to improving the quality, duration, and tranquility of sleep. Fennel also helps regulate the metabolism, to help reduce sleep disorders and the occurrence of insomnia.
6.     Fennel helps support the digestive system.
Fennel possesses a considerable amount of fiber. Fiber stimulates peristaltic motion and increased secretion of gastric juices, which eases digestion, prevents conditions like constipation, and protects the body from more severe diseases like colorectal cancer. One cup of fennel contains 4 grams of dietary fiber.
7.     Fennel can help manage flatulence.
Fennel contains aspartic acid, which helps fight excessive gas. Fennel extract can be used to reduce flatulence and to expel excess gas from the stomach, making those meetings less embarrassing.
References and Information Sources used for the Article:
Spices, fennel seed Nutrition Facts & Calories. (n.d.). Retrieved October 31, 2017, from http://nutritiondata.self.com/facts/spices-and-herbs/188/2
Thompson Coon, J., & Ernst, E. (2002). Herbal medicinal products for non‐ulcer dyspepsia. Alimentary pharmacology & therapeutics, 16(10), 1689-1699.
Cappuccio, F. P., & MacGregor, G. A. (1991). Does potassium supplementation lower blood pressure? A meta-analysis of published trials. Journal of hypertension, 9(5), 465-473.
·         Yannet, H. (1940). Changes in the brain resulting from depletion of extracellular electrolytes. American Journal of Physiology--Legacy Content, 128(4), 683-689.
·         Costilla, V. C., & Foxx-Orenstein, A. E. (2015). Fecal Incontinence. In Functional and Motility Disorders of the Gastrointestinal Tract (pp. 227-238). Springer New York.
·         Eswaran, S., Muir, J., & Chey, W. D. (2013). Fiber and functional gastrointestinal disorders. The American journal of gastroenterology, 108(5), 718-727.
·         Nielsen, F. H., Johnson, L. K., & Zeng, H. (2010). Magnesium supplementation improves indicators of low magnesium status and inflammatory stress in adults older than 51 years with poor quality sleep. Magnesium Research, 23(4), 158-168.
·         Honda, K., Casadesus, G., Petersen, R. B., Perry, G., & Smith, M. A. (2004). Oxidative Stress and Redox‐Active Iron in Alzheimer's Disease. Annals of the New York Academy of Sciences, 1012(1), 179-182.
Reviewed and Approved by a member of the DoveMed Editorial Board
First uploaded: Sept. 10, 2014
Last updated: May 24, 2016