7 Health Benefits Of Bok Choy
Last updated June 6, 2018
Approved by: Krish Tangella MD, MBA, FCAP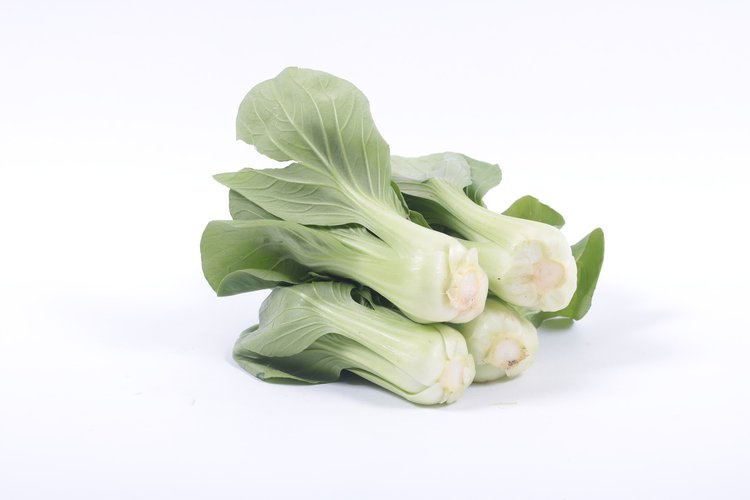 Bok choy is a Chinese leaf vegetable. They do not form heads, but have smooth, dark green leaf blades forming a cluster resembling celery.
---
Bok choy (Brassica rapa, subspecies chinensis) is a Chinese leaf vegetable. They do not form heads but have smooth, dark green leaf blades forming a cluster resembling celery. Chinensis is popular in southern China and Southeast Asia cuisine. Being able to survive in the winter, bok choy is growing popularity in Northern Europe.
Here are the 7 health benefits of bok choy.
1.     Bok choy could help enhance your eye health.
Bok choy is a rich source of beta-carotene, zeaxanthin, and lutein, which benefit eyesight. Studies have shown that carotenoids may help fight macular degeneration, prevent cataracts, improve night vision, and reduce the risk of retinitis pigmentosa. Lutein act as a strong antioxidant, preventing the eyes from the harsh effects of ultraviolet rays that potentially lead to cataracts.
2.     Bok choy can help your bones stay strong and healthy.
One cup of bok choy contains 72 percent of recommended values of vitamin K. Vitamin K may play a role in bone metabolism by promoting bone growth. Therefore, sufficient consumption of vitamin K makes stronger bones and delay osteoporosis. Also, one cup of calcium contains 16 percent of the recommended value of calcium, which is vital for bone health.
3.     Bok choy can help prevent certain congenital disabilities.
Bok choy is rich in the B-vitamin complex, particularly in folate. Folate is essential for helping rapid cell division and growth during infancy and pregnancy. A deficiency of folate in pregnant women can lead to the birth of underweight infants and may also result in neural tube defects in newborns.
4.     Bok choy could help you lower and stabilize blood pressure.
Bok choy has a very high content of potassium and a low content of sodium. One cup of bok choy contains 631 milligrams or 18 percent of potassium. Folate also contributes to the reduction of hypertension and relaxes blood vessels, while maintaining proper blood flow.
5.     Bok choy may help boost the immune system.
One cup of bok choy contains 44.2 milligrams or 74 percent of the recommended value of vitamin C. Vitamin C is found in high concentrations in immune cells and is consumed quickly during infections.
6.     Bok choy may help your body fight against cancer.
Cruciferous vegetables like bok choy seem to have properties for cancer prevention. Lung, colon, prostate, and endometrial cancers appear to be reduced by increasing cruciferous vegetable because of the glucosinolates, which are converted to isothiocyanates. These compounds have been shown to be active in fighting cancer.
7.     Boy choy can help you have a stronger heart.
Folate and vitamin B6 remove the amino acid homocysteine from the blood. High levels of homocysteine have shown to increase the risk of cardiovascular disease.
References and Information Sources used for the Article:
Cabbage, chinese (pak-choi), cooked, boiled, drained, without salt Nutrition Facts & Calories. (n.d.). Retrieved July 08, 2017, from http://nutritiondata.self.com/facts/vegetables-and-vegetable-products/2378/2
Homocysteine Studies Collaboration. (2002). Homocysteine and risk of ischemic heart disease and stroke: a meta-analysis. Jama, 288(16), 2015-2022.
Shapiro, T. A., Fahey, J. W., Wade, K. L., Stephenson, K. K., & Talalay, P. (1998). Human metabolism and excretion of cancer chemoprotective glucosinolates and isothiocyanates of cruciferous vegetables. Cancer Epidemiology and Prevention Biomarkers, 7(12), 1091-1100.
Hayes, J. D., Kelleher, M. O., & Eggleston, I. M. (2008). The cancer chemopreventive actions of phytochemicals derived from glucosinolates. European journal of nutrition, 47(2), 73-88.
Jongen, W. M. (1996). Glucosinolates in Brassica: occurrence and significance as cancer-modulating agents. Proceedings of the Nutrition Society, 55(1B), 433-446.
Whelton, P. K., He, J., Cutler, J. A., Brancati, F. L., Appel, L. J., Follmann, D., & Klag, M. J. (1997). Effects of oral potassium on blood pressure: meta-analysis of randomized controlled clinical trials. Jama, 277(20), 1624-1632.
Geleijnse, J. M., Kok, F. J., & Grobbee, D. E. (2003). Blood pressure response to changes in sodium and potassium intake: a metaregression analysis of randomised trials. Journal of human hypertension, 17(7), 471-480.
Czeizel, A. E., Dudás, I., Vereczkey, A., & Bánhidy, F. (2013). Folate deficiency and folic acid supplementation: the prevention of neural-tube defects and congenital heart defects. Nutrients, 5(11), 4760-4775.
Bestwick, J. P., Huttly, W. J., Morris, J. K., & Wald, N. J. (2014). Prevention of neural tube defects: a cross-sectional study of the uptake of folic acid supplementation in nearly half a million women. PloS one, 9(2), e89354.
Chew, E. Y., Clemons, T. E., SanGiovanni, J. P., Danis, R. P., Ferris, F. L., Elman, M. J., ... & Fish, G. E. (2014). Secondary analyses of the effects of lutein/zeaxanthin on age-related macular degeneration progression: AREDS2 report No. 3. JAMA ophthalmology, 132(2), 142-149.
Boysenberries, frozen, unsweetened Nutrition Facts & Calories. (n.d.). Retrieved July 08, 2017, from http://nutritiondata.self.com/facts/fruits-and-fruit-juices/1856/2
Johnson, I. T. (2002). Glucosinolates: bioavailability and importance to health. International Journal for Vitamin and Nutrition Research, 72(1), 26-31.
Weber, P. (2001). Vitamin K and bone health. Nutrition, 17(10), 880-887.
Gundberg, C. M., Nieman, S. D., Abrams, S., & Rosen, H. (1998). Vitamin K status and bone health: an analysis of methods for determination of undercarboxylated osteocalcin. The Journal of Clinical Endocrinology & Metabolism, 83(9), 3258-3266.
Reviewed and Approved by a member of the DoveMed Editorial Board
First uploaded: July 29, 2014
Last updated: June 6, 2018