Which Foods Contain The Most Pesticides?
Last updated Aug. 31, 2016
Approved by: Maulik P. Purohit MD, MPH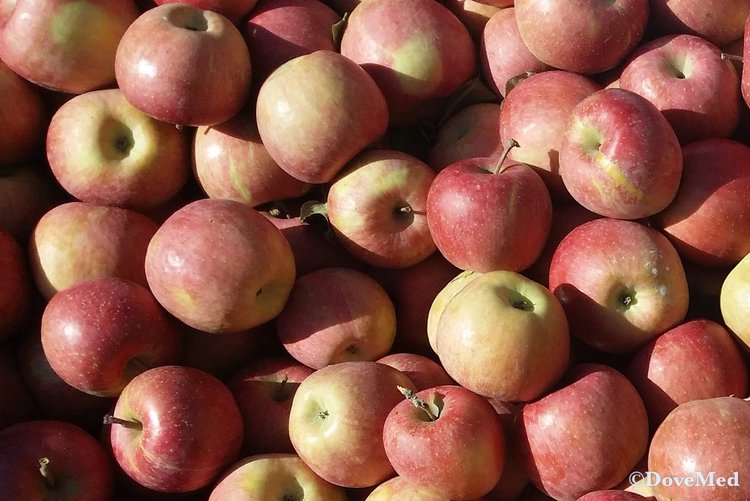 According to the Environmental Working Group (EWG), the twelve foods that contain the most pesticides include Apples, Strawberries, Grapes, Celery, Peaches, Spinach, Sweet bell peppers, Nectarines (imported), Cucumbers, Cherry tomatoes, Snap peas (imported), and Potatoes.
---
According to the US Environmental Protection Agency (EPA), a pesticide is a broad term that includes insecticides, fungicides, herbicides, and any other (biological or chemical) substance that is used to control pests, which may include insects, weeds, plants, rodents, and microorganisms. Currently, biological pesticides that are based on natural substances or pheromone-based pesticides are preferred over conventional chemical pesticides, as these natural pesticides are considered safer and more environmentally-friendly.
The international environmental treaty 'Stockholm Convention on Persistent Organic Pollutants', that is in implementation since 2004, aims to restrict, phase out, and completely eliminate the use of persistent organic pollutants (POPs). Among the 12 most dangerous POPs listed, 9 of them are pesticides. Continuous and chronic exposure to pesticides may result in several cancer types (affecting the skin, blood, kidney, liver, prostate, pancreas, and brain), birth defects and stillbirths, infertility, neurological disorders, and neurological developmental issues.
In the US, the EPA controls, regulates, and sets limits on pesticide tolerances on food and food products. These tolerances are set as maximum residual limits, which is monitored by the Food and Drug Administration (FDA) and the United States Department of Agriculture (USDA). The Environmental Working Group (EWG - an organization of scientists, researchers and policymakers), based on research conducted by USDA, has compiled a list of popular 50 plant foods that rate them based on the amount of pesticides, from high to low.
Per the EWG, fruits and vegetables (domestic and imported) that contained the most pesticides, known as dirty dozen foods, included:
Apples
Strawberries
Grapes
Celery
Peaches
Spinach
Sweet bell peppers
Nectarines (imported)
Cucumbers
Cherry tomatoes
Snap peas (imported)
Potatoes
Onions, sweet peas, cabbage, pineapples, sweet corn, and avocados contained the least amount of pesticides, among the list of 50 fruits and vegetables.
Apart from the EPA that regulates pesticide levels in foods, each state has departments that control such contamination parameters. However, all food and food products sold in US are bound by the same set of laws, rules, and safety standards. The California Department of Pesticide Regulation (DPR) states that only about 1 in 100 sample foods tested in California were found to have pesticide levels that were considered illegal or over the maximum permissible values.
Besides, it is not always true that consuming the dirty dozen foods that have above permitted pesticide levels (or maximum residual limits) may imply severe health risk, since there is a margin of safety included. Also, the amount of chemicals you may be exposed to through pesticides may be contained to a greater degree if all fruits and vegetables consumed are washed thoroughly and then peeled and trimmed. Moreover, it is advisable to have a variety of food items on your menu, especially organic food and vegetables, which come from diverse sources.
References:
Downie, David (2003). "Global POPs Policy: The 2001 Stockholm Convention on Persistent Organic Pollutants", in D. Downie and T. Fenge (ed.) Northern Lights against POPs: Combating Toxic Threats in the Arctic, Montreal: McGill-Queens University Press.
http://www.ewg.org/foodnews/summary.php (accessed on 01/05/2014)
http://www.ewg.org/foodnews/list.php (accessed on 01/05/2014)
http://www.epa.gov/pesticides/food/viewtols.htm (accessed on 01/05/2014)
http://www.epa.gov/pesticides/about/ (accessed on 01/04/2015)
http://www.cdpr.ca.gov/docs/dept/factshts/residu2.pdf (accessed on 01/05/2014)
http://www.pbs.org/wnet/need-to-know/health/the-dirty-dozen-and-clean-15-of-produce/616/ (accessed on 01/05/2014)
Helpful Peer-Reviewed Medical Articles:
Ames, B. N., Profet, M., & Gold, L. S. (1990). Dietary pesticides (99.99% all natural). Proceedings of the National Academy of Sciences, 87(19), 7777-7781.
Darnerud, P. O., Atuma, S., Aune, M., Bjerselius, R., Glynn, A., Grawé, K. P., & Becker, W. (2006). Dietary intake estimations of organohalogen contaminants (dioxins, PCB, PBDE and chlorinated pesticides, eg DDT) based on Swedish market basket data. Food and chemical toxicology, 44(9), 1597-1606.
Nasreddine, L., & Parent-Massin, D. (2002). Food contamination by metals and pesticides in the European Union. Should we worry?. Toxicology letters,127(1), 29-41.
Morgan, K., & Murdoch, J. (2000). Organic vs. conventional agriculture: knowledge, power and innovation in the food chain. Geoforum, 31(2), 159-173.
Reviewed and Approved by a member of the DoveMed Editorial Board
First uploaded: Aug. 31, 2016
Last updated: Aug. 31, 2016