What Types Of Fish Contain The Most Mercury?
Last updated Oct. 12, 2016
Approved by: Krish Tangella MD, MBA, FCAP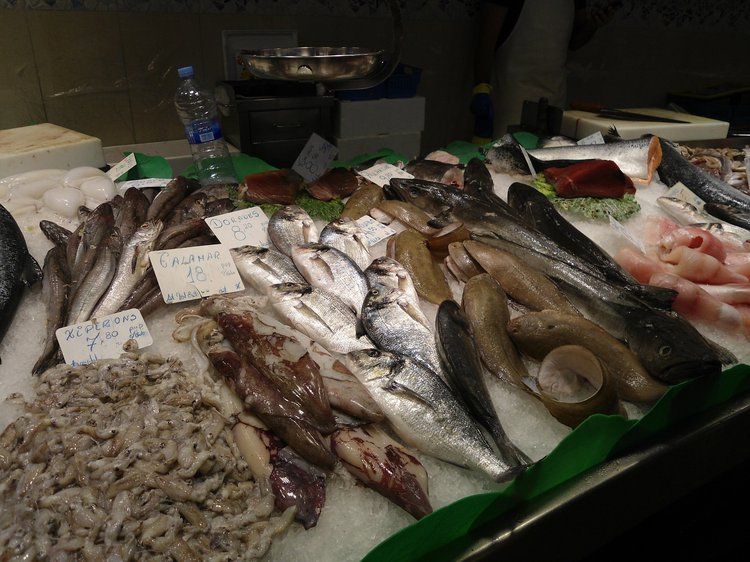 All fish contain low levels of mercury. For most individuals, the small amounts in fish do not pose a health problem. However, some fish contain high amounts of mercury and should be avoided.
---
Fish are universally acknowledged as a great food source for protein, vitamins, and minerals. Fish help in creating body enzymes, transporting oxygen, and maintaining healthy tissues, including your muscles, hair, and skin with the protein content. The mineral content of fish helps the body improve bone health by adding strength and durability. It also strengthens the teeth, hair, and nails. Many vitamins found in fish aid in producing energy for the body, fighting dementia, and helping individuals sleep.
The fatty acid composition in fish decreases cholesterol levels when substituted for saturated fatty acids. Research has suggested that omega-3 fatty acids in fish have the potential to decrease triglycerides, lower blood pressure, reduce blood clotting, decrease the risk of stroke and heart failure, reduce irregular heartbeats, and improve learning abilities in children. So, why should fish not be consumed daily? Mercury levels in fish.
Fish concentrate mercury in their bodies, often in the form of methylmercury, which is a highly toxic form of mercury. Fish that have been on top of the food chain for a long time have the highest amounts of mercury content in them. Individuals who have mercury poisoning suffer from specific damage to the brain, kidneys, and lungs. The symptoms typically include sensory impairment (vision, hearing, and speech), poor sensation, and a lack of coordination. Other symptoms include itching and burning of the skin, skin discoloration, swelling, and peeling of skin.
A few diseases that can arise from high mercury levels in fish include acrodynia (pink disease), Hunter-Russell syndrome, and Minamata disease. Mercury, in its various forms, is especially harmful to fetuses and infants. Many fish that are high in mercury are also high in selenium. Pregnant women who are exposed to both mercury and selenium are at risk of giving birth to children with severe birth defects.
The acceptable level of mercury is mentioned, which can determine how much of the fish type may be consumed, based on mercury levels:
Least mercury: Less than 0.09 parts per million
Moderate mercury: From 0.09 to 0.29 parts per million
High mercury: From 0.3 to 0.49 parts per million
Highest mercury: More than 0.5 parts per million
Fish that may be consumed freely, due to low levels of mercury:
Anchovies
Butterfish
Catfish
Croaker (Atlantic)
Flounder
Haddock (Atlantic)
Hake
Herring
Mackerel (N. Atlantic, Chub)
Perch (Ocean)
Pollock
Salmon
Sardine
Shad (American)
Sole (Pacific)
Tilapia
Trout (Freshwater)
Whitefish
Whiting
Fish that may be consumed six servings or less per month due to moderate levels of mercury:
Bass (striped, black)
Carp
Cod (Alaskan)
Croaker (white pacific)
Halibut
Mahi Mahi
Perch (freshwater)
Skate
Snapper
Tuna (canned chunk light)
Tuna (skipjack)
Fish that may be consumed three servings or less per month due to high levels of mercury:
Bluefish
Grouper
Mackerel (Spanish, Gulf)
Sea Bass (Chilean)
Tuna (Canned Albacore)
Tuna (Yellowfin)
Fish high in mercury that must be avoided include: 
Mackerel (king)
Marlin
Shark
Swordfish
Tuna (big-eye, Ahi)
Additional Resources:
Cuvin-Aralar, M. L. A., & Furness, R. W. (1991). Mercury and selenium interaction: a review. Ecotoxicology and Environmental Safety, 21(3), 348-364.
Clifton, I. I., & Jack, C. (2007). Mercury exposure and public health. Pediatric Clinics of North America, 54(2), 237-e1.
Park, K. S., Seo, Y. C., Lee, S. J., & Lee, J. H. (2008). Emission and speciation of mercury from various combustion sources. Powder Technology, 180(1), 151-156.
Reeves, M. A., & Hoffmann, P. R. (2009). The human selenoproteome: recent insights into functions and regulation. Cellular and molecular life sciences,66(15), 2457-2478.
Risher, J., & DeWoskin, R. (1999). Toxicological profile for mercury. Agency for Toxic Substances & Disease Registry.
Helpful Peer-Reviewed Medical Articles:
Harris, H. H., Pickering, I. J., & George, G. N. (2003). The chemical form of mercury in fish. Science, 301(5637), 1203-1203.
Foran, S. E., Flood, J. G., & Lewandrowski, K. B. (2003). Measurement of mercury levels in concentrated over-the-counter fish oil preparations: is fish oil healthier than fish?. Archives of pathology & laboratory medicine, 127(12), 1603-1605.
Clarkson, T. W., & Strain, J. J. (2003). Nutritional factors may modify the toxic action of methyl mercury in fish-eating populations. The Journal of nutrition, 133(5), 1539S-1543S.
Freire, C., Ramos, R., Lopez-Espinosa, M. J., Díez, S., Vioque, J., Ballester, F., & Fernández, M. F. (2010). Hair mercury levels, fish consumption, and cognitive development in preschool children from Granada, Spain. Environmental research, 110(1), 96-104.
Yamaguchi, N., Gazzard, D., Scholey, G., & Macdonald, D. (2003). Concentrations and hazard assessment of PCBs, organochlorine pesticides and mercury in fish species from the upper Thames: River pollution and its potential effects on top predators. Chemosphere, 50(3), 265-273.
Sagiv, S. K., Thurston, S. W., Bellinger, D. C., Amarasiriwardena, C., & Korrick, S. A. (2012). Prenatal exposure to mercury and fish consumption during pregnancy and attention-deficit/hyperactivity disorder–related behavior in children. Archives of pediatrics & adolescent medicine, 166(12), 1123-1131.
Voegborlo, R. B., & Akagi, H. (2007). Determination of mercury in fish by cold vapour atomic absorption spectrometry using an automatic mercury analyzer. Food Chemistry, 100(2), 853-858.
Reviewed and Approved by a member of the DoveMed Editorial Board
First uploaded: Oct. 12, 2016
Last updated: Oct. 12, 2016