What is Reflexology? Does It Offer Any Benefit for Health?
Last updated June 9, 2015
Approved by: Maulik P. Purohit MD, MPH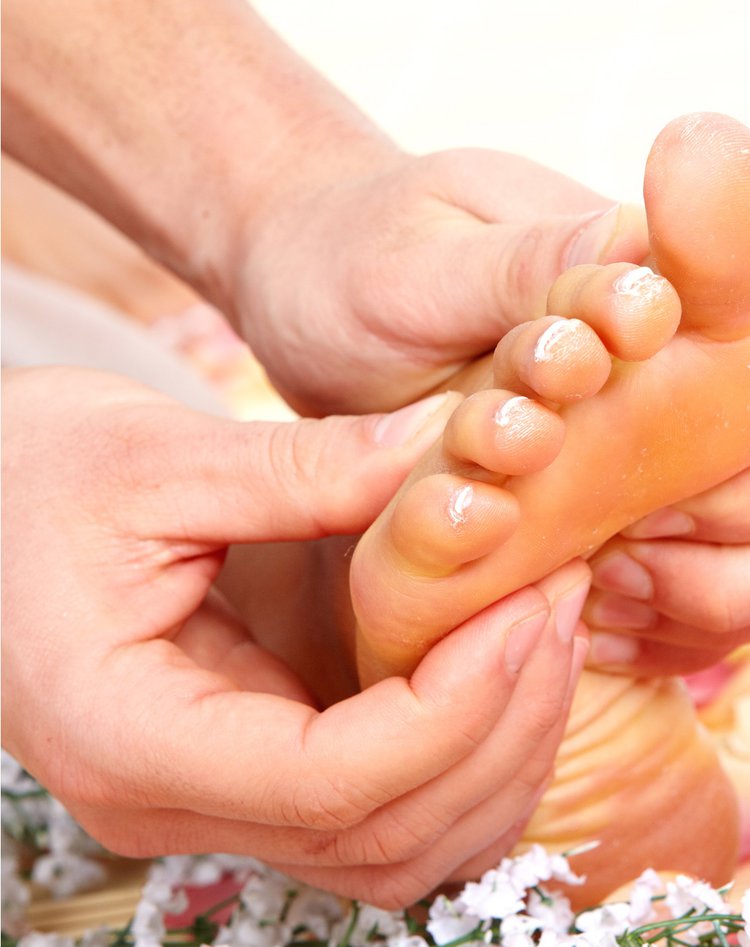 This gentle, manual healing method is based on applying pressure to "reflex areas" in the hands and feet, which have thousands of nerve endings and believed to correspond to organs/parts of the body.
---
Reflexology is a technique of alternative medicine in which a therapist applies pressure to the feet, hands, and ears of an individual. Usually, reflexology does not use oil or lotions. This gentle, manual healing method is based on applying pressure to "reflex areas" in the hands and feet, which have thousands of nerve endings and believed to correspond to organs/parts of the body. Thus, gentle massaging of hands and feet is thought to positively influence the health of an individual.
Several clinical studies have been performed to ascertain whether reflexology offered medical benefits.
Cancer: In one study, 385 predominantly Caucasian participants with advanced stage breast cancer and receiving chemotherapy and/or hormone therapy in 13 community based oncology clinics in Midwestern US were enrolled. The participants were divided into groups that received reflexology therapy, lay-foot manipulation, or conventional care. Participants were interviewed before and after the study. The results showed that compared to the control group, the reflexology group reported:
No adverse events
Significant improvements in the physical functioning
Reduced severity of dyspnea (labored breathing)
No significant differences in breast cancer specific, Health-Related Quality Of Life (HRQOL), depression, anxiety, pain, or nausea.
Other clinical studies have reported improvements in psychological and physical conditions in cancer patients following reflexology.
Labor and delivery: Several small studies with pregnant women have reported that those who had reflexology therapy experienced less pain than women who were given usual care during first stage of labor. Reflexology resulted in clinically significant improvements in pain frequency during labor.
Pain: An exploratory study conducted to assess the usefulness of reflexology concluded that the technique by itself or in combination with medication could be effective in treatment of pain.
Anxiety and depression: Foot massage as well as reflexology therapy are known to help with anxiety and depression in post-menopausal women, as well as cancer patients.
Other conditions: Additionally, there is some evidence for reflexology being effective against constipation, side effects of chemotherapy, diabetes, migraines, etc. Many therapists believe that reflexology boosts the immune system and helps the body get rid of toxins.
Despite the above findings, a systematic review of randomized clinical trials failed to find scientific proof that reflexology was effective against any medical condition. The review cites small sample numbers, poor quality of research, poor controls, lack of proper follow-up procedures, etc. for failure to find significant contributions from reflexology.
However, "touch" is considered a "rewarding stimulus," as it is known to reduce stress, increase oxytocin (called the "cuddle" hormone), etc. Reflexology is generally not believed to be harmful. The technique involves soothing touch, is considered relaxing, a stress-reliever, and it gives people a sense of wellbeing. It may or may not bestow medical benefits on a person. It is ultimately up to an individual to decide whether or not to undergo reflexology therapy.
A word of caution: Please consult with your health care provider before initiating alternative therapies. Tell your healthcare provider about any complementary and alternative practices you use. Give them a full picture of what you do to manage your health. This will help your healthcare provider assess your clinical situation better. This will also help them take appropriate clinical measures to assist you. Full disclosure to your healthcare provider will help ensure coordinated and safe care.
Additional References:
Wyatt, G., Sikorskii, A., Rahbar, M., Victorson, D., & You, M. (2012). Health-Related Quality-of-Life Outcomes: A Reflexology Trial With Patients With Advanced-Stage Breast Cancer. Oncology Nursing Forum, 39(6), 568-577.
Locally Healthy. (n.d.). Retrieved June 5, 2015, from http://www.locallyhealthy.co.uk/story/how-foot-massage-can-help-pregnant-women-deliver
Cochrane. (n.d.). Retrieved June 5, 2015, from http://www.cochrane.org/CD009290/PREG_massage-reflexology-and-other-manual-methods-for-managing-pain-in-labour
Close, C., Sinclair, M., Cullough, J., Liddle, D., & Hughes, C. (2015). A pilot randomised controlled trial (RCT) investigating the effectiveness of reflexology for managing pregnancy low back and/or pelvic pain. Complementary Therapies in Clinical Practice. (n.d.). Retrieved June 5, 2015, from http://www.sciencedirect.com/science/article/pii/S1744388115000419
Samuel, C., & Ebenezer, I. (2013). Exploratory study on the efficacy of reflexology for pain threshold and tolerance using an ice-pain experiment and sham TENS control. Complementary Therapies in Clinical Practice, 19(2), 57-62.
Reflexology: Suddenly I can sleep. (n.d.). Retrieved June 5, 2015, from http://www.telegraph.co.uk/news/health/alternative-medicine/3353945/Reflexology-Suddenly-I-can-sleep.html
Williamson, J. (2002). Randomised controlled trial of reflexology for menopausal symptoms. BJOG: An International Journal of Obstetrics and Gynaecology, 109, 1050-1055.
What Does the Research Say about Reflexology? | Taking Charge of Your Health & Wellbeing. (n.d.). Retrieved June 5, 2015, from http://www.takingcharge.csh.umn.edu/explore-healing-practices/reflexology/what-does-research-say-about-refloxology
Ernst, E., Posadzki, P., & Lee, M. (2011). Reflexology: An update of a systematic review of randomised clinical trials. Maturitas, 68(2), 116-120.
Human Connections Start With A Friendly Touch. (n.d.). Retrieved June 8, 2015, from http://www.npr.org/templates/story/story.php?storyId=128795325
Reviewed and Approved by a member of the DoveMed Editorial Board
First uploaded: June 9, 2015
Last updated: June 9, 2015