What Factors Affect My Eating Habits?
Last updated April 12, 2018
Approved by: Maulik P. Purohit MD, MPH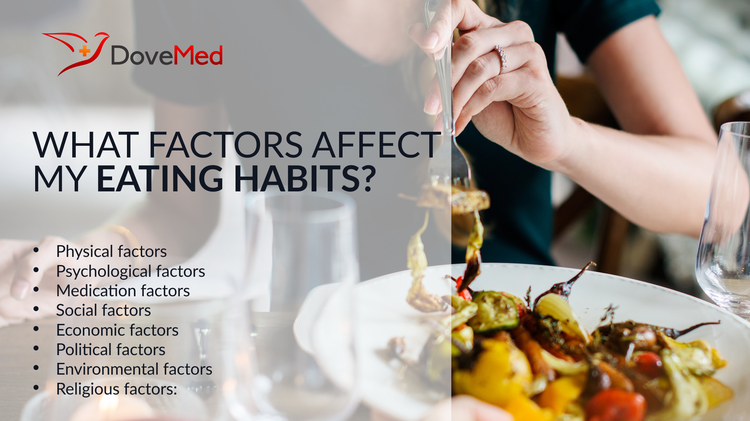 Eating habits may include full meals a few times a day, or having short snacks many times a day, or having a combination of these.
---
Eating habits can be influenced by external and physical factors. Why we eat more or less and what we eat is determined by a number of personal, social, psychological, environmental, cultural, religious, and even political factors sometimes. Etiquette and rituals may determine how food is consumed. Eating habits may include full meals a few times a day, or having short snacks many times a day, or having a combination of these. Factors that affect food intake include:
Physical factors:
With increase in age, muscle mass increases and this can cause lower strength, mobility, balance and energy. This can make eating difficult. Arthritis, decalcification, and osteoporosis, can cause inconvenience in cooking and eating in older adults. Bone mass declines with age, this again reduces mobility that can affect your eating habits. With age, vision may also deteriorate bringing about changes in your eating habits. Swallowing food can become difficult with age as the saliva secretion decreases. Apart from this as we age, chewing becomes a challenge due to poor or lesser teeth condition and gum-related problems. Digestion is another major issue that reduces food intake with digestive disorders, and food tolerance lowers with age. Low fluids and fiber can cause constipation. Intestinal motility also decreases during old age.
Psychological factors:
Research proves that people tend to eat more depending on how they feel at any point in time. A study revealed that 48.5% ate because of loneliness, 53% ate because they are nervous, 62.1% ate uncontrollably, 53.8% eat till they are full, and 59.1% eat because they felt bored. However, most people ate because they felt happy. These were the results of a study conducted among 140 medical students in a private university in Malaysia.
Medication factors:
Intake of medicines due to lifestyle factors, chronic illnesses can cause the loss of appetite or in some cases, increase the appetite as well. Medications may also put some restrictions on the kind of foods that one may take. Moreover, taking medicines can result in depression that can alter your food pattern.
Social factors:
Loneliness is a major factor that can affect eating patterns in an individual. Loss of a loved one can lead to depression that can modify your eating habits. Eating habits varies depending on the group we eat with. Eating with friends will be a different experience than eating with family members
Economic factors:
What we eat depends on how much we can spend; including it is a deciding factor when we plan to eat at restaurants or fast food joints. The eating habits vary with our ability to spend on our groceries. Again cost does not attribute to the nutritional value in foods. 
Political factors:
Food laws are getting stricter by the day with legislators focusing on safe storage and consumption. Labeling laws have made it convenient for consumers to buy food that is high in nutritional value. Moreover, the increase or decrease in food prices also affects one's eating habits.
Environmental factors:
Food that is available in a region naturally becomes the staple food of the people at that location. Many a time, people make food that is local to the region a staple part of their diet. 
Religious factors:
Food habits change depending on the religious factors. Stimulating beverages are discouraged within Seventh day Adventist. Muslims fast during the period of Ramzan or Ramadan. Hindus follow various food changes during festivals and auspicious days.
References and Information Sources used for the Article:
Kagan DM, Squires RL: Compulsive eating, dieting, stress and hostility among college students. J Coll Stud Pers 1984, 25(3):213-220.

Rolfes, S.R., Pinna, K. & Whitney, E. Adulthood and the Later Years. In: Understanding Normal and Clinical Nutrition, 7th ed. Thomson/Wadsworth Publishing Co., Belmont, CA, 2006.

Whitney, E.N. & Rolfes, S.R. Lifecycle Nutrition: Adulthood and the Later Years. In: Understanding Nutrition, 10th ed. Thomson/Wadsworth Publishing Co., Belmont, CA., 2005

Haviland, William A. (1990). Cultural Anthropology. Chicago: Holt, Rinehart and Winston. 

Kittler, Pamela G., and Sucher, Kathryn P. (1998). Food and Culture in America: A Nutrition Handbook, 2nd edition. Belmont, CA: West/Wadsworth. 

Klimis-Zacas, Dorothy J., ed. (2001). Annual Editions: Nutrition 01/02. Guilford, CT: McGraw Hill/Dushkin. 

Lowenberg, Miriam Elizabeth; Todhunter, Elizabeth Neige; Wilson, E. D.; Savage, J. R.; and Lubawski, J. L. (1979). Food and People. New York: Wiley. 

Schlosser, Eric (2001). Fast Food Nation: The Darker Side of the All American Meal. New York: Houghton Mifflin. 

http://www.faqs.org/nutrition/Diab-Em/Eating-Habits.html (accessed on 2/14/2015)

http://www.nutritionj.com/content/11/1/48#B16 (accessed on 2/14/2015)

http://pods.dasnr.okstate.edu/docushare/dsweb/Get/Document-6853/T-3179.pdf (accessed on 2/14/2015)
Helpful Peer-Reviewed Medical Articles:
Deshpande, S., Basil, M. D., & Basil, D. Z. (2009). Factors influencing healthy eating habits among college students: An application of the health belief model. Health marketing quarterly, 26(2), 145-164.

Asp, E. H. (1999). Factors affecting food decisions made by individual consumers. Food Policy, 24(2-3), 287-294.

Neumark-Sztainer, D., Story, M., Perry, C., & Casey, M. A. (1999). Factors influencing food choices of adolescents: findings from focus-group discussions with adolescents. Journal of the American dietetic association, 99(8), 929-937.

Lawrence, J. M., Devlin, E., MacAskill, S., Kelly, M., Chinouya, M., Raats, M. M., ... & Shepherd, R. (2007). Factors that affect the food choices made by girls and young women, from minority ethnic groups, living in the UK. Journal of human nutrition and dietetics, 20(4), 311-319.
Reviewed and Approved by a member of the DoveMed Editorial Board
First uploaded: April 12, 2018
Last updated: April 12, 2018