What Are Phytonutrients?
Last updated June 3, 2021
Approved by: Krish Tangella MD, MBA, FCAP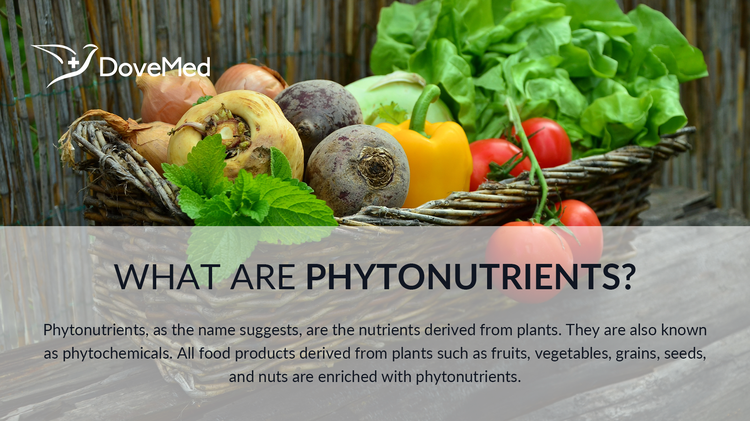 Phytonutrients, as the name suggests, are the nutrients derived from plants. They are also known as phytochemicals. All food products derived from plants such as fruits, vegetables, grains, seeds, and nuts are enriched with phytonutrients.
---
Phytonutrients, as the name suggests, are the nutrients derived from plants. They are also known as phytochemicals. All food products derived from plants such as fruits, vegetables, grains, seeds, and nuts are enriched with phytonutrients. There are more than 40,000 phytonutrients that have been identified to date. Phytonutrients are essentially the chemicals which are produced by plants to protect them from harmful UV rays; they also impart different colors to fruits and vegetables. In humans, these phytonutrients play an important role in preventing disease and maintaining health.  The U.S department of Agriculture (USDA) has classified phytonutrients into the following classes: carotenoids, polyphenols, inosilnol phosphates, lignans (plant estrogen), terpenes, saponines, sulfides, and thiols. Carotenoids are of four types; alpha carotenes, beta carotenes, lutein, lycopene, and zeaxanthin. Polyphenols are of two types; flavanoids (ellagic acid and coumarine) and non-flavnoids (anthocyanin, catechin, flavanones, flavones, flavanol and iso-flavanon).
The phytonutrients are extremely beneficial in preventing diseases like cancer. According to the American Journal of Nutrition, these phytonutrients reduce the oxidative stress on the cells of our body. This oxidative stress is responsible for causing damage to cellular DNA, thereby causing its mutation that can result in cancer. The phytonutrients are known to aid in apoptosis (destruction) of the cancerous and pre-cancerous cells. It is seen that people who don't consume fresh fruits and vegetables are twice as likely to develop cancer than those who consume them. These phytonutrients combat the carcinogens present in the body by activating the cytochrome P450 and phase II enzyme activity of cells. In a clinical study conducted to study the effect of flavanoids on lung cancer and other neoplasms, it was seen that there was a significant decrease in the risk of developing lung cancer in subjects who consume dietary flavonoids. The role of carotenoids and polyphenols is also clinically stated in reducing the risk of head and neck cancer.
Phytonutrients are also powerful antioxidants; they reduce the oxidative stress of harmful free radicals present in our body. Free radicals gets into our body through air, water, and food, and are also produced in our body due to stress. These free radicals are responsible for causing various degenerative and inflammatory diseases in our body. According to a study, the phytonutrients present in ginger have the potential to relieve symptoms of rheumatoid arthritis, an inflammatory disorder of the bones and joints.
Phytonutrients also decrease the level of LDL cholesterol in the blood and hence decreases the risk of developing cardiovascular diseases. In a clinical study, it was found that a flavanoid called Naringenin, present in citrus fruits, is associated in decreasing the risk of developing atherosclerosis.
All the plant products are enriched with phytonutrients, but care should be taken while cooking them, since overcooking or cooking for a longer duration causes thermal decomposition of these phytonutrients. The maximum health benefits from phytonutrients are obtained when they are consumed in their natural form i.e. by eating fresh vegetables and fruits. The American Cancer Society has acknowledged that phytonutrients in dietary supplements are not beneficial in reducing the risk of cancer. Hence, to reduce the risk of various diseases, it is very important to include fruits, vegetables, and other plant products in our daily meals.
References and Information Sources used for the Article:
Intake of flavonoids and lung cancer. J. Natl. Cancer Inst.92:154-160. Le Marchand, L., Murphy, S. P., Hankin, J. H., Wilkens, L. R. & Kolonel, L. N. (2000)

Zingiber officinale: A Potential Plant against Rheumatoid Arthritis. 2014; 2014:159089. doi: 10.1155/2014/159089. Epub 2014 May 27.

 The protective role of carotenoids and polyphenols in patients with head and neck cancer. J Chin Med Assoc. 2015 Feb; 78(2):89-95. doi: 10.1016/j.jcma.2014.08.010. Epub 2014 Oct 11.

Nargenin and atherosclerosis: a review of literature. Curr Pharm Biotechnol. 2015; 16(3):245-51

http://www.fnic.nal.usda.gov/food-composition/phytonutrients (accessed on 06/03/2021)
Helpful Peer-Reviewed Medical Articles:
Kidz, O. Y., & Day, A. What are phytonutrients.

Kidz, O. Y., & Day, A. What are phytonutrients? What are phytonutrients? Well they aren't essential for life but they are essential for optimum health and longevity. These chemicals, found in minute amounts in plant foods, provide thousands of additional reasons to eat your fruit and vegetables. Phyto comes from the Greek word meaning 'plant'. Phytonutrients are compounds the plant naturally produces for multiple reasons; To protect itself against bacteria, viruses and fungi, to sustain its life functions such as ....

Salter, A., Wiseman, H., & Tucker, G. (Eds.). (2012). Phytonutrients. John Wiley & Sons.

Drewnowski, A., & Gomez-Carneros, C. (2000). Bitter taste, phytonutrients, and the consumer: a review. The American journal of clinical nutrition, 72(6), 1424-1435.

Evans, J. A., & Johnson, E. J. (2010). The role of phytonutrients in skin health. Nutrients, 2(8), 903-928.

Sacco, S. M., Horcajada, M. N., & Offord, E. (2013). Phytonutrients for bone health during ageing. British journal of clinical pharmacology, 75(3), 697-707.

Thakur, N., Raigond, P., Singh, Y., Mishra, T., Singh, B., Lal, M. K., & Dutt, S. (2020). Recent updates on bioaccessibility of phytonutrients. Trends in Food Science & Technology, 97, 366-380.

Ferruzzi, M. G., Tanprasertsuk, J., Kris-Etherton, P., Weaver, C. M., & Johnson, E. J. (2020). Perspective: The role of beverages as a source of nutrients and phytonutrients. Advances in Nutrition, 11(3), 507-523.
Reviewed and Approved by a member of the DoveMed Editorial Board
First uploaded: June 3, 2021
Last updated: June 3, 2021