What Are The Health Risks Of Too Much Sleep?
Last updated Oct. 13, 2016
Approved by: Krish Tangella MD, MBA, FCAP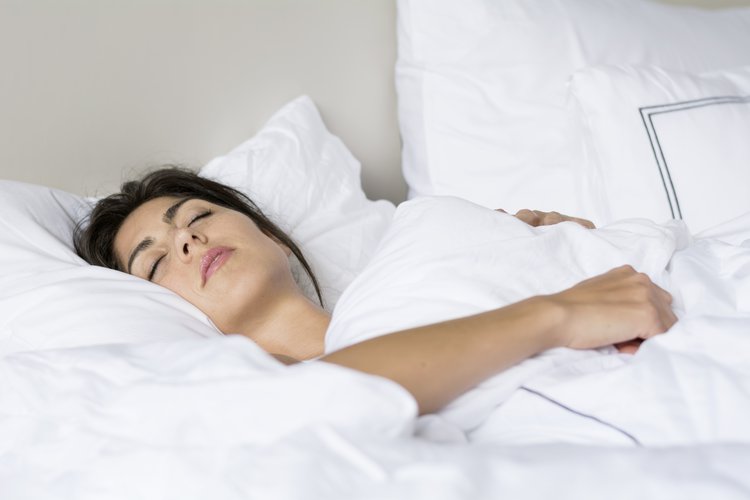 Recent research has exhibited that factors, such as depression and low socioeconomic status, may be strong contenders for producing an association between long sleep duration and mortality.
---
It is common knowledge amongst most informed individuals that sleep deprivation can lead to serious health risks. However, there has been a lasting debate on whether too much sleep can result in adverse health consequences as well. Various studies analyzing the correlation between excess sleep and subsequent health outcomes have been performed showing some correlation, but there still seems to be a deficit in sufficient evidence that would completely establish the link between them.
Studies have demonstrated an association between long sleep durations and increased mortality. A review and analysis of 16 studies was compiled in 2010 at the University of Warwick Medical School in the United Kingdom. The objective was to assess whether current evidence supported a relationship between mortality and duration of sleep. Long duration sleep, which was considered to be durations greater than 8, 9, or 10 hours per night, was found to be associated with a 30% greater risk of mortality, than those who had slept 7-8 hours. Although significant, this does not demonstrate that the association is causal. In other words, it is not yet defined whether sleeping too much causes mortality.
Recent research has also exhibited that factors, such as depression and low socioeconomic status, may be strong contenders for producing an association between long sleep duration and mortality. A study published in 2006 at Case Western Reserve University revealed several important statistical associations regarding depression and antidepressant usage.
Women with current depressive symptoms were strongly associated with long sleep. Those who had depressive symptoms in the past, but not currently, were 1.7 times more likely to sleep longer durations than those women who were not depressed. Women with ongoing symptoms of depression were 2.9 times more likely to have long sleep duration.
Antidepressant use along with depression symptoms were associated with a 3.5 times higher likelihood of longer sleep durations than those who were not on antidepressants or experiencing depression symptoms.
Factors, such as depression and antidepressant use, was found to have a significant effect on mortality when participants had long sleep patterns. 
Socioeconomic status was also shown to have an impact on the association between long sleep and mortality. 
Social isolation, such as living alone, was associated with a 31% higher chance of being a long sleeper.
Lack of employment, low income, and low societal status were all shown to be associated with long sleep patterns. Women making a household income less than $30,000 were 3 times more likely to be long sleepers than those making greater than $75,000. Those who were thought to be at the bottom quartile of society were 4.5 times more likely to be long sleepers than those who were thought to be in the top quartile.
Employment status was shown to be the most influential socioeconomic factor in terms of the potential to affect the correlation between mortality and long sleep.
Researchers argue that these factors might be the cause of longer sleep durations. Individuals with lower socioeconomic status are more likely to have undiagnosed illnesses due to poor medical care, explaining the relationship between long sleep, low socioeconomic status, and mortality.
Further scientific research is necessary to determine whether getting longer sleep has causal links to certain health problems and mortality in adults. Although these findings only suggest a possible correlation in terms of the effects of too much sleep, it is important to understand what your body defines as adequate sleep. Even though suggested sleep durations are heavily dependent upon age, lifestyle, and other health factors, it is important to talk to your physician about how much sleep you should be getting each night. This way, you will avoid such probable associations that would negatively impact your health.
References:
Cappuccio FP, D'Elia L, Strazzullo P, Miller MA. Sleep Duration and All-Cause Mortality: A Systematic Review and Meta-Analysis of Prospective Studies. Sleep. 2010;33(5):585-592. 
Patel SR, Malhotra A, Gottlieb DJ, White DP, Hu FB. Correlates of Long Sleep Duration. Sleep. 2006;29(7):881-889.
How Much Sleep Do We Really Need? [Internet]. National Sleep Foundation [cited 2014 Nov 9]. Available from: http://sleepfoundation.org/how-sleep-works/how-much-sleep-do-we-really-need
Helpful Peer-Reviewed Medical Articles:
Yaggi, H. K., Araujo, A. B., & McKinlay, J. B. (2006). Sleep duration as a risk factor for the development of type 2 diabetes. Diabetes care, 29(3), 657-661.
Patel, S. R., Ayas, N. T., Malhotra, M. R., White, D. P., Schernhammer, E. S., Speizer, F. E., ... & Hu, F. B. (2004). A prospective study of sleep duration and mortality risk in women. SLEEP-NEW YORK THEN WESTCHESTER-, 27(3), 440-444.
Gangwisch, J. E., Heymsfield, S. B., Boden-Albala, B., Buijs, R. M., Kreier, F., Pickering, T. G., ... & Malaspina, D. (2006). Short sleep duration as a risk factor for hypertension analyses of the first national health and nutrition examination survey. hypertension, 47(5), 833-839.
Cappuccio, F. P., D'Elia, L., Strazzullo, P., & Miller, M. A. (2010). Sleep duration and all-cause mortality: a systematic review and meta-analysis of prospective studies. Sleep, 33(5), 585.
Patel, S. R., Malhotra, A., Gottlieb, D. J., White, D. P., & Hu, F. B. (2006). Correlates of long sleep duration. Sleep, 29(7), 881.
Heslop, P., Smith, G. D., Metcalfe, C., Macleod, J., & Hart, C. (2002). Sleep duration and mortality: the effect of short or long sleep duration on cardiovascular and all-cause mortality in working men and women. Sleep medicine, 3(4), 305-314.
Reviewed and Approved by a member of the DoveMed Editorial Board
First uploaded: Oct. 13, 2016
Last updated: Oct. 13, 2016