What Are The Health Risks Of Bananas?
Last updated April 19, 2020
Approved by: Krish Tangella MD, MBA, FCAP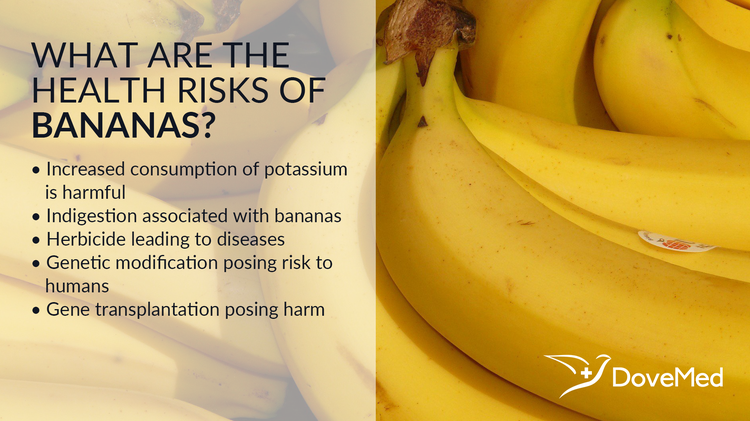 The banana is one of the most primitive cultivated plants. They are native to Southeast and tropical South Asia. They are the most widely consumed fruit in the United States.
---
The banana is one of the most primitive cultivated plants. They are native to Southeast and tropical South Asia. They are the most widely consumed fruit in the United States. Bananas are consumed in a huge amount, especially in countries that do not import most of their food items, making it critical food security. This practice has paved the way to cloning. Lots of evidence has surfaced indicating that bananas are posing health risks. 
Increased consumption of potassium is harmful: Too much potassium can be harmful to elderly people and those who are suffering from kidney disorders. Our kidneys help us to maintain the right amount of potassium in our body. However, if the kidneys are not healthy, excessive potassium can create weakness, tingling, and numbness. A normal human being requires 2000 mg per day of potassium. However, if an individual consumes bananas, it will serve more than 2000 mg every day as discussed in the 17th edition of Pennington, JA and Lippincott`s "Bowes and Church Food values of Portions Commonly used". If patients with kidney disorders do not maintain this level of potassium, it can even cause an irregular heartbeat or could lead to a heart attack. In the "Diet Guide for patients with Kidney Disease" presented by Renal Interest Group – Kanas City Diabetic Association published in the year 1990, banana`s role and limiting its intake for kidney patients has been discussed. 
Indigestion associated with bananas: Bananas have a huge amount of resistant starch, which is one of the most hard-to-digest carbohydrates. Resistant starch fills the small intestine with an abnormally high number of bacteria that produce enzymes, toxins, and intestinal gases. The digestive system gets severely affected. Small Intestinal Bacterial Overgrowths (SIBO) is a condition of the smaller intestine that results in various digestive conditions; Irritable Bowel Syndrome (IBS) is among them. The low starch diet, as mentioned by Carol Sinclair in her book "IBS low starch diet," has discussed how cutting down your intake of banana, a key source of hard-to-digest carbohydrate, can improve your digestive condition. 
Herbicide leading to diseases: Glyphosate, a popular herbicide, is used to control banana plantation. As per recent research, it has been found that this particular herbicide causes various kinds of diseases. In Anthony Samsel and Stephanie Seneff`s "Glyphosate`s Suppression of Cytochrome P250 Enzymes and Amino Acid Biosynthesis by the Gut Microbiome: Pathway to Modern Diseases," the role of the herbicide in various diseases such as obesity, diabetes, gastrointestinal diseases, cancer, infertility, etc. has been extensively discussed. 
Genetic modification posing risk to humans: In order to increase the production and make bananas free of viruses and worm parasites, they have been genetically modified and fall under the category of genetically engineered or genetically modified food. Research clearly reveals that bananas grown in this process pose a threat to the environment and human health. Studies have shown that genetically engineered foods are promoting autism. 
Gene transplantation posing harm: The antibiotic gene inserted into GM crops, like bananas, has the ability to create diseases that will be resistant to antibiotics and can be harmful to human health. Animal studies point towards the fact that DNA injected in food, when consumed by us, can travel into organs; it can even travel into a developing fetus, leading to various disorders. 
In order to increase the production of bananas, various methods are brought into use that are posing a threat to the environment and human health. These crops are also prone to various diseases, which are posing a threat to people consuming them. Therefore, organically grown bananas are better alternatives. 
References and Information Sources used for the Article:
https://www.kidney.org/atoz/content/potassium (accessed on 03/21/2015)

https://www.organicconsumers.org/news/spilling-beans-unintended-gmo-health-risks  (accessed on 03/21/2015)

http://digestivehealthinstitute.org/2012/08/17/sibo-diet-and-digestive-health/  (accessed on 03/21/2015)

http://www.mdpi.com/1099-4300/15/4/1416  (accessed on 03/21/2015)
Helpful Peer-Reviewed Medical Articles:
Jin, Y., Goodman, R. E., Tetteh, A. O., Lu, M., & Tripathi, L. (2017). Bioinformatics analysis to assess potential risks of allergenicity and toxicity of HRAP and PFLP proteins in genetically modified bananas resistant to Xanthomonas wilt disease. Food and Chemical Toxicology, 109, 81-89.

Muraki, I., Imamura, F., Manson, J. E., Hu, F. B., Willett, W. C., van Dam, R. M., & Sun, Q. (2013). Fruit consumption and risk of type 2 diabetes: results from three prospective longitudinal cohort studies. Bmj, 347, f5001.
Reviewed and Approved by a member of the DoveMed Editorial Board
First uploaded: April 19, 2020
Last updated: April 19, 2020