What Are The Health Benefits Of Tomatoes?
Last updated Oct. 19, 2016
Approved by: Krish Tangella MD, MBA, FCAP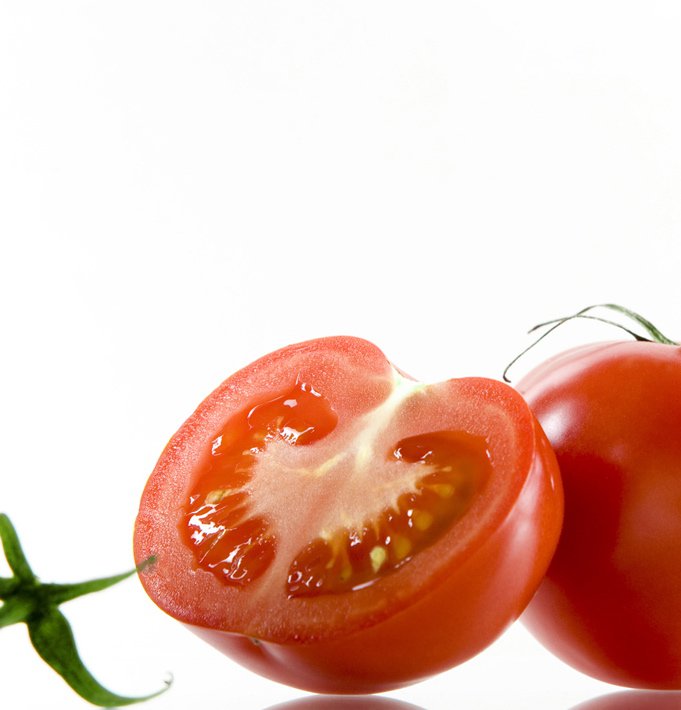 Tomatoes can help in the fight against various types of cancers. This fruit/berry contains the antioxidant lycopene, which is effective against prostate, stomach, rectum, and cervical cancer.
---
The tomato is the edible fruit or berry (often red in color) of the plant Solanum lycopersicum, commonly known as a tomato plant. While it is scientifically classified as a fruit, it is considered a vegetable for cooking reasons. This plant originated in the South American Andes and has since been grown all over the world. In terms of the nutritional value of tomatoes, one medium tomato contains 22 calories, 0 grams of fat, 5 grams of carbohydrates, and 1 gram of protein. Though it contains very few calories, tomatoes pack a punch with a huge supply of vitamins and minerals. 
For example, the fiber in tomatoes helps individuals fight diabetes. Studies have shown that individuals with type 1 diabetes, who eat high-fiber diets, have lower blood sugar levels than individuals who did not eat as much fiber. The Journal of the American Medical Association reports that daily ingestion of tomatoes lessens the oxidative stress of type 2 diabetes and can help the body accomplish blood sugar level goals.
Fiber is also helpful in achieving a healthier digestive system. It can reduce constipation and stimulate the discharge of stomach juices and smooth muscle movement, causing consistent bowel movements. This prevents biological waste products that could be toxins from accumulating in the body. It is also known that fibers help lower the "bad" cholesterol, though it is not the only player in doing so. Lycopene protects the body against heart diseases by stopping fat oxidation. Also, regular consumption of tomatoes can decrease the levels of low-density lipoprotein (or "bad") cholesterol and triglycerides in the blood.
Tomatoes can help in the fight against various types of cancers. This fruit/berry contains the antioxidant lycopene, which is effective against prostate, stomach, rectum, and cervical cancer. An antioxidant is a molecule that inhibits harmful chemicals, called free radicals, from reacting with the body's DNA (the human blueprint). According to Harvard School of Public Health, tomatoes also defend against breast and mouth cancers. Also, vitamin C and beta-carotene (the chemical that makes vitamin A) content in tomatoes may play a protective role in fighting prostate cancer.
Vitamin A and beta-carotene perform other functions as well such as helping to improve vision. Tomatoes are full of the natural compound vitamin A, which can help prevent night-blindness and macular degeneration. Vitamin A is also called retinol because it produces the pigments in the retina (light-sensitive inner surface) of the eye.
Individuals who regularly eat tomatoes can improve their blood pressure levels due to the nutrients in tomatoes. A high potassium and low sodium diet is vital for decreasing blood pressure. A study from the Third National Health and Nutrition Examination Survey showed that a high potassium diet is linked to a 20% reduction in death from any cause.
Tomatoes are exceptionally beneficial for pregnant women. The red fruit contains a lesser-known vitamin called folic acid, which assists in neural tube formation and red blood cell formation in the child in the womb. A deficiency of folic acid in pregnant women can lead to the birth of underweight babies, who may have neural tube defects. 
Folic acid can also help improve the functioning of the brain. Dr. Ueland and colleagues have shown that a deficient amount of dietary folate could raise homocysteine levels in the blood, which can be a dangerous precursor for the onset of brain diseases like Alzheimer's disease and Parkinson's disease. Homocysteine is a non-protein amino acid, which can be harmful to the body when there is an accumulation of the chemical.
Folic acid can also help improve an individual's psychological state. This vitamin found in tomatoes may also help individuals with depression by preventing homocysteine from interfering with mood enhancing brain chemicals such as serotonin, dopamine, and norepinephrine. Tomatoes can help boost one's mood, improve memory, protect the brain, and prevent brain disorders. Tomatoes pair great with Italian cuisines, as well. It is a very versatile vegetable that can be added to many dishes, including sandwiches.
Additional Resources:
Bénard, C., Gautier, H., Bourgaud, F., Grasselly, D., Navez, B., Caris-Veyrat, C., ... & Genard, M. (2009). Effects of low nitrogen supply on tomato (Solanum lycopersicum) fruit yield and quality with special emphasis on sugars, acids, ascorbate, carotenoids, and phenolic compounds. Journal of agricultural and food chemistry, 57(10), 4112-4123.
Clarke, R., Smith, A. D., Jobst, K. A., Refsum, H., Sutton, L., & Ueland, P. M. (1998). Folate, vitamin B12, and serum total homocysteine levels in confirmed Alzheimer disease. Archives of neurology, 55(11), 1449-1455.
Esdorn, I., & Pirson, H. (1961). Die Nutzpflanzen der Tropen und Subtropen in der Weltwirtschaft. Stuttgart: G. Fischer.
He, F. J., & MacGregor, G. A. (2001). Beneficial effects of potassium. Bmj,323(7311), 497-501.
Meneely, G. R., & Battarbee, H. D. (1976). Sodium and potassium. Nutrition reviews, 34(8), 225-235.
Raw Orange Tomatoes. (n.d.). Retrieved December 2, 2014, from http://ndb.nal.usda.gov/ndb/foods/show/3352?fg=&man=&lfacet=&format=&count=&max=25&offset=&sort=&qlookup=tomatoes
Ried, K., & Fakler, P. (2011). Protective effect of lycopene on serum cholesterol and blood pressure: Meta-analyses of intervention trials. Maturitas, 68(4), 299-310.
Shaker, E., Manaa, S., Mubarak, A., & Hady Ferdous, A. E. (2013). Hypo-Homocysteinemia Effect for Some Ethanolic Plant Extracts. J Nutr Food Sci,3(200), 2.
Yang, Q., Liu, T., Kuklina, E. V., Flanders, W. D., Hong, Y., Gillespie, C., ... & Hu, F. B. (2011). Sodium and potassium intake and mortality among US adults: prospective data from the Third National Health and Nutrition Examination Survey. Archives of internal medicine, 171(13), 1183-1191.
Helpful Peer-Reviewed Medical Articles:
Khachik, F., Carvalho, L., Bernstein, P. S., Muir, G. J., Zhao, D. Y., & Katz, N. B. (2002). Chemistry, distribution, and metabolism of tomato carotenoids and their impact on human health. Experimental Biology and Medicine,227(10), 845-851.
Dorais, M., Ehret, D. L., & Papadopoulos, A. P. (2008). Tomato (Solanum lycopersicum) health components: from the seed to the consumer.Phytochemistry Reviews, 7(2), 231-250.
Weisburger, J. H. (2002). Lycopene and tomato products in health promotion.Experimental Biology and Medicine, 227(10), 924-927.
Stacewicz-Sapuntzakis, M., & Bowen, P. E. (2005). Role of lycopene and tomato products in prostate health. Biochimica et Biophysica Acta (BBA)-Molecular Basis of Disease, 1740(2), 202-205.
Hariprasad, P., & Niranjana, S. R. (2009). Isolation and characterization of phosphate solubilizing rhizobacteria to improve plant health of tomato. Plant and soil, 316(1-2), 13-24.
Bramley, P. M. (2000). Is lycopene beneficial to human health?.Phytochemistry, 54(3), 233-236.
Story, E. N., Kopec, R. E., Schwartz, S. J., & Harris, G. K. (2010). An update on the health effects of tomato lycopene. Annual review of food science and technology, 1.
Reviewed and Approved by a member of the DoveMed Editorial Board
First uploaded: Oct. 19, 2016
Last updated: Oct. 19, 2016