What Are The Health Benefits Of Pumpkin Seeds?
Last updated Oct. 13, 2016
Approved by: Krish Tangella MD, MBA, FCAP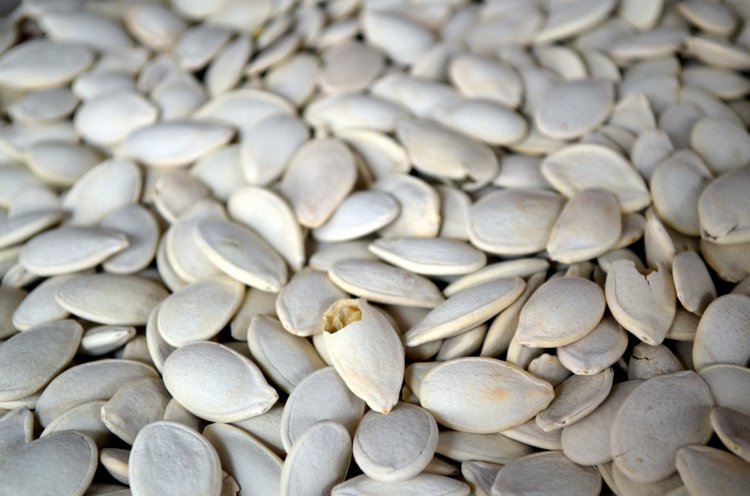 Pumpkin seeds are a wonderful autumn delight that contains fats and proteins, which are essential for a healthy body.
---
Pumpkin seeds are a wonderful autumn delight. They are the only seed that is alkaline-forming, which is a good thing in this acidic-forming world. Pumpkin seeds are the flat, oval-shaped seeds that are light green on the inside and white on the hull. When roasted, most pumpkin seeds come with their shell still attached. There are several associated health benefits of pumpkin seeds that have been observed thus far: 
Raw pumpkin seeds contain wonderful fats and proteins, which are essential for a healthy body. Your body uses protein to produce enzymes, transport oxygen, and to maintain healthy tissues including your muscles, hair, and skin. Pumpkin seeds contain anti-inflammatory properties too. Anti-inflammatory compounds reduce swelling or redness within the body that is caused by harmful stimuli. Research has shown that pumpkin seeds have anti-inflammatory compounds. Pumpkin seeds have been directly associated with a decrease in inflammation and the associated pain of arthritis.
Cooked pumpkin seeds can help improve cholesterol and heart health. They contain a compound, called phytosterols, which have been directly associated with lowering "bad" cholesterol levels and preventing blood clots and atherosclerosis. Atherosclerosis is a disease where plaque builds up inside the arteries, which can lead to heart disease.
Not only do pumpkin seeds improve your heart health, but they can also help improve kidney stones. Pumpkin seeds have been associated with a reduction of toxins in the body due to its diuretic properties and antioxidant activity. Uric acid and other toxins are therefore removed from the body, preventing accumulation. Also, increased potassium intake from pumpkins has been linked with a decline in the formation of kidney stones. This great source of iron has helped make pumpkins become a popular food to help produce red blood cells. Moreover, vitamin A, together with the iron content, has been shown to promote fertility in women in their childbearing age and in lactating mothers.
For individuals who cannot stay calm and or fall asleep, pumpkin seeds can help treat anxiety and insomnia. Anxiety is an umbrella term for several disorders that cause nervousness, panic, uneasiness, and worrying. Insomnia is the inability to fall or stay asleep, often due to stress. Pumpkin seeds are rich in both magnesium and the amino acid tryptophan, which is known to be associated with sedation and soothing qualities that stimulate sleep. Pumpkin seeds have the ability to fight osteoporosis, as they have adequate levels of magnesium, phosphorus, zinc, calcium, copper, and vitamin K that are linked to increased bone density. 
Additional Resources:
Abbasi, B., Kimiagar, M., Sadeghniiat, K., Shirazi, M. M., Hedayati, M., & Rashidkhani, B. (2012). The effect of magnesium supplementation on primary insomnia in elderly: A double-blind placebo-controlled clinical trial. Journal of research in medical sciences: the official journal of Isfahan University of Medical Sciences, 17(12), 1161.
American Diabetes Association. (1998). Nutrition recommendations and principles for people with diabetes mellitus. Diabetes care, 21(Supplement 1), S32-S35.
Murphy, E. W., Willis, B. W., & Watt, B. K. (1975). Provisional tables on the zinc content of foods. Journal of the American Dietetic Association, 66(4), 345-355.
Potassium lowers blood pressure. (n.d.). Retrieved December 2, 2014, from http://www.health.harvard.edu/fhg/updates/update0705c.shtml
Pumpkin Seeds. (n.d.). Retrieved December 2, 2014, from http://ndb.nal.usda.gov/ndb/foods/show/3724?fg=&man=&lfacet=&format=&count=&max=25&offset=&sort=&qlookup=pumpkin seeds
Westerterp-Plantenga, M. S. (2008). Protein intake and energy balance.Regulatory peptides, 149(1), 67-69.
Windom, H. L., & Smith, R. G. (1972). Distribution of iron, magnesium, copper, zinc, and silver in oysters along the Georgia coast. Journal of the Fisheries Board of Canada, 29(4), 450-452.
Helpful Peer-Reviewed Medical Articles:
Stevenson, D. G., Eller, F. J., Wang, L., Jane, J. L., Wang, T., & Inglett, G. E. (2007). Oil and tocopherol content and composition of pumpkin seed oil in 12 cultivars. Journal of agricultural and food chemistry, 55(10), 4005-4013.
Nkosi, C. Z., Opoku, A. R., & Terblanche, S. E. (2005). Effect of pumpkin seed (Cucurbita pepo) protein isolate on the activity levels of certain plasma enzymes in CCl4‐induced liver injury in low‐protein fed rats. Phytotherapy Research, 19(4), 341-345.
Quanhong, L., & Caili, F. (2005). Application of response surface methodology for extraction optimization of germinant pumpkin seeds protein.Food chemistry, 92(4), 701-706.
Kwon, Y. I., Apostolidis, E., Kim, Y. C., & Shetty, K. (2007). Health benefits of traditional corn, beans, and pumpkin: in vitro studies for hyperglycemia and hypertension management. Journal of medicinal food, 10(2), 266-275.
Glew, R. H., Glew, R. S., Chuang, L. T., Huang, Y. S., Millson, M., Constans, D., & Vanderjagt, D. J. (2006). Amino acid, mineral and fatty acid content of pumpkin seeds (Cucurbita spp) and Cyperus esculentus nuts in the Republic of Niger. Plant foods for human nutrition, 61(2), 49-54.
Fruhwirth, G. O., & Hermetter, A. (2008). Production technology and characteristics of Styrian pumpkin seed oil. European journal of lipid science and technology, 110(7), 637-644.
Reviewed and Approved by a member of the DoveMed Editorial Board
First uploaded: Oct. 13, 2016
Last updated: Oct. 13, 2016