What Are The Health Benefits Of Oysters?
Last updated Oct. 8, 2016
Approved by: Krish Tangella MD, MBA, FCAP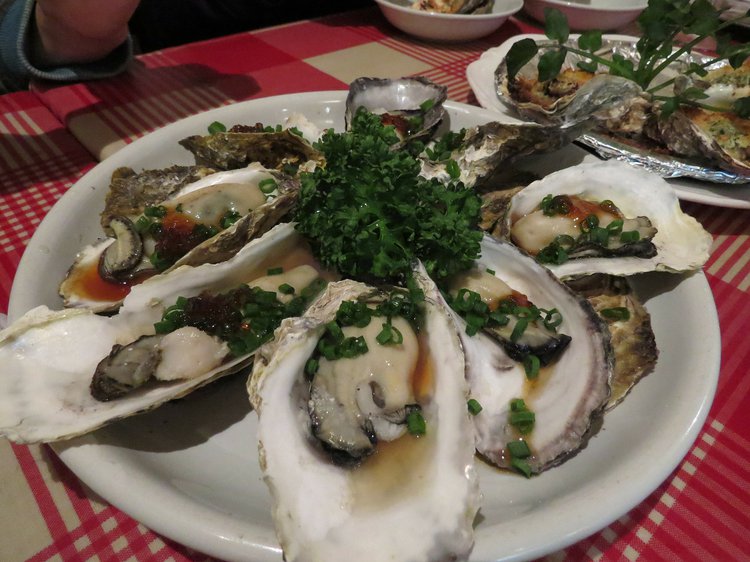 The oyster is a common name for a variety of saltwater clams that are known as bivalve mollusks. Some types are commonly consumed, cooked or raw, as a delicacy. The edible part of the oyster is the meat of the oyster.
---
The oyster is a common name for a variety of saltwater clams that are known as bivalve mollusks. Some types are commonly consumed, cooked or raw, as a delicacy. The edible part of the oyster is the meat of the oyster. Once the shells have been cracked, the meat can be cooked in a variety of ways, or eaten as raw oysters. Oysters are considered a tasty treat, which are very healthy with loads of vitamins, minerals, and chemical compounds known to be beneficial to the human body.
Fresh oysters serve as an excellent source of high-quality protein. In terms of oyster nutrition facts, each cup of oysters contains 17 grams of protein with all of the essential amino acids. The body uses proteins to produce enzymes, transport oxygen, and to maintain healthy tissues, including those of the muscles, hair, and skin.
For individuals who do not get enough sunlight, oysters are a great source of vitamin D. The sunshine vitamin is helpful for enhancing intestinal absorption of minerals like calcium, iron, magnesium, phosphate, and zinc. These minerals can help keep the bones healthy and strong, and oysters are an excellent source of these minerals.
Oysters can help individuals have a restful sleep. They have a high content of magnesium, which is a mineral that is directly associated with enhancing the various qualities of sleep including its duration and peacefulness. Oysters also reduce the risk of sleep disorders, such as insomnia, by regulating body metabolism.
The oyster is a good source of B-vitamin complex elements such as thiamin, vitamin B12, niacin (vitamin B3), and riboflavin. Thiamin (vitamin B1) aids the body in changing carbohydrates into energy. The main role of carbohydrates is to provide energy for the body, especially for the brain and nervous system. Vitamin B12 assists in energy production, but also helps with blood formation, DNA synthesis, and in the formation of fatty substances around brain cells, called myelin.
Niacin has been known to increase "good" cholesterol levels in the body and reduce the risk of heart problems. A deficiency of niacin leads to Pellagra, a disease categorized by diarrhea, dementia, dermatitis, and insomnia. Riboflavin (vitamin B2) works with the other B vitamins and helps in body growth, red blood cell production, and energy release from carbohydrates. This is important because oysters are a sufficient source of iron. Iron assists the body in producing healthy red blood cells that carry oxygen to our cells. Since 20% of blood oxygen is taken by the brain, better blood flow means that the brain is able to function better.
Oysters contain very high levels of zinc, which is loaded with many health benefits including faster wound healing rates and enhanced immune system quality against various infections and microbes. One cup of oysters contains nearly 1502% of the daily recommended intake of zinc. Not only are oysters potent in vitamins and minerals, but they can also help the body improve wound healing and have positive effects on brain and cardiovascular health.
Additional Resources:
Dang, J. Z., Ning, C. M., & Wen, M. (2010). [Enzymatic production of oral nutritional liquid from oyster]. Zhong yao cai= Zhongyaocai= Journal of Chinese medicinal materials, 33(3), 445-448.
Fattal-Valevski, A. (2011). Thiamine (vitamin B1). Journal of Evidence-Based Complementary & Alternative Medicine, 16(1), 12-20.
Fujita, T., Fukase, M., Miyamoto, H., Matsumoto, T., & Ohue, T. (1990). Increase of bone mineral density by calcium supplement with oyster shell electrolysate. Bone and mineral, 11(1), 85-91.
King, I., Childs, M. T., Dorsett, C., Ostrander, J. G., & Monsen, E. R. (1990). Shellfish: proximate composition, minerals, fatty acids, and sterols. Journal of the American Dietetic Association, 90(5), 677-685.
Murphy, E. W., Willis, B. W., & Watt, B. K. (1975). Provisional tables on the zinc content of foods. Journal of the American Dietetic Association, 66(4), 345-355.
Raw Pacific Oysters. (n.d.). Retrieved December 2, 2014, from http://ndb.nal.usda.gov/ndb/foods/show/4622?fg=&man=&lfacet=&format=&count=&max=25&offset=&sort=&qlookup=oysters
Ryan-Harshman, M., & Aldoori, W. (2005). Health benefits of selected vitamins. Canadian family physician, 51(7), 965.
Ryan-Harshman, M., & Aldoori, W. (2008). Vitamin B12 and health. Canadian Family Physician, 54(4), 536-541.
Shuler, F. D., Wingate, M. K., Moore, G. H., & Giangarra, C. (2012). Sports health benefits of vitamin D. Sports Health: A Multidisciplinary Approach, 4(6), 496-501.
Windom, H. L., & Smith, R. G. (1972). Distribution of iron, magnesium, copper, zinc, and silver in oysters along the Georgia coast. Journal of the Fisheries Board of Canada, 29(4), 450-452.
Wollensak, G., Spoerl, E., & Seiler, T. (2003). Riboflavin/ultraviolet-A–induced collagen crosslinking for the treatment of keratoconus. American journal of ophthalmology, 135(5), 620-627.
Helpful Peer-Reviewed Medical Articles:
Udenigwe, C. C., & Aluko, R. E. (2012). Food protein‐derived bioactive peptides: production, processing, and potential health benefits. Journal of Food Science, 77(1), R11-R24.
Ngo, D. H., Vo, T. S., Ngo, D. N., Wijesekara, I., & Kim, S. K. (2012). Biological activities and potential health benefits of bioactive peptides derived from marine organisms. International journal of biological macromolecules, 51(4), 378-383.
Siddiqui, R. A., Shaikh, S. R., Sech, L. A., Yount, H. R., Stillwell, W., & Zaloga, G. P. (2004). Omega 3-fatty acids: health benefits and cellular mechanisms of action. Mini reviews in medicinal chemistry, 4(8), 859-871.
Larsen, R., Eilertsen, K. E., & Elvevoll, E. O. (2011). Health benefits of marine foods and ingredients. Biotechnology Advances, 29(5), 508-518.
Reviewed and Approved by a member of the DoveMed Editorial Board
First uploaded: Oct. 8, 2016
Last updated: Oct. 8, 2016