What Are The Health Benefits Of Massages?
Last updated Oct. 23, 2016
Approved by: Maulik P. Purohit MD, MPH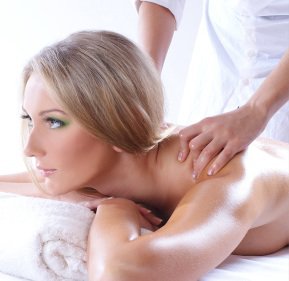 A massage is a term used for pressing, rubbing, and manipulating the skin, muscles, tendons, and ligaments of the body. A massage once a month can help reduce lots of stress and anxiety.
---
In this fast-paced world, it seems like slowing down would only make us feel guilty. But, there are many reasons why we should just turn all of our electronic devices off, take a break and get a massage. However, make sure to ask your physician before using massage as a therapeutic tool for any health condition.
A massage is a term used for pressing, rubbing, and manipulating the skin, muscles, tendons, and ligaments of the body. Massage therapists usually utilize their hands and fingers for a massage, but may also use their forearms, elbows, and even feet. There are several different types of massage therapy including the following:
Trigger point massage: A massage that focuses on areas of tight muscle fibers that can form in your muscles after injuries or overuse.
Swedish massage: A gentle form of massage that uses long strokes, kneading, deep circular movements, vibration, and tapping to help relax and energize you.
Deep massage: A massage technique that uses slower and more forceful strokes to target the deeper layers of muscle and connective tissue, used commonly to help with muscle damage from injuries.
Sports massage: It is similar to the Swedish massage, but is geared toward people who are involved in sports activities. It is used to help prevent or treat injuries.
If you are suffering from any of these conditions, massage therapy may benefit you:
Back pain: Several studies have suggested the effectiveness of massage therapy for back pain. A study indicated that massaging the back muscles is efficient and may reduce the costs of care after an initial course of treatment.
Headaches: Headaches respond to massage therapy, as suggested by multiple studies. Massage therapy can decrease the number of migraines a person gets and also improve sleep. Numerous studies have investigated the effect of massages on brain waves connected to deep sleep, called delta waves.
Weak immune system: Researchers have found that a massage can increase a person's infection-fighting white blood cells.
Anxiety: Massage helps relieve depression and anxiety. Cortisol, a stress-induced hormone, is lowered by about 50% when a massage is given. Also, massages increase the levels of neurotransmitters that help reduce depression in individuals.
Osteoarthritis: Participants who received a one-hour Swedish massage, one or two times per week, showed improvement in pain, stiffness, and function. The control group had no such change.
Cancer: Massage therapy is helpful for people living with or undergoing treatment for serious illnesses such as cancer. Massages can help relieve fatigue, pain, depression, and nausea in cancer patients.
A massage once a month can help reduce lots of stress and anxiety. Try a few types of massage until you find the correct one for you that makes you feel most relaxed. Massages may not only help you calm down, but also fight several ailments and diseases like the common cold, osteoporosis, headaches, and even cancer symptoms.
Additional Resource:
Cherkin, D. C., Eisenberg, D., Sherman, K. J., Barlow, W., Kaptchuk, T. J., Street, J., & Deyo, R. A. (2001). Randomized trial comparing traditional Chinese medical acupuncture, therapeutic massage, and self-care education for chronic low back pain. Archives of Internal Medicine, 161(8), 1081-1088.
Cherkin, D. C., Sherman, K. J., Deyo, R. A., & Shekelle, P. G. (2003). A review of the evidence for the effectiveness, safety, and cost of acupuncture, massage therapy, and spinal manipulation for back pain. Annals of internal medicine,138(11), 898-906.
Field, T. M. (1998). Massage therapy effects. American Psychologist, 53(12), 1270.
Field, T., Ironson, G., Scafidi, F., Nawrocki, T., Goncalves, A., Burman, I., ... & Kuhn, C. (1996). Massage therapy reduces anxiety and enhances EEG pattern of alertness and math computations. International Journal of Neuroscience,86(3-4), 197-205.
Moyer, C. A., Rounds, J., & Hannum, J. W. (2004). A meta-analysis of massage therapy research. Psychological bulletin, 130(1), 3.
Massage Therapy. (n.d.). Retrieved December 2, 2014, from http://nccam.nih.gov/health/massage
Rapaport, M. H., Schettler, P., & Bresee, C. (2010). A preliminary study of the effects of a single session of Swedish massage on hypothalamic–pituitary–adrenal and immune function in normal individuals. The Journal of Alternative and Complementary Medicine, 16(10), 1079-1088.
Quinn, C., Chandler, C., & Moraska, A. (2002). Massage therapy and frequency of chronic tension headaches. American journal of public health,92(10), 1657-1661.
Youssef, E. F., & Shanb, A. S. A. (2013). Mobilization versus massage therapy in the treatment of cervicogenic headache: a clinical study. Journal of back and musculoskeletal rehabilitation, 26(1), 17-24.
Helpful Peer-Reviewed Medical Articles:
Underdown, A., Barlow, J., Chung, V., & Stewart‐Brown, S. (2006). Massage intervention for promoting mental and physical health in infants aged under six months. The Cochrane Library.
Edge, J. (2003). A pilot study addressing the effect of aromatherapy massage on mood, anxiety and relaxation in adult mental health.Complementary Therapies in Nursing and Midwifery, 9(2), 90-97.
Birk, T. J., McGrady, A., MacArthur, R. D., & Khuder, S. (2000). The effects of massage therapy alone and in combination with other complementary therapies on immune system measures and quality of life in human immunodeficiency virus. The Journal of Alternative and Complementary Medicine, 6(5), 405-414.
Andersson, K., Törnkvist, L., & Wändell, P. (2009). Tactile massage within the primary health care setting. Complementary therapies in clinical practice,15(3), 158-160.
Reviewed and Approved by a member of the DoveMed Editorial Board
First uploaded: Oct. 23, 2016
Last updated: Oct. 23, 2016