What Are The Health Benefits Of Doing Squats?
Last updated Sept. 26, 2018
Approved by: Krish Tangella MD, MBA, FCAP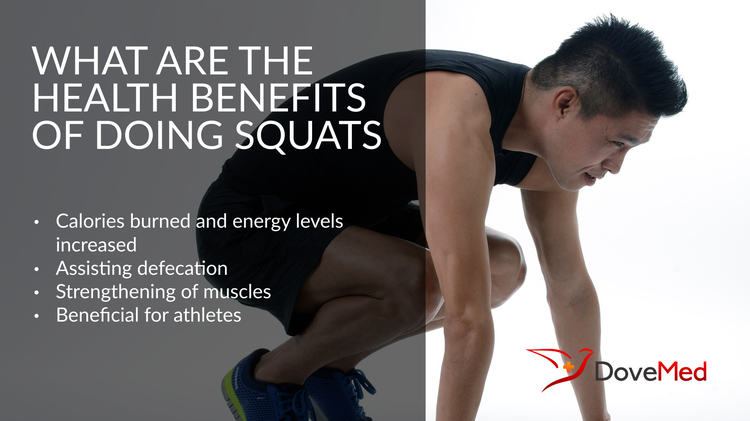 Squatting is the position in which a person sits down on a particular spot so that the legs are completely bent while the back is still straight.
---
Squatting is the position in which a person sits down on a particular spot so that the legs are completely bent while the back is still straight. Often people squat with their elbows resting on their knees and while resting the buttocks on their heels and feet on tip toes. It is often practiced by people without knowing that it is beneficial for their health and it has proven to be a good solution to many health problems.
Here are a few health benefits of doing squats:             
Calories burned and energy levels increased:
Squatting is a beneficial posture; it helps in burning calories, which is almost 70% more than if the individual was sitting at that point of time. It is said that if all sitting postures are replaced by squatting, lifespan could be extended; energy levels could be improved and can make a person feel healthier and better. 
Assisting defecation:
Squatting in the toilet makes it really easy and quick to achieve complete elimination. This position protects the nerves as well as relaxes puborectalis muscle, choking the rectum so that continence is maintained. It is great for people struggling with hemorrhoids as it prevents from excessive straining. In "Squatting for prevention of Hemorrhoids?" published in Townsend Letter for Doctors and Patients in October 1996, the role of squatting has been discussed in preventing and curing hemorrhoids, and how it assists in defecation. 
Strengthening of muscles:
Squatting has a great role in stretching and strengthening the leg muscles. It also plays an important role in building certain other muscles. It is due to this reason that an individual who practices squatting gets a good range of motion for day-to-day activities. It also strengthens the knees.
Beneficial for athletes:
In strength training, squatting is considered as a full body exercise that trains primarily the hips, buttocks, and muscles of the thighs, as well the ligaments, bones, and tendons throughout the lower section of human body. Squats are considered as a crucial exercise for strengthening and increasing the size of legs and buttocks. Squats are an extremely beneficial exercise for athletics. In a journal named "Safety of the squat exercise" written for the American College of Sports Medicine by Jeff Chandler and team, it has been mentioned that squat is important for athletes, because of its functionality and its excellent potential for increasing lean muscle mass, if performed in a  prescribed manner.
Simple squats and lunges serves to be an effective method to structure the muscles and a recent poll from the American Council on Exercise reveals the same. They also inform that one must avoid using the butt-busting equipment. About 36,000 plus ACE-certified fitness experts have declared that 'squat' is a superlative workout to attain a well-formed structure (with or without weights). The most important thing to remember is that squats have to be done in a proper way with expert assistance and guidance.
Professional trainers have provided the entire harmless squat tips and techniques for novice, intermediates, and experienced individuals who use or want to include squats into their fitness regime. 
References and Information Sources used for the Article:
http://www.healthguidance.org/entry/17360/1/The-Health-Benefits-of-the-Squatting-Position.html (accessed on 02/19//2015)

http://www.health.harvard.edu/blog/strengthening-your-core-right-and-wrong-ways-to-do-lunges-squats-and-planks-201106292810 (accessed on 02/19//2015)

http://www.uow.edu.au/~bmartin/pubs/96tldp.html (accessed on 02/19//2015)

https://www.acefitness.org/about-ace/press-room/263/american-council-on-exercise-ace-certified/ (accessed on 02/19//2015)
Helpful Peer-Reviewed Medical Articles:
Kravitz, L. (2007). The 25 most significant health benefits of physical activity & exercise. IDEA Fitness Journal, 4(9), 54-63.

KHAN, A. A. RESISTANCE TRAINING: BENEFITS ON HEALTH & FITNESS. In Of 2nd International conference on Fitness Health and Sports science July 2015 at Ma Hotel, Bangkok (p. 60).
Reviewed and Approved by a member of the DoveMed Editorial Board
First uploaded: Sept. 26, 2018
Last updated: Sept. 26, 2018