What Are The Health Benefits Of Black Pepper?
Tim Simpson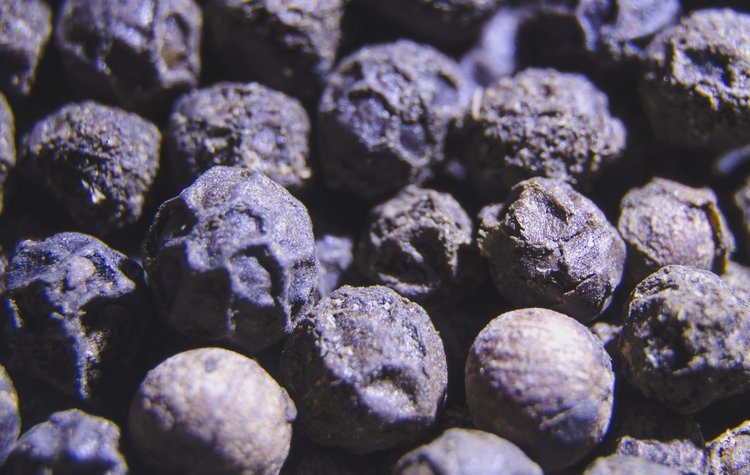 Black pepper (Piper nigrum) is a tall flowering vine that can grow to 12-30 feet in height when supported on other trees and plants.
Black pepper (Piper nigrum) is a tall flowering vine that can grow to 12-30 feet in height when supported on other trees and plants. It is found mostly in south Asian regions that have hot and wet weather conditions. The plant bears flowers on long pendulous spikes that are dried to form peppercorns, from which the black peppers are obtained. Black pepper is loaded with minerals and vitamins such as fiber, manganese, copper, calcium, chromium, iron, and vitamin K. Black pepper, either in the peppercorn or powder form, has been used as a seasoning spice in culinary preparations and for its wide-ranging medicinal properties (anti-inflammatory, antimicrobial, and gastro-protective properties) in many countries around the world. The following are various black pepper health benefits: 
Black pepper is good for the digestive system:
Black pepper contains chemical compounds, such as hydrochloric acid, that can help in the digestive process by promoting acid secretion in the stomach. An article in the Critical Reviews in Food Science and Nutrition journal informs that black pepper can significantly improve gastrointestinal functionality. Individuals suffering from excessive flatulence or constipation may find relief using this spice.
Black pepper and cancer:
Resarch at Dalhousie University indicates that black pepper may be useful in treating cancer of the intestine. A study research in Experimental and Molecular Pathology informs that piperine, the pungent substance in pepper, can help fight cancer of the rectum by stopping the proliferation of cancer cells.
Black pepper and nervous system:
A study, published in Cell Biochemistry Biophysics, observes that piperine can be absorbed through the skin and have a postiive affect on the nervous system. It can help treat neuralgia, which is also known as nerve pain. Pepper is noted to have anticonvulsant properties and can also help with vasodilation, which is the widening of the blood vessels. 
Black pepper and skin condition:
Vitiligo, a common skin depigmentation disorder causing pale patches, has shown improvement with black pepper compounds. A study by King's College London on mice yielded that piperine found in pepper can stimulate pigment production. Pepper oil, when applied on the skin, can stimulate blood circulation and enrich skin tone.
Black pepper and weight management:
According to Physiology and Behavior, substances in pepper have been observed to increase the body metabolic rate. A study in the Journal of Agricultural and Food Chemistry reports that the chemical piperine found in black pepper can suppress the genes that are necessary for new fat cell growth. Although the research was inconclusive on how pepper helped in weight loss, it was reported that pepper could definitely help one maintain a healthy weight.
References:
Ao P, Hu S, Zhao A. [Essential oil analysis and trace element study of the roots of Piper nigrum L.]. Zhongguo Zhong Yao Za Zhi 1998 Jan;23(1):42-3, 63. 1998. PMID:16370.
Calucci L, Pinzino C, Zandomeneghi M et al. Effects of gamma-irradiation on the free radical and antioxidant contents in nine aromatic herbs and spices. J Agric Food Chem 2003 Feb 12; 51(4):927-34. 2003.
Mujumdar AM, Dhuley JN, Deshmukh VK, et al. Anti-inflammatory activity of piperine. Jpn J Med Sci Biol 1990 Jun;43(3):95-100. 1990. PMID:16380.
http://www.uky.edu/Research/Superfund/images/pdf/SpicingUpYourImmuneSystem!.pdf (accessed on 12/12/2014)
http://www.ncbi.nlm.nih.gov/pubmed/22038304 (accessed on 12/12/2014)
http://ndb.nal.usda.gov/ndb/foods/show/261?fg=&man=&lfacet=&format=&count=&max=25&offset=&sort=&qlookup=pepper (accessed on 12/12/2014)
http://www.naturalhealthcure.org/healing-medicinal-herbs/black-pepper-health-benefits.html (accessed on 12/12/2014)
http://www.ncbi.nlm.nih.gov/pmc/articles/PMC3083808/ (accessed on 12/12/2014)
Helpful Peer-Reviewed Medical Articles:
Chaudhry, N. M., & Tariq, P. (2006). Bactericidal activity of black pepper, bay leaf, aniseed and coriander against oral isolates. Pak J Pharm Sci, 19(3), 214-218.
Srinivasan, K. (2007). Black pepper and its pungent principle-piperine: a review of diverse physiological effects. Critical reviews in food science and nutrition, 47(8), 735-748.
Gülçin, İ. (2005). The antioxidant and radical scavenging activities of black pepper (Piper nigrum) seeds. International journal of food sciences and nutrition, 56(7), 491-499.
Vijayakumar, R. S., Surya, D., & Nalini, N. (2004). Antioxidant efficacy of black pepper (Piper nigrum L.) and piperine in rats with high fat diet induced oxidative stress. Redox Report, 9(2), 105-110.
Ebihara, T., Ebihara, S., Maruyama, M., Kobayashi, M., Itou, A., Arai, H., & Sasaki, H. (2006). A randomized trial of olfactory stimulation using black pepper oil in older people with swallowing dysfunction. Journal of the American Geriatrics Society, 54(9), 1401-1406.
Ahmad, N., Fazal, H., Abbasi, B. H., Farooq, S., Ali, M., & Khan, M. A. (2012). Biological role of Piper nigrum L.(Black pepper): A review. Asian Pacific Journal of Tropical Biomedicine, 2(3), S1945-S1953.