Is Venison A Healthy Alternative To Traditional Red Meats?
Last updated Jan. 27, 2016
Approved by: Krish Tangella MD, MBA, FCAP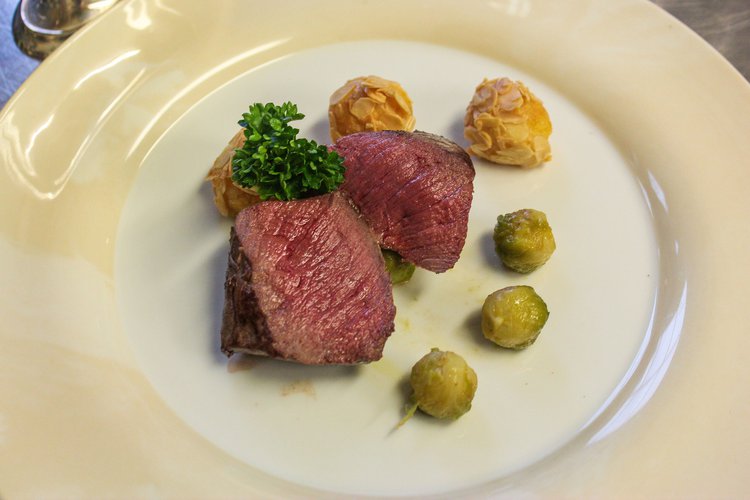 Venison is the edible meat of game animals like deer, elk, antelope, moose, and caribou. Deer is the most commonly consumed wild animal.
---
Venison is the edible meat of game animals like deer, elk, antelope, moose, and caribou. Deer is the most commonly consumed wild animal. Hence, venison is often synonymous to deer meat. Venison is primarily a red meat that is high in protein and low in fat, and thus, there are many potential health benefits associated with eating venison. However, there is a higher risk of contracting a food-borne infection because venison is usually obtained by hunting. Therefore, good sanitary practices should be followed to avoid any contamination.
The nutritional composition of venison makes it an exceptionally healthy food choice over other meat. Venison, like all red meat, is high in protein. It contains all the essential amino acids required for proper growth and development. The following are some nutritional facts on venison:
When compared with beef, 4 ounces of venison has only 3 g of fat out of which only 1 g is saturated fat. This is relatively low compared to the average total fat of 13g in 4 oz of 85% lean beef. Low fat and high protein content makes venison an excellent choice of meat for building lean muscle.

Venison does not have any significant carbohydrates, which makes it suitable for diabetics and obese people.

Being a red meat, venison is a rich source of dietary iron; it improves blood health and reduces the risk of iron deficiency anemia.

Venison has a vitamin enriched profile. It consists of vitamin B6, which helps in blood sugar regulation, vitamin B2, which is required for carbohydrate metabolism, vitamin B3, which is known for reducing risks of cardiovascular disease, and vitamin B12, which regulates blood formation and certain neurological functions.

Venison also has a micronutrient known as Conjugated Linoleic Acid, which has anti-cancer properties.

Therefore, it would appear that consuming venison may prevent one from developing conditions like anemia, cancer, diabetes, cardiovascular diseases, and obesity.
However, there are health risks associated with obtaining wild animals:
There is a high probability of toxicity due to lead poisoning when animals are hunted with lead-based ammunition. The chances of lead toxicity are fairly high in pregnant women and children. To overcome this health hazard, the use of non-lead ammunition is advised while hunting animals for their meat.

Another health risk is the meat being contaminated with infectious pathogens. According to the New York State Department of Health, if proper sanitary practices are not followed while hunting, handling, and cooking venison, there is a higher chance of becoming infected with diseases like tuberculosis.

The Centers for Disease Control and Prevention has stated that the consumption of contaminated venison may transmit Chronic Wasting Disease in humans (a spongiform encephalopathy).

In conclusion, venison is a potentially healthy animal product. It is a rich source of various essential nutrients and could reduce the risk of many fatal medical conditions. Venison is also reported to help reduce weight, control diabetes, and improve muscle mass. If good sanitary practices are followed while hunting and handling the animal, venison is a fairly healthy choice of meat.
References:
Advice on Eating Game. Retrieved from http://www.health.ny.gov/environmental/outdoors/fish/health_advisories/advice_on_eating_game.htm
Grainger Hunt, W., Watson, R.T., Oaks, J. L., Parish, C. N., Burnham, K. K., Tucker, R. L., Belthoff, J. R., & Hart, G. (2009) Lead bullet fragments in venison from rifle-killed deer: potential for human dietary exposure. PLoS One, 4(4): e 5330. Retrieved from http://journals.plos.org/plosone/article?id=10.1371/journal.pone.0005330
Belay, E.D., Maddox, R.A., Williams, E.S., Miller, M.W., Gambetti, P., & Schonberger, L.B. (2004). Chronic wasting disease and potential transmission to humans. Emerg Infect Dis, 10(6), pp. 977-84. Retrieved from http://www.ncbi.nlm.nih.gov/pubmed/15207045
http://www.ncbi.nlm.nih/pubmed/?term+health+benefits++of+venison
USDA National Nutrient Database for Standard Reference. Retrieved from http://ndb.nal.usda.gov/
Reviewed and Approved by a member of the DoveMed Editorial Board
First uploaded: Jan. 27, 2016
Last updated: Jan. 27, 2016