Is Sugar Alcohol Bad For You?
Last updated Nov. 18, 2016
Approved by: Krish Tangella MD, MBA, FCAP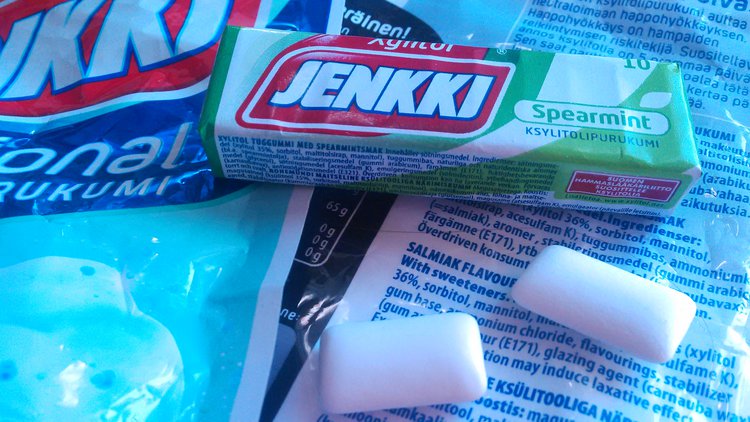 The Xylitol found in certain types of chewing gum is a type of sugar alcohol.
---
What is Sugar Alcohol?
Sugar alcohol is a type of 'reduced-calorie' sweetener. It is a carbohydrate that is found naturally in certain fruits and vegetables, but can also be manufactured artificially. It is not considered an intense sweetener because it is less sweet than sugar. Sugar alcohol has less of an effect on blood sugar levels than regular sugar. Just like artificial sweeteners, the Food and Drug Administration regulates the use of sugar alcohols. You can find sugar alcohol in many ice creams and chewing gum that are labeled as "sugar-free" or "no sugar added."
Sugar alcohols are usually not used for foods prepared at home. Instead, they are found in many processed foods, including chocolate, candy, frozen desserts, chewing gum, toothpaste, mouthwash, baked goods and fruit spreads, usually replacing sugar on an equal basis.
What are the different types of Sugar Alcohol?
A few examples of sugar alcohols include the following:
Erythritol
Glycerol
Maltitol
Hydrogenated starch hydrolysates
Isomalt
Lactitol
Mannitol
Sorbitol
Sugar alcohols are low in calories and are considered to be an excellent alternative for individuals who are trying to lose weight. Typical sugar contains 4 calories per gram, while sugar alcohols contain about half that amount. 
Is Sugar Alcohol safe?
Natural sweeteners are safe, but there is no health benefit to consuming sugar in any form. Consuming too much natural sweeteners can lead to health complications such as tooth decay, poor nutrition, weight gain, and increased triglycerides. Individuals should not get carried away by natural sweeteners though. The vitamin and mineral content is not significantly different from that of sugar, which implies that there is barely any additional nutritional content in them.
Even though sugar alcohol might be better for you than actual sugar, it is still not considered healthy. Sugar alcohols may be the lesser evil of the two, but it is still not considered healthy to eat because it has fewer calories. 
How much Sugar Alcohol is too much?
There are a few health concerns linked with sugar alcohols. According to the European Journal of Clinical Nutrition, eating natural sweeteners in large quantities, as much as 50 grams per day (but sometimes, as little as 10 grams per day), can have a laxative effect, causing bloating, intestinal gas, and diarrhea. Some products may have a warning label about this potential laxative effect. 
There is nothing wrong with trying a sugar-free gum. However, make that a substitute, rather than regular gum. Low-carb products may have hidden calories from sugar alcohol. Do ensure that you are aware of the same while consuming such products.
Additional Resources:
Bornet, F. R., Blayo, A., Dauchy, F., & Slama, G. (1996). Gastrointestinal response and plasma and urine determinations in human subjects given erythritol. Regul Toxicol Pharmacol, 24(2 Pt 2), S296-302. doi: 10.1006/rtph.1996.0111
Gardner, C., Wylie-Rosett, J., Gidding, S. S., Steffen, L. M., Johnson, R. K., Reader, D., . . . American Diabetes, A. (2012). Nonnutritive sweeteners: current use and health perspectives: a scientific statement from the American Heart Association and the American Diabetes Association. Diabetes Care, 35(8), 1798-1808. doi: 10.2337/dc12-9002
Mattes, R. D., & Popkin, B. M. (2009). Nonnutritive sweetener consumption in humans: effects on appetite and food intake and their putative mechanisms. Am J Clin Nutr, 89(1), 1-14. doi: 10.3945/ajcn.2008.26792
Secchi, A., Pontiroli, A. E., Cammelli, L., Bizzi, A., Cini, M., & Pozza, G. (1986). Effects of oral administration of maltitol on plasma glucose, plasma sorbitol, and serum insulin levels in man. Klin Wochenschr, 64(6), 265-269. 
Storey, D., Lee, A., Bornet, F., & Brouns, F. (2007). Gastrointestinal tolerance of erythritol and xylitol ingested in a liquid. Eur J Clin Nutr, 61(3), 349-354. doi: 10.1038/sj.ejcn.1602532
Storey, D. M., Koutsou, G. A., Lee, A., Zumbe, A., Olivier, P., Le Bot, Y., & Flourie, B. (1998). Tolerance and breath hydrogen excretion following ingestion of maltitol incorporated at two levels into milk chocolate consumed by healthy young adults with and without fasting. J Nutr, 128(3), 587-592. 
Helpful Peer-Reviewed Medical Articles:
Livesey, G. (2003). Health potential of polyols as sugar replacers, with emphasis on low glycaemic properties. Nutrition Research Reviews, 16(02), 163-191.
Mäkinen, K. K. (2011). Sugar alcohol sweeteners as alternatives to sugar with special consideration of xylitol. Medical Principles and Practice, 20(4), 303-320.
Choi, J. W. J., Ford, E. S., Gao, X., & Choi, H. K. (2008). Sugar‐sweetened soft drinks, diet soft drinks, and serum uric acid level: The third national health and nutrition examination survey. Arthritis Care & Research, 59(1), 109-116.
Brownell, K. D., Farley, T., Willett, W. C., Popkin, B. M., Chaloupka, F. J., Thompson, J. W., & Ludwig, D. S. (2009). The public health and economic benefits of taxing sugar-sweetened beverages. New England journal of medicine, 361(16), 1599-1605.
Van Loveren, C. (2004). Sugar alcohols: what is the evidence for caries-preventive and caries-therapeutic effects?. Caries research, 38(3), 286-293.
American Dietetic Association. (2004). Position of the American Dietetic Association: use of nutritive and nonnutritive sweeteners. Journal of the American Dietetic Association, 104(2), 255.
Ichikawa, T., Yano, Y., Fujita, Y., Kashiwabara, T., & Nagao, K. (2008). The enhancement effect of three sugar alcohols on the fungicidal effect of benzethonium chloride toward Candida albicans. Journal of dentistry, 36(11), 965-968.
Reviewed and Approved by a member of the DoveMed Editorial Board
First uploaded: Nov. 18, 2016
Last updated: Nov. 18, 2016