Is Melatonin Healthy To Take For Sleep?
Last updated Nov. 19, 2016
Approved by: Maulik P. Purohit MD, MPH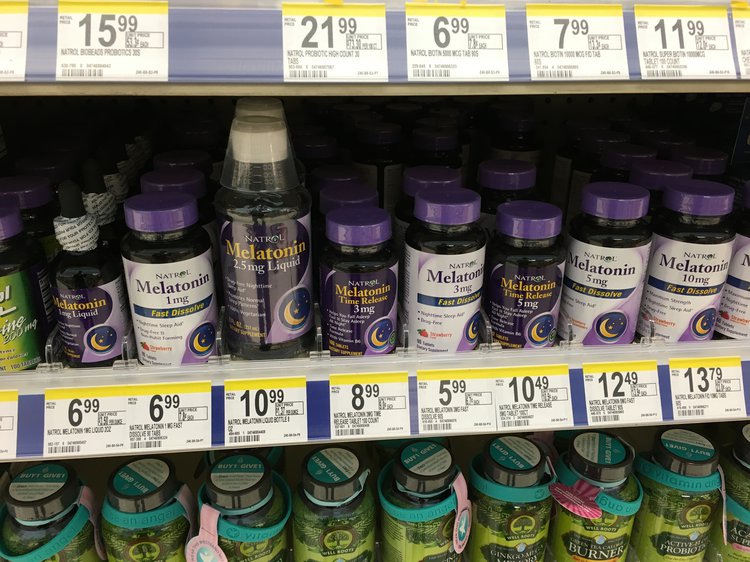 According to the National Sleep Foundation, in order for melatonin to be beneficial, it must be taken at the proper dosage and the right time of day to be suitable for any sleep problems.
---
Melatonin supplements have been heavily marketed to the public as a natural sleep aid. Melatonin is the hormone responsible for the onset of sleep, leading to the popular belief that supplementation with synthetic versions will lead to heightened sleep benefits. But, you might question whether synthetic versions are healthy to consume before bedtime.
The consistent pattern of waking up with sunlight and sleeping in darkness is a biological norm for humans. What you might not know is that this alternating exposure to light and darkness is what regulates human sleep cycles. When the eyes are exposed to light in the morning, a nerve pathway is stimulated that introduces signals to varying parts of the brain, which are responsible for controlling hormones, body temperature, and other functions involved in alertness or tiredness. The brain is stimulated when exposed to light in the morning. This, in turn, raises body temperature, releases the hormone cortisol, and inhibits melatonin release.
Melatonin is made naturally in the body's pineal gland, located just above the middle portion of the brain. The pineal gland remains inactive during the day. At night, it is stimulated and turned on in response to darkness, actively producing melatonin and releasing it into the bloodstream. A sharp rise of melatonin in the blood starts to make you feel less alert, staying elevated for about 12 hours throughout the night. Exposure to light in the morning directly inhibits the release of melatonin. Body levels of melatonin in the blood during the day are hardly detectable.
Melatonin is the only hormone available without a prescription in the United States. Since it is contained naturally in some foods, it is approved for retail as a dietary supplement, rather than a drug. Since the Food and Drug Administration (FDA) need not control it, it is made in factories without regulation. This indicates the uncertainty in whether listed doses are the actual doses that the pill contains. A majority of such commercial melatonin pills are offered at doses that raise blood levels higher than what is naturally produced in the body. A standard melatonin dosage of 1-3 mg could elevate your melatonin blood levels from anywhere between 1 to 20 times the normal amount. There have been concerns raised regarding such an increase and the extensive use of synthetic melatonin. However, there have not been any reported cases of proven toxicity or overdose from taking melatonin.
The research regarding whether melatonin has an impact on sleep is inconclusive. A study in 1994 at the B.C.'s Children's Hospital in Vancouver, Canada concluded that the lag time between the onset of melatonin secretion and the onset of sleep suggests exogenous melatonin's role in promoting sleep. A later study conducted in 2004, by the Agency for Healthcare Research and Quality investigated melatonin's effectiveness with sleep disorders. However, the evidence from the study suggested that supplemental melatonin was not effective towards the treatment of most sleep disorders with short-term use. Despite these negative findings, it was found to be safe for short-term use. The discrepancies in these findings suggest the need for further research on exogenous melatonin's effects on the sleep cycle. 
Dos and Don'ts for Melatonin Supplementation:
It is important for those who take melatonin supplements to use them in the right manner.
According to the National Sleep Foundation, in order for melatonin to be beneficial, it must be taken at the proper dosage and the right time of day to be suitable for any sleep problems. Melatonin supplementation at the wrong time of the day may reset your biological clock in an unfavorable way, hindering the benefits of melatonin.
It was concluded by the Agency for Healthcare Research and Quality that exogenous melatonin is safe, but should be administered in small doses over a short period of time. Melatonin supplements should not be intended for long-term use. Its safety, however, has not yet been definitively established, thus demonstrating the need for further research and clinical trials.
It is important to be aware of common melatonin side effects and to stop taking melatonin if adverse effects occur. The symptoms found to be prevalent in the study conducted by the Agency for Healthcare Research and Quality included nausea, headache, dizziness, and drowsiness.
You should consult with a physician to discuss your need for melatonin supplements, in case of difficulty maintaining a proper sleep cycle, trouble with onset of sleep, and such sleep-related conditions.
Given that there are no serious side effects or reported cases of toxicity due to melatonin supplements, they appear to be relatively safe for your health. But like with most hormones, they are best if taken in moderation. By following these simple rules, melatonin could help contribute to a more restful, healthy sleep when necessary.
References:
Melatonin and Sleep [Internet]. National Sleep Foundation [cited 2014 Dec 15]. Available from: http://sleepfoundation.org/sleep-topics/melatonin-and-sleep
Buscemi N, Vandermeer B, Pandya R, Hooton N, Tjosvold L, Hartling L, Baker G, Vohra S, Klassen T. Melatonin for Treatment of Sleep Disorders. Agency for Healthcare Research and Quality. 2004; 108.  
Jan JE, Espezel H, Appleton RE. The Treatment of Sleep Disorders With Melatonin. Dev Med Child Neurol. 1994;36(2):97-107.
Helpful Peer-Reviewed Medical Articles:
Bliwise, D. L., & Ansari, F. P. (2007). Insomnia associated with valerian and melatonin usage in the 2002 National Health Interview Survey. SLEEP-NEW YORK THEN WESTCHESTER-, 30(7), 881.
Schaffer, D. M., Gordon, N. P., Jensen, C. D., & Avins, A. L. (2003). Nonvitamin, nonmineral supplement use over a 12-month period by adult members of a large health maintenance organization. Journal of the American Dietetic Association, 103(11), 1500-1505.
Kotlarczyk, M. P., Lassila, H. C., O'Neil, C. K., D'Amico, F., Enderby, L. T., Witt‐Enderby, P. A., & Balk, J. L. (2012). Melatonin osteoporosis prevention study (MOPS): a randomized, double‐blind, placebo‐controlled study examining the effects of melatonin on bone health and quality of life in perimenopausal women. Journal of pineal research, 52(4), 414-426.
Scott, G. N., & Elmer, G. W. (2002). Update on natural product--drug interactions. American Journal of Health-System Pharmacy, 59(4).
Radimer, K. L., Subar, A. F., & Thompson, F. E. (2000). Nonvitamin, nonmineral dietary supplements: issues and findings from NHANES III.Journal of the American Dietetic Association, 100(4), 447-454.
Hallam, K. T., Olver, J. S., Horgan, J. E., McGrath, C., & Norman, T. R. (2005). Low doses of lithium carbonate reduce melatonin light sensitivity in healthy volunteers. International Journal of Neuropsychopharmacology, 8(2), 255-259.
Altun, A., & Ugur‐Altun, B. (2007). Melatonin: therapeutic and clinical utilization. International journal of clinical practice, 61(5), 835-845.
Smits, M. G., van der HEIJDEN, K. R. I. S. T. I. A. A. N., MEIJER, A. M., COENEN, A. M., & KERKHOF, G. A. (2003). Melatonin improves health status and sleep in children with idiopathic chronic sleep-onset insomnia: a randomized placebo-controlled trial. Journal of the American Academy of Child & Adolescent Psychiatry, 42(11), 1286-1293.
Reviewed and Approved by a member of the DoveMed Editorial Board
First uploaded: Nov. 19, 2016
Last updated: Nov. 19, 2016