How Does Exercise Regulate Blood Sugar Levels?
Last updated April 23, 2016
Approved by: Maulik P. Purohit MD, MPH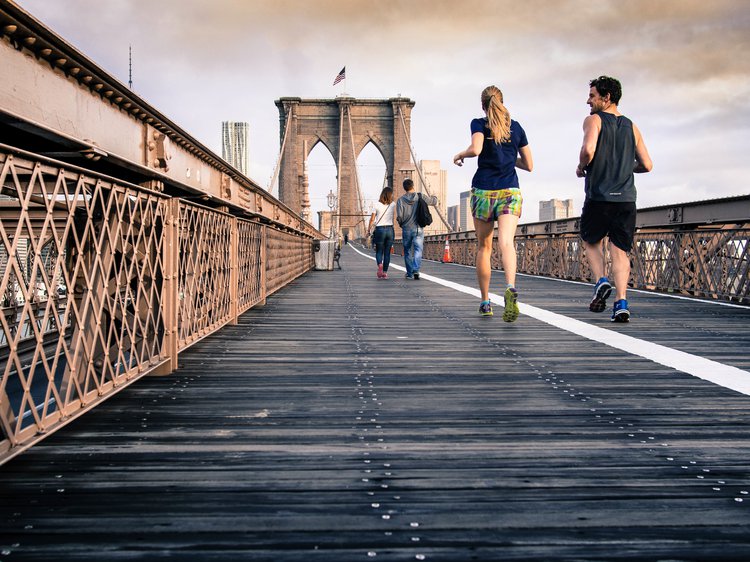 Research has recognized a key role that exercise plays in the regulation of blood sugar throughout the day.
---
There is no doubt that exercise offers incredible benefits to your body, both physically and mentally. But, have you ever considered how exercise can affect your blood sugar levels? Research has recognized a key role that exercise plays in the regulation of blood sugar throughout the day.
Blood glucose, commonly known as blood sugar, is the amount of sugar in blood at any given time. When your blood has an increased level of glucose, the hormone insulin is secreted in response to this. For example, this secretion can occur after a meal containing carbohydrates. The insulin secreted sends a signal to tell cells to absorb the glucose from the bloodstream.
An immediate reduction in blood sugar levels to normal usually occurs in response to exercise. This sudden reduction in levels can be used as a means for daily regulation of blood glucose and its effect can be shown in a long-term improvement for diabetes.
The American Diabetes Association has identified mechanisms in which this reduction in glucose levels occurs in blood. Exercise causes an increase in insulin sensitivity and it is easier for your cells to use the insulin in blood to take up glucose during and after exercise. Muscle contraction during exercise stimulates a process that allows your cells to take up glucose and use it for energy, regardless of the presence of insulin.
If you currently suffer from diabetes or pre-diabetes, talk to your healthcare provider about how exercise can benefit your individual case. Developing a plan that fits in to your needs, in terms of duration and intensity! It is possible to naturally lower blood glucose levels safely and effectively. Whether your blood glucose levels are normal or you suffer from diabetes, exercise can no doubt help keep your insulin levels in check.
References and Information Sources used for the Article:
Hess-Fischl, A. What is Insulin? [Internet]. Vertical Health LLC [updated 2014 May 27; cited 2014 Nov 11]. Available from: http://www.endocrineweb.com/conditions/type-1-diabetes/what-insulin

Norman, EG. Exercise and Blood Sugar Management In Type 2 Diabetes [Internet]. BC Endocrine Research Foundation; 2002 [cited 2014 Nov 11]. Available from: http://www.bcendocrineresearch.com/newsletter/v04/n04/Exercise_and_Blood_Sugar_Management_In_Type_2_Diabetes_s01.php

Blood Glucose Control and Exercise [Internet]. American Diabetes Association; 2013 Sept 4 [updated 2013 Dec 16; cited 2014 Nov 11]. Available from:  http://www.diabetes.org/food-and-fitness/fitness/get-started-safely/blood-glucose-control-and-exercise.html

Dill, D. B., Edwards, H. T., & Mead, S. (1935). Blood sugar regulation in exercise. American Journal of Physiology, 111, 21-30.

Mayer, J. (1953). Glucostatic mechanism of regulation of food intake. New England Journal of Medicine, 249(1), 13-16.

Bergström, J., & Hultman, E. (1967). A study of the glycogen metabolism during exercise in man. Scandinavian journal of clinical and laboratory investigation, 19(3), 218-228.

Staehelin, D., Labhart, A., Froesch, R., & Kägi, H. R. (1955). The effect of muscular exercise and hypoglycemia on the plasma level of 17-hydroxysteroids in normal adults and in patients with the adrenogenital syndrome. Acta endocrinologica, 18(4), 521-529.

Wasserman, D. H. (1995). Regulation of glucose fluxes during exercise in the postabsorptive state. Annual Review of Physiology, 57(1), 191-218.

Youngwanichsetha, S., Phumdoung, S., & Ingkathawornwong, T. (2014). The effects of mindfulness eating and yoga exercise on blood sugar levels of pregnant women with gestational diabetes mellitus. Applied Nursing Research, 27(4), 227-230.

Rodin, J. (2014). Health, control, and aging. Aging and the Psychology of Control, 139-165.

Chen, Y. W., Hsieh, P. L., Chen, Y. C., Hung, C. H., & Cheng, J. T. (2013). Physical exercise induces excess hsp72 expression and delays the development of hyperalgesia and allodynia in painful diabetic neuropathy rats. Anesthesia & Analgesia, 116(2), 482-490.
Helpful Peer-Reviewed Medical Articles:
Rose, A. J., & Richter, E. A. (2005). Skeletal muscle glucose uptake during exercise: how is it regulated?. Physiology, 20(4), 260-270.

American Diabetes Association. (2004). Physical activity/exercise and diabetes. Diabetes care, 27(suppl 1), s58-s62.
Reviewed and Approved by a member of the DoveMed Editorial Board
First uploaded: April 23, 2016
Last updated: April 23, 2016