How Can Oatmeal Improve Your Health?
Last updated April 24, 2016
Approved by: Krish Tangella MD, MBA, FCAP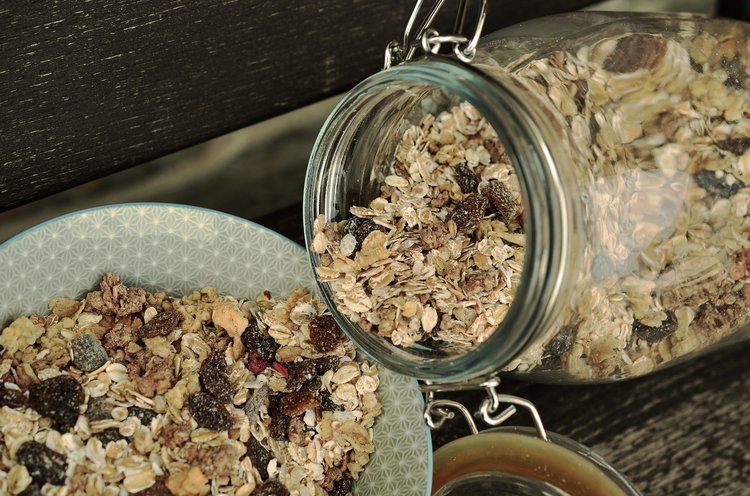 Oatmeal is a popular breakfast item that has been recognized since the 15th century for its health benefits and healing properties.
---
Oats has been recognized since the 15th century for its health benefits and healing properties. Oatmeal, a popular breakfast item, has both an appealing taste and a reputation for its many benefits to the body.
Oatmeal has a both a high soluble and insoluble fiber content. The insoluble fiber in oatmeal helps you feel full for longer periods of time, as well as promotes proper gastrointestinal health. Oat's high soluble fiber content is in the form of beta-glucan, which helps to maintain blood sugar by lengthening digestive processing time.
Once cup of oatmeal has approximately 150 calories, along with 4 grams of fiber and 6 grams of protein. It also contains an array of essential minerals such as iron, zinc, selenium, magnesium, thiamin, and phosphorus.
The Department of Internal Medicine and Nutritional Sciences at the University of Kentucky conducted a study in 2009 that found a correlation between an increased consumption of oats and a substantial decrease in body mass index (BMI), blood pressure, LDL cholesterol, and triglyceride values.
The Harvard Medical School recommends incorporating oats into a daily food routine as a simple step to lowering cholesterol. One bowl of oatmeal or oat cereal contains 1 to 2 grams of soluble fiber. This soluble fiber is known to help decrease cholesterol levels. It is suggested to consume 25 to 35 grams of fiber each day.
There are several types of oat preparations that can cater to your taste buds. Steel-cut oats contain whole oat grain and oat bran that are chopped into smaller pieces. Rolled oats are partially cooked and flattened, oftentimes called old-fashioned oats. Instant oats are prepared the same as rolled oats, but they are cooked longer, usually with the addition of sweeteners or flavors.
The oatmeal is an attractive alternative to other breakfast items, not only because of its taste, but also because you can reap countless health benefits from it.
References:
Anderson JW, Baird P, Davis Jr RH, Ferreri S, Knudtson M, Koraym A, Waters V, Williams CL. Health Benefits of Dietary Fiber. Nutrition Reviews. 2009;67(4): 188-205. 
(http://onlinelibrary.wiley.com/doi/10.1111/j.1753-4887.2009.00189.x/full)
11 Foods That Lower Cholesterol [Internet]. Harvard Health Publications; [updated 2009 Nov]. Available from: http://www.health.harvard.edu/fhg/updates/11-foods-that-lower-cholesterol.shtml
Health Benefits of Oatmeal [Internet]. Available from: http://www.healthyeating.org/Healthy-Eating/All-Star-Foods/Grains/Article-Viewer/Article/208/Health-Benefits-of-Oatmeal.aspx
Health Benefits of Oats [Internet]. Available from: http://allaboutoats.hgca.com/guide-to-oats/oats-health-benefits.aspx
Krauss RM, Eckel RH, Howard B, et al. AHA Dietary Guidelines: revision 2000: a statement for healthcare professionals from the Nutrition Committee of the American Heart Association. Circulation. 2000; 102: 2284–2299.
Arentz–Hansen H, Fleckenstein B, Molberg Ø, Scott H, Koning F, Jung G et al. (2004). The molecular basis for oat intolerance in patients with celiac disease. Plots Med 1, e1.
Kumar V, Sinha AK, Makkar HP, de Boeck G, Becker K. Dietary roles of non-starch polysaccharides in human nutrition: a review. Crit Rev Food Sci Nutr. 2012;52(10):899-935.
Hosahalli Ramaswamy; Amalendu Chakraverty; Mujumdar, Arun S.; Vijaya Raghavan (2003). Handbook of postharvest technology: cereals, fruits, vegetables, tea, and spices. New York, N.Y: Marcel Dekker. pp. 358–372. ISBN 0-8247-0514-9.
Rebello CJ, et al. (2013). "Acute effect of oatmeal on subjective measures of appetite and satiety compared to a ready-to-eat breakfast cereal: a randomized crossover trial". J Am Coll Nutr 32 (4): 272–9. doi:10.1080/07315724.2013.816614
Fulgoni, V. L., Chu, Y., O'Shea, M., Slavin, J. L., & DiRienzo, M. A. (2015). Oatmeal consumption is associated with better diet quality and lower body mass index in adults: the National Health and Nutrition Examination Survey (NHANES), 2001-2010. Nutrition Research, 35(12), 1052-1059.
Reviewed and Approved by a member of the DoveMed Editorial Board
First uploaded: April 24, 2016
Last updated: April 24, 2016