How Can I Make Healthy Choices When Eating Out?
Last updated March 26, 2018
Approved by: Krish Tangella MD, MBA, FCAP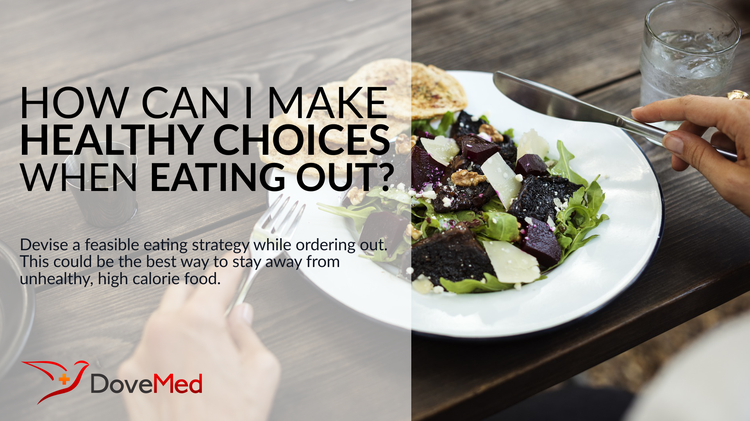 The US Food and Drug Administration reveals that Americans spend around 45% of their food budget eating out. It also says that 32% of calories consumed are from eating out or from carry-out foods.
---
Busy work schedule, nuclear family, choice of food, have all forced people to eat out more often. Statistics from the National Institutes of Health say that around 65% Americans who suffer from obesity are partly due to the increase in restaurant eating habits. The US Food and Drug Administration reveals that Americans spend around 45% of their food budget eating out. It also says that 32% of calories consumed are from eating out or from carry-out foods. It is but normal to splurge while eating out and children and the elderly could be the most affected.
Eating tips to be followed while ordering out:
Devise a feasible eating strategy while ordering out. This could be the best way to stay away from unhealthy, high-calorie food.
Plan what you would like to eat much in advance and stick to the plan. Trying to skip a meal before eating out will force you to indulge in more; instead have a light snack
Try to avoid unlimited buffet and 'mocktails' as it can lead to splurge eating, resulting in high-calorie intake. If you still want to go for a buffet, choose a small plate and limit the proportion of your meal
Instead of ordering carbonated soft drinks or sweetened fruit or vegetable juice it is best to ask for plain drinking water
Start a meal with vegetable salad; this can control your food craving. Try to avoid too much of salad dressing though
There is no harm in indulging in grilled, broiled, poached, or stir-fried food as they are prepared with less fat. Check out if food is prepared with unsaturated oils as restaurants tend to use trans fat and other saturated fats that can be detrimental to your health
Opt for food made of wine or tomato base; these are low in fat and healthy as well. Fat-free dressing is highly recommended and do bid goodbye to 'sodium' foods like pickle, broth, and smoked food items
Go for whole wheat bread or multigrain bread with low-fat dressing, avoid butter, cream, cheese, bacon, and mayonnaise
Sharing your food is the best way to curb any overeating. Order a regular meal instead of a jumbo-sized meal and share it with your friend or family.
Get a carry home box and stuff it with about half your order. This can keep you off eating ethics that "all the food on the plate has to be eaten"
Learn the serving portions better. Terms like ounce, tablespoon, cup, and teaspoon have to be visualized while reading the menu. This can help you choose better
How to fill your restaurant plate?
Half the plate should consist of fruits and vegetables that can compensate for the fiber and vitamins you need. Green vegetable salads, vegetable and fruit entrees with less dressing are recommended. The remaining half can be filled with whole grains like cereals, crackers, brown rice, whole grain bread, and pasta. Opt for skimmed milk instead of high-calorie beverages. Support this with the right amount of protein like poultry, seafood that are grilled, poached or broiled. Do not give in to temptation and put your health in jeopardy. Eat wisely!
References and Information Sources used for the Article:
University of Georgia Cooperative Extension Service; Tufts University Health and Nutrition Newsletter; Weight Control Information Network, NIDDK, National Institutes of Health; 

Timely Topics and You Asked It, Department of Human Nutrition, Kansas State University.

Healthy Choices when Eating Out by J. Stephens, Kansas State University Extension Fact Sheet, MF-2770.

Nebraska Restaurant Industry at a Glance. Bureau of Labor Statistics and U.S. Census Bureau. National Restaurant Association. 

Daily Food Plan. United States Department of Agriculture (USDA). June 2011 

http://www.choosemyplate.gov/healthy-eating-tips/tips-for-eating-out.html (accessed on 16/02/2015)

http://www.cancer.org/healthy/eathealthygetactive/takecontrolofyourweight/restaurant-eating-tips (accessed on 16/02/2015)

http://www.ksre.ksu.edu/bookstore/pubs/mf2770.pdf (accessed on 16/02/2015)

http://www.ianrpubs.unl.edu/pages/publicationD.jsp?publicationId=630 (accessed on 16/02/2015)
Helpful Peer-Reviewed Medical Articles:
Wootan, M. G. (2012). Children's meals in restaurants: Families need more help to make healthy choices. Childhood Obesity (Formerly Obesity and Weight Management), 8(1), 31-33.

Hwang, J., & Lorenzen, C. L. (2008). Effective nutrition labeling of restaurant menu and pricing of healthy menu. Journal of Foodservice, 19(5), 270-276.

Sobal, J., & Bisogni, C. A. (2009). Constructing food choice decisions. Annals of Behavioral Medicine, 38(suppl_1), s37-s46.

Wisdom, J., Downs, J. S., & Loewenstein, G. (2010). Promoting healthy choices: Information versus convenience. American Economic Journal: Applied Economics, 2(2), 164-78.
Reviewed and Approved by a member of the DoveMed Editorial Board
First uploaded: March 26, 2018
Last updated: March 26, 2018