Benefits Of Yoga
Last updated June 20, 2015
Approved by: Maulik P. Purohit MD, MPH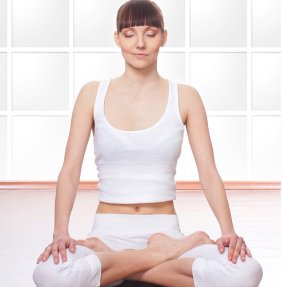 Yoga originated in India and is believed to bring about the union of "soul" and the "spirit" through disciplined physical exercises, postures, and breathing techniques.
---
The word Yoga is a derivative of the Sanskrit word 'yuj'" and means "union." Yoga originated in India and is believed to bring about the union of "soul" and the "spirit" through disciplined physical exercises, postures, and breathing techniques.
Many teachers of yoga brought the discipline to the Western shores, starting with Swami Vivekananda, who visited the USA for the Parliament of the World's Religions in 1893.
Several Yoga styles exist today, each one aiming at specialized goals. The forms of Yoga are:
Hatha Yoga: Physical exercise, postures etc. done in order to prepare the body and soul for other  forms of Yoga
Karma Yoga: The path of duty and selfless service, without attachment to results
Mantra Yoga: Path to concentration and consciousness through chanting sounds/words
Bhakti Yoga: The path to devotion and worship
Gyana (jnana) Yoga: The path that leads to wisdom
Raja Yoga: Considered the highest path, and combines elements of all forms of Yoga
As always, one asks whether there are benefits to doing Yoga and if there is scientific evidence to support the purported benefits. The following are evidence based, peer-reviewed, and published benefits of Yoga:
Flexibility And Muscle Strength: A regular Yoga routine is reported to increase muscle strength and flexibility in individuals.
Lower Back Pain: A review of several randomized clinical trials by Cramer and co-researchers, found strong evidence that Yoga helped recovery from lower back pain in the short-term and moderate evidence for long-term benefits. In fact, Yoga therapy has been found more effective than conventional pain management treatments for people suffering from chronic back pain.
Neck Pain: A randomized trial for 9 weeks on individuals with neck pain reported superior pain relief and improved functionality in participants.
High Blood Pressure: A systematic review of available clinical trial results states that Yoga could be recommended as an effective intervention for high blood pressure.
Diabetes: Yoga has been found effective in reducing blood sugar in patients with Type-2 Diabetes Mellitus.
Polycystic Ovary Syndrome (PCOS): Compared to conventional therapies, Yoga was found to be more effective in a trial with adolescent girls with PCOS, in improving glucose, lipid and insulin values.
Depression and anxiety: Because Yoga induces a person to relax and focus on breathing, reports suggest that this form of exercise shifts the balance from the sympathetic nervous system of "flight or fight" to the parasympathetic nervous system of "relaxing." This shift is considered calming and restorative and is known to lower blood pressure, decrease stress hormones, increase blood flow to the internal organs etc., thus reducing stress and anxiety and improving mood.
Sleep Disorders: Serotonin, along with other neurotransmitters, is known to modulate the sleep-wake cycle. Consistent Yoga practice is reported to increase serotonin levels significantly and thus help individuals suffering from insomnia get better sleep.
Apart from trials' based evidence, there are numerous anecdotal reports of Yoga improving quality of life. Although considered safe for the most part, the US National Center for Complementary and Integrative Health has issued some advice regarding Yoga: 
Although considered low impact and safe, Yoga must be practiced under the guidance of a well-trained instructor
People with high blood pressure, sciatica and glaucoma should modify or avoid Yoga exercises, since Yoga could cause harm
Pregnant women should modify or avoid Yoga
Yoga should not be used to replace conventional medical care
A health professional must be informed/consulted before embarking on Yoga exercises or any complementary medical approach
Since individuals vary in body type, strength etc., Yoga should be modified to benefit and not harm overall health
Thus, doing Yoga that is suitable for individual needs, with the knowledge of one's healthcare professional and under the guidance of a trained person is imperative to gain maximum benefits from this ancient form of physical and spiritual workout.
References:
What Is Yoga, Really? (n.d.). Retrieved June 20, 2015, from http://www.yogananda-srf.org/What_Is_Yoga,_Really_.aspx#.VYWJeilbTlI
Yoga for Health. (n.d.). Retrieved June 19, 2015, from https://nccih.nih.gov/health/yoga/introduction.htm
Ross, A., & Thomas, S. (2010). The Health Benefits of Yoga and Exercise: A Review of Comparison Studies. The journal of alternative and complementary medicine, 16(1), 3-12.
Woodyard, C. (2011). Exploring the therapeutic effects of yoga and its ability to increase quality of life. International Journal of Yoga, 4(2), 49-54.
Cramer, H., Lauche, R., Haller, H., & Dobos, G. (2013). A systematic review and meta-analysis of yoga for low back pain. ClinicalJournal of Pain, 29(5), 450-460.
Saper, R., Sherman, K., Callum-Dugan, D., Davis, R., Phillips, R., & Culpepper, L. (2009). Yoga for chronic back pain in a predominantly minority population: A pilot randomized controlled trial. Alternative Therapies in Health and Medicine, 15(6), 18-27.
Michalsen, A., Traitteur, H., Lüdtke, R., Brunnhuber, S., Meier, L., Jeitler, M., . . . Kessler, C. (2012). Yoga for Chronic Neck Pain: A Pilot Randomized Controlled Clinical Trial. The Journal of Pain, 13(11), 1122-1130. 
Hagins, M., States, R., Selfe, T., & Innes, K. (2013). Effectiveness of Yoga for Hypertension: Systematic Review and Meta-Analysis. Evidence-Based Complementary and Alternative Medicine, 1-13.
Chimkode, S., Kumaran, S., Kanhare, V., & Shivanna, R. (2015). Effect of Yoga on Blood Glucose Levels in Patients with Type 2 Diabetes Mellitus. Journal Of Clinical And Diagnostic Research, 9(4), EPub 2015 Apr 1-EPub 2015 Apr 1.
Nidhi, R., Padmalatha, V., Nagarathna, R., & Ram, A. (2012). Effect of a yoga program on glucose metabolism and blood lipid levels in adolescent girls with polycystic ovary syndrome. International Journal of Gynecology & Obstetrics, 118(1), 37-41.
Reviewed and Approved by a member of the DoveMed Editorial Board
First uploaded: June 20, 2015
Last updated: June 20, 2015