Benefits Of Aerobic Exercise
Last updated Nov. 13, 2016
Approved by: Maulik P. Purohit MD, MPH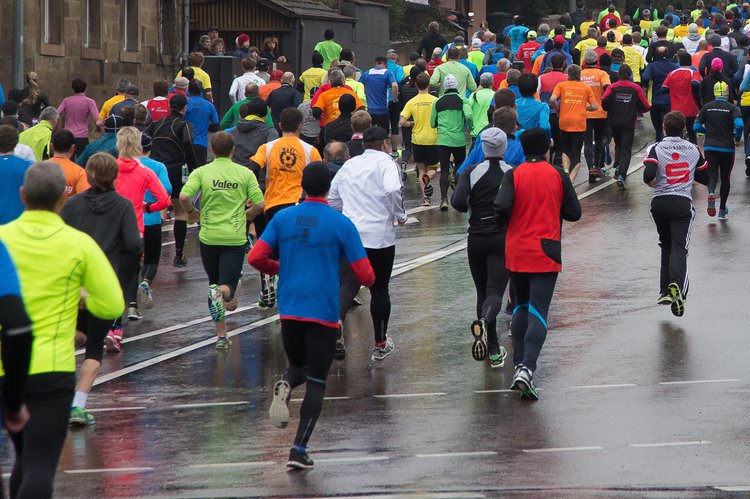 Aerobic exercise is a type of workout that includes long-distance running, biking, swimming, and dancing. When performed regularly, they have many health benefits.
---
Not too many people know aerobic exercise for its name, but it is just another word for a cardio workout. This form of exercise requires lots of oxygen. Aerobic exercise (long-distance running, biking, swimming, dancing, and similar exercises) is the opposite of anaerobic exercise, which include strength training and short-distance running. The difference between the two types of exercise is that aerobic exercises are moderately intense and are performed for minutes or up to hours. Anaerobic exercises are highly intensive that extend only for a few seconds to a few minutes. It may be stated that each individual should be doing both forms of exercise regularly to maintain their fitness.
When doing aerobic exercises, you repeatedly move large muscles in your arms, legs, and hips as you breathe faster and more deeply. In addition, your heartbeat will increase. All of this movement maximizes the amount of oxygen in the blood and increases blood flow to your muscles and back to your lungs. The capillaries, or small blood vessels, expand to bring more oxygen to your muscles and discard waste products like carbon dioxide.
One may accumulate many health and fitness benefits if aerobic exercise is performed regularly. Here are a few health benefits for getting out there and pushing your heart to the limit with cardio exercises:
Burns calories
Assists in weight management
Decreases overall body fat
Improves muscular and cardio endurance
Reduces the risk of long-term illnesses like heart disease and diabetes
Improves sugar tolerance and reduces insulin resistance
Improves heart conditioning
Improves the probability of surviving a heart attack
Decreases resting heart rate
Helps lower blood pressure
Increases high-density lipoprotein (HDL or "good" cholesterol)
Decreases blood triglycerides
Increases bone density in weight-bearing activities, like walking
Reduces the risk of some cancers like breast cancer and colon cancer
Helps improve balance and mobility of activities of daily living
Helps reduce the pain and swelling of arthritis
Improves lung function
Helps you develop new brain cells
Improves memory and cognition
Relieves symptoms of depression (sometimes, as effectively as any medication or psychotherapy)
Can make you live longer
If you are new to aerobic exercise, then talk to your healthcare provider about which activities to participate in. Some individuals with constricting health conditions may not be able to perform certain activities and can get advice on suitable alternatives to maintain their health and fitness. For example, individuals with arthritis may find aquatic exercises easy on the joints. Many experts suggest that aerobic exercises be performed for at least twenty minutes, three or more times per week.
Additional Resources:
Åberg, M. A., Pedersen, N. L., Torén, K., Svartengren, M., Bäckstrand, B., Johnsson, T., ... & Kuhn, H. G. (2009). Cardiovascular fitness is associated with cognition in young adulthood. Proceedings of the National Academy of Sciences, 106(49), 20906-20911.
ACSM | Fact Sheets. (n.d.). Retrieved January 28, 2015, from http://www.acsm.org/access-public-information/brochures-fact-sheets/fact-sheets
Creer, D. J., Romberg, C., Saksida, L. M., van Praag, H., & Bussey, T. J. (2010). Running enhances spatial pattern separation in mice. Proceedings of the National Academy of Sciences, 107(5), 2367-2372.
DiLorenzo, T. M., Bargman, E. P., Stucky-Ropp, R., Brassington, G. S., Frensch, P. A., & LaFontaine, T. (1999). Long-term effects of aerobic exercise on psychological outcomes. Preventive medicine, 28(1), 75-85.
Hillman, C. H., Erickson, K. I., & Kramer, A. F. (2008). Be smart, exercise your heart: exercise effects on brain and cognition. Nature Reviews Neuroscience, 9(1), 58-65.
Kindermann, W., Schnabel, A., Schmitt, W. M., Biro, G., Cassens, J., & Weber, F. (1982). Catecholamines, growth hormone, cortisol, insulin, and sex hormones in anaerobic and aerobic exercise. European journal of applied physiology and occupational physiology, 49(3), 389-399.
Levy, W. C., Cerqueira, M. D., Harp, G. D., Johannessen, K. A., Abrass, I. B., Schwartz, R. S., & Stratton, J. R. (1998). Effect of endurance exercise training on heart rate variability at rest in healthy young and older men. The American journal of cardiology, 82(10), 1236-1241.
Mersy, D. J. (1991). Health benefits of aerobic exercise. Postgraduate medicine, 90(1), 103-7.
Nassis, G. P., Papantakou, K., Skenderi, K., Triandafillopoulou, M., Kavouras, S. A., Yannakoulia, M., ... & Sidossis, L. S. (2005). Aerobic exercise training improves insulin sensitivity without changes in body weight, body fat, adiponectin, and inflammatory markers in overweight and obese girls.Metabolism, 54(11), 1472-1479.
Physical Activity Guidelines for Americans. (n.d.). Retrieved January 28, 2015, from http://www.health.gov/PAGUIDELINES/guidelines/default.aspx
Physical Activity and Health. (2011, February 16). Retrieved January 28, 2015, from http://www.cdc.gov/physicalactivity/everyone/health/index.html
Segar, M. L., Katch, V. L., Roth, R. S., Garcia, A. W., Portner, T. I., Glickman, S. G., ... & Wilkins, E. G. (1997, December). The effect of aerobic exercise on self-esteem and depressive and anxiety symptoms among breast cancer survivors. In Oncology nursing forum (Vol. 25, No. 1, pp. 107-113).
Whelton, S. P., Chin, A., Xin, X., & He, J. (2002). Effect of aerobic exercise on blood pressurea meta-analysis of randomized, controlled trials. Annals of internal medicine, 136(7), 493-503.
Winningham, M. L., MacVicar, M. G., Bondoc, M., Anderson, J. I., & Minton, J. P. (1988, December). Effect of aerobic exercise on body weight and composition in patients with breast cancer on adjuvant chemotherapy. InOncology nursing forum (Vol. 16, No. 5, pp. 683-689).
Helpful Peer-Reviewed Medical Articles:
Dimeo, F., Bauer, M., Varahram, I., Proest, G., & Halter, U. (2001). Benefits from aerobic exercise in patients with major depression: a pilot study. British journal of sports medicine, 35(2), 114-117.
Guiney, H., & Machado, L. (2013). Benefits of regular aerobic exercise for executive functioning in healthy populations. Psychonomic bulletin & review, 20(1), 73-86.
Whelton, S. P., Chin, A., Xin, X., & He, J. (2002). Effect of aerobic exercise on blood pressure: a meta-analysis of randomized, controlled trials. Annals of internal medicine, 136(7), 493-503.
Madden, K. M., Lockhart, C., Cuff, D., Potter, T. F., & Meneilly, G. S. (2009). Short-term aerobic exercise reduces arterial stiffness in older adults with type 2 diabetes, hypertension, and hypercholesterolemia. Diabetes care, 32(8), 1531-1535.
DeSouza, C. A., Shapiro, L. F., Clevenger, C. M., Dinenno, F. A., Monahan, K. D., Tanaka, H., & Seals, D. R. (2000). Regular aerobic exercise prevents and restores age-related declines in endothelium-dependent vasodilation in healthy men. Circulation, 102(12), 1351-1357.
Davis, C. L., Tomporowski, P. D., Boyle, C. A., Waller, J. L., Miller, P. H., Naglieri, J. A., & Gregoski, M. (2007). Effects of aerobic exercise on overweight children's cognitive functioning: a randomized controlled trial. Research quarterly for exercise and sport, 78(5), 510-519.
Reviewed and Approved by a member of the DoveMed Editorial Board
First uploaded: Nov. 13, 2016
Last updated: Nov. 13, 2016