7 Health Benefits Of Caraway Seeds
Last updated June 11, 2016
Approved by: Krish Tangella MD, MBA, FCAP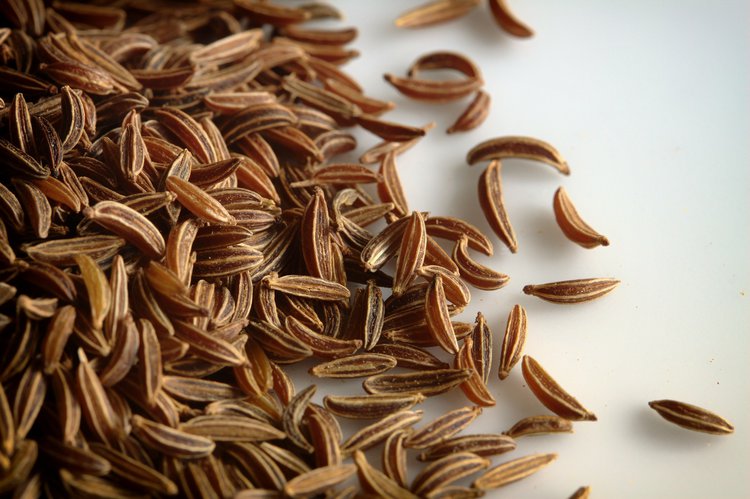 Caraway seeds possess a good amount of manganese, which is an essential cofactor in a number of enzymes important in energy production and antioxidant defenses.
---
Caraway (Carum carvi), also known as meridian caraway seeds or Persian cumin, is a plant in the family Apiaceae, native to western Asia, Europe, and Northern Africa. The fruits usually used whole, have a pungent, anise-like flavor and aroma that comes from essential oils, mostly carvone and limonene. They are used as a spice in bread, desserts, liquors, casseroles, Indian cuisine rice dishes, and other dishes.
Here are 7 health benefits of caraway seeds.
1.     Caraway seeds can assist in the antioxidant defense.
Caraway seeds possess a good amount of manganese, which is an essential cofactor in some enzymes essential in antioxidant defenses. 
2.     Caraway seeds can assist in red blood cell formation.
Copper and Iron are essential for the new blood cell formation. A deficiency in iron can lead to anemia, fatigue, and muscular weakness.
3.     Caraway seeds can help improve cognitive functioning.
The amount of iron in caraway seeds leads to increased hemoglobin production and increases blood flow. Proper amounts of oxygen and iron in the brain lead to increased cognitive performance and a decrease in cognitive disorders like Alzheimer's disease and dementia.
4.     Caraway seeds help support the digestive system.
Caraway seeds possess a considerable amount of fiber. Fiber stimulates peristaltic motion and increased secretion of gastric juices, which eases digestion, prevents conditions like constipation, and protects the body from more severe conditions like colorectal cancer. Fiber can also scrape cholesterol out of the arteries and blood vessels.
5.     Caraway seeds can help improve diabetic conditions.
The high amounts of fiber, found in celery leaves, can manage type 2 diabetic symptoms.
6.     Caraway seeds can help individuals sleep.
Caraway Seeds can help individuals sleep with its high content of magnesium, which is a mineral that is directly linked to improving the quality, duration, and tranquility of sleep. Caraway seeds also help regulate the metabolism, to help reduce sleep disorders and the occurrence of insomnia.
7.     Caraway seeds may boost bone health.
Caraway seeds contain an excellent source of zinc, which is found to boost bone mineral density and overall bone health.
References:
Spices, poppy seed Nutrition Facts & Calories. (n.d.). Retrieved October 06, 2017, from http://nutritiondata.self.com/facts/spices-and-herbs/203/2

Houston, M. C. (2011). The importance of potassium in managing hypertension. Current hypertension reports, 13(4), 309-317.

Cogswell, M. E., Zhang, Z., Carriquiry, A. L., Gunn, J. P., Kuklina, E. V., Saydah, S. H., ... & Moshfegh, A. J. (2012). Sodium and potassium intakes among US adults: NHANES 2003–2008. The American journal of clinical nutrition, 96(3), 647-657.

Larsson, S. C., Orsini, N., & Wolk, A. (2012). Dietary magnesium intake and risk of stroke: a meta-analysis of prospective studies. The American journal of clinical nutrition, 95(2), 362-366.

Cappuccio, F. P., & MacGregor, G. A. (1991). Does potassium supplementation lower blood pressure? A meta-analysis of published trials. J Hypertens, 9(5), 465-473.

Yannet, H. (1940). Changes in the brain resulting from depletion of extracellular electrolytes. American Journal of Physiology--Legacy Content, 128(4), 683-689.

Tessmer, Kimberly. The Everything Nutrition Book: Boost Energy, Prevent Illness, and Live Longer. No ed. Avon: Adams Media Corporation, 2003. 304. Print.

Reviewed and Approved by a member of the DoveMed Editorial Board
First uploaded: Sept. 14, 2014
Last updated: June 11, 2016