7 Health Benefits Of Blackcurrant
Last updated May 26, 2018
Approved by: Maulik P. Purohit MD, MPH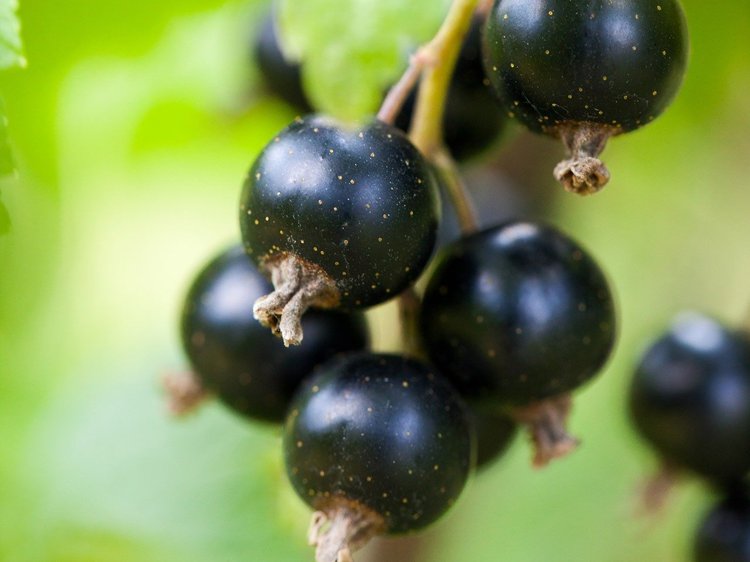 One cup of blackcurrants contains 338 percent of the vitamin C daily requirements.
---
The blackcurrant (Ribes nigrum) is a woody shrub in the Grossulariaceae family. The plant is native to parts of central and northern Europe and northern Asia, where the soil is damp and fertile. Blackcurrant can be eaten fresh, but its strong, tart flavor requires sweetening to be palatable. This is why the berries are usually cooked with a variety of sweet or savory dishes. They are also used to make jams, jellies, and syrups.
Here are 7 health benefits of the blackcurrant.
1.     Blackcurrant has a lower glycemic index value.
The glycemic index (GI) ranks food and drinks based on their blood sugar increase potential. Foods high on the glycemic index (such as white rice and white bread) will break down quickly and cause blood sugar and insulin level spikes after meals, which is followed by rapidly dropping blood sugar levels. The sugar from blackcurrant is slowly absorbed into the bloodstream, which prevents sugar crashes, sugar cravings, and mood swings. Those with type 2 diabetes pay attention to their blood sugar levels.
2.     Blackcurrant can help individuals fight infections.
One cup of blackcurrant contains 338 percent of the vitamin C daily requirements. Vitamin C is a potent natural water-soluble antioxidant that helps the body develop resistance against infectious agents and eliminates cancer-causing free radicals in the body.
3.     Blackcurrant can be great for your hair and skin. 
Adequate vitamin C intake does not only improve the immune system but can also create and maintain collagen, an essential protein found in hair and skin. Also, blackcurrant contains vitamin A to keep the hair moisturized through increased sebum production.
4.     Blackcurrant can assist in antioxidant defense.
One cup of blackcurrants contains 14 percent of the mineral manganese, which is an essential cofactor in some enzymes necessary in antioxidant defenses.
5.     Blackcurrant can assist in red blood cell formation.
Copper and iron are essential for the new blood cell formation. A deficiency in iron can lead to anemia, fatigue, and muscular weakness.
6.     Blackcurrant can help you sleep better at night.
Blackcurrant can help an individual sleep with its high content of magnesium, which is a mineral that is directly linked to improving the quality, duration, and tranquility of sleep. Blackcurrant also helps regulate the metabolism, to help reduce sleep disorders and the occurrence of insomnia.
7.     Blackcurrant may help improve your digestive system.
The daily recommended dietary fiber intake for men and women are 38 grams and 25 grams, respectively. Dietary fiber can help prevent constipation, making one's bowel movement easier to manage. Fiber can also scrape cholesterol out of the arteries and blood vessels.
References and Information Sources used for the Article:
Currants, european black, raw Nutrition Facts & Calories. (n.d.). Retrieved November 01, 2017, from http://nutritiondata.self.com/facts/fruits-and-fruit-juices/1878/2

Chen, W. T., Brace, R. A., Scott, J. B., Anderson, D. K., & Haddy, F. J. (1972). The mechanism of the vasodilator action of potassium. Proceedings of the Society for Experimental Biology and Medicine, 140(3), 820-824.

Dukas, L., Willett, W. C., & Giovannucci, E. L. (2003). Association between physical activity, fiber intake, and other lifestyle variables and constipation in a study of women. The American journal of gastroenterology, 98(8), 1790-1796.

Houston, M. C. (2011). The importance of potassium in managing hypertension. Current hypertension reports, 13(4), 309-317.

Cogswell, M. E., Zhang, Z., Carriquiry, A. L., Gunn, J. P., Kuklina, E. V., Saydah, S. H., ... & Moshfegh, A. J. (2012). Sodium and potassium intakes among US adults: NHANES 2003–2008. The American journal of clinical nutrition, 96(3), 647-657.
Reviewed and Approved by a member of the DoveMed Editorial Board
First uploaded: Sept. 5, 2014
Last updated: May 26, 2018