First Aid for Jellyfish Sting
Last updated March 5, 2018
Approved by: Maulik P. Purohit MD, MPH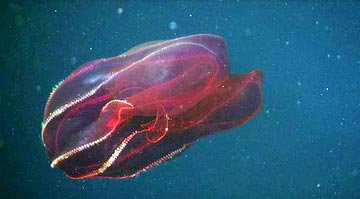 A jellyfish is sea creature with a 'jelly-like' body and long, trailing tentacles. The tentacles have stinging barbs that can inject a toxin into the body.
---
What is Jellyfish Sting?
A jellyfish is sea creature with a 'jelly-like' body and long, trailing tentacles. The tentacles have stinging barbs that can inject a toxin into the body.
What are the Causes of Jellyfish Sting?
Most common causes of Jellyfish Sting include (but are not limited to):
Exposure to jellyfish in the ocean or at the beach; swimmers, surfers, divers, and beachgoers are at risk
Wading in ocean waters without suitable protective clothing
Swimming during jellyfish bloom (or jellyfish season)
Visiting beaches where jellyfish are common
Handling jellyfish, either alive or dead
What are the Signs and Symptoms of Jellyfish Sting?
Signs and symptoms of Jellyfish Stings vary according to the type of species the individual is exposed to and the amount of toxin injected. The symptoms may be mild or severe and could include:
Mild cases:

Itching
Burning sensation
Pain
Tingling sensation, numbness
Swelling of the area
Rashes on the skin: In many cases, there could be a pattern on the stung area, depending on the type of jellyfish species and contact of skin with the tentacles

Severe symptoms may be systemic and may additionally include:

Breathing difficulties
Rhythm abnormalities of the heart
Body aches, joint aches
Nausea, vomiting, and diarrhea
Fever, chills, and headaches
How is First Aid administered for Jellyfish Sting?
If a Jellyfish Sting (or sting or bite of a marine creature) is suspected, it is always important to call your local emergency helpline number (or 911 in the US) without any delay, and provide as much information as possible, even if the individual does not have any symptoms.
Until medical help arrives:
Move the individual away from the water or incident spot
Make a note of the exact time of the incident and notify the emergency medical personnel accordingly
Try to remove the stinger (if visible), by gently scraping the site using a hard-edged object (either metal or plastic) or a pair of tweezers
Use seawater to wash the area, which can help deactivate the remaining toxin
Try to identify or locate the marine animal (only if safely possible) and keep the medical personnel informed
Administer antivenom as soon as possible, if available
DO NOT give anything orally to the individual
Unless directed by the physician, DO NOT give any medication
The following popular first aid therapies should be avoided:
The use of human urine
Use of pressure bandages
Do not pour alcohol 
Who should administer First Aid for Jellyfish Sting?
The individual himself/herself or someone nearby may begin to administer First Aid. Call your local emergency helpline number or 911 immediately as mentioned before.
What is the Prognosis of Jellyfish Sting?
The prognosis of Jellyfish Sting is dependent on the potency of the toxin, the severity of reaction, and timely manner in which treatment is administered.
How can Jellyfish Sting be Prevented?
A few helpful tips to prevent Jellyfish Sting include:
Avoid making an attempt to touch or handle marine animals unnecessarily, even if they are pets
Do not ignore warnings of lifeguards or health officials at the beach
Wear protective clothing if you plan to swim or dive in jellyfish infested areas
Generally be aware or watchful of the waters you are in (to the extent possible)
Do not handle dead jellyfish, since they can also sting through a trigger mechanism
What are certain Crucial Steps to be followed?
Do's:
Call your local emergency helpline number (or 911) for help
Remove the victim immediately from the water
Wear gloves while removing stingers
When in doubt, wash the affected area with seawater and not freshwater
If possible, use hot water to repeatedly wash the wound
Don'ts:
Do not hesitate to call your emergency help services
Do not remove stingers without wearing suitable protective hand gloves
Do not medicate the individual, unless advised by a healthcare professional
Do not move the affected region of the body too much
Do not run or exercise which might increase the circulation of toxin in the body
Do not elevate the affected area above the heart level, since this can also increase circulation of the toxin
What are some Useful Resources for Additional Information?
National Capital Poison Center (USA)
3201 New Mexico Ave, Suite 310 Washington, DC 20016
Administrative Line: (202) 362-3867
Emergency Line: 1 (800) 222-1222
Fax: (202) 362-8377
Email: pc@poison.org
Website: http://www.poison.org

American Association of Poison Control Centers (USA)
515 King St., Suite 510, Alexandria, VA 22314
Phone: (703) 894-1858
Email: info@aapcc.org
Website: http://www.aapcc.org

National Poisons Centre (New Zealand)
Dunedin School of Medicine, University of Otago
PO Box 913 Dunedin 9054, New Zealand
Phone: 0800 POISON (0800 764 766)
Website: http://www.poisons.co.nz

NSW Poisons Information Centre (Australia)
Hawkesbury Rd & Hainsworth Street, Westmead NSW 2145, Australia
Phone: +61 13 11 26
Email: nswpoisons@chw.edu.au
Website: https://www.poisonsinfo.nsw.gov.au

British Columbia Drug and Poison Information Centre (Canada)
Room 0063, BC Centre for Disease Control
655 West 12th Avenue
Vancouver, BC V5Z 4R4 Canada
Phone: (604) 682-5050
Toll-Free: 1 (800) 567-8911
Fax: (604) 707-2807
Website: http://www.capcc.ca

Poisons Information Centre (South Africa)
Room 411, Institute of Child Health
Red Cross Children's Hospital
Klipfontein Road, Rondebosch, 7700, Cape Town South Africa
Phone: +27 21 658 5308
Fax: +27 21  650 4492
Email: poisonsinformation@uct.ac.za
Website: https://www.afritox.co.za

National Poisons Information Service (United Kingdom)
City Hospital Dudley Rd, Birmingham United Kingdom B187QH
Phone: +44 844 892 0111
Fax: +44 121 507 55 88
Email: mail@npis.org
Website: http://www.npis.org
References and Information Sources used for the Article:
http://www.nhs.uk/conditions/stings-marine-creatures/pages/treatment.aspx (accessed on 12/23/2015)

https://www.betterhealth.vic.gov.au/health/healthyliving/bites-and-stings-first-aid (accessed on 12/23/2015)
Helpful Peer-Reviewed Medical Articles:
Little, M., Pereira, P., Mulcahy, R., & Cullen, P. A. (2003). Severe cardiac failure associated with presumed jellyfish sting. Irukandji syndrome?. Anaesthesia and intensive care, 31(6), 642.

Kimball, A. B., Arambula, K. Z., Stauffer, A. R., Levy, V., Davis, V. W., Liu, M., ... & Auerbach, P. S. (2004). Efficacy of a jellyfish sting inhibitor in preventing jellyfish stings in normal volunteers. Wilderness & environmental medicine, 15(2), 102-108.

Peel, N., & Kandler, R. (1990). Localized neuropathy following jellyfish sting. Postgraduate medical journal, 66(781), 953-954.

Taylor, D. M., Pereira, P., Seymour, J., & Winkel, K. D. (2002). A sting from an unknown jellyfish species associated with persistent symptoms and raised troponin I levels. Emergency Medicine Australasia, 14(2), 175-180.

Little, M., Pereira, P., Carrette, T., & Seymour, J. (2006). Jellyfish responsible for Irukandji syndrome. Journal of the Association of Physicians, 99(6), 425-427.

Mathelier‐Fusade, P., & Leynadier, F. (1993). Acquired cold urticaria after jellyfish sting. Contact Dermatitis, 29(5), 273-273.

Bianchi, R., Torella, D., Spaccarotella, C., Mongiardo, A., & Indolfi, C. (2010). Mediterranean jellyfish sting-induced Tako-Tsubo cardiomyopathy. European heart journal, 32(1), 18-18.

Togias, A. G., Burnett, J. W., Kagey-Sobotka, A., & Lichtenstein, L. M. (1985). Anaphylaxis after contact with a jellyfish. Journal of allergy and clinical immunology, 75(6), 672-675.

Filling‐Katz, M. R. (1984). Mononeuritis multiplex following jellyfish stings. Annals of neurology, 15(2), 213-213.
Reviewed and Approved by a member of the DoveMed Editorial Board
First uploaded: Dec. 26, 2015
Last updated: March 5, 2018