First Aid for Heat Exhaustion
Last updated March 5, 2018
Approved by: Maulik P. Purohit MD, MPH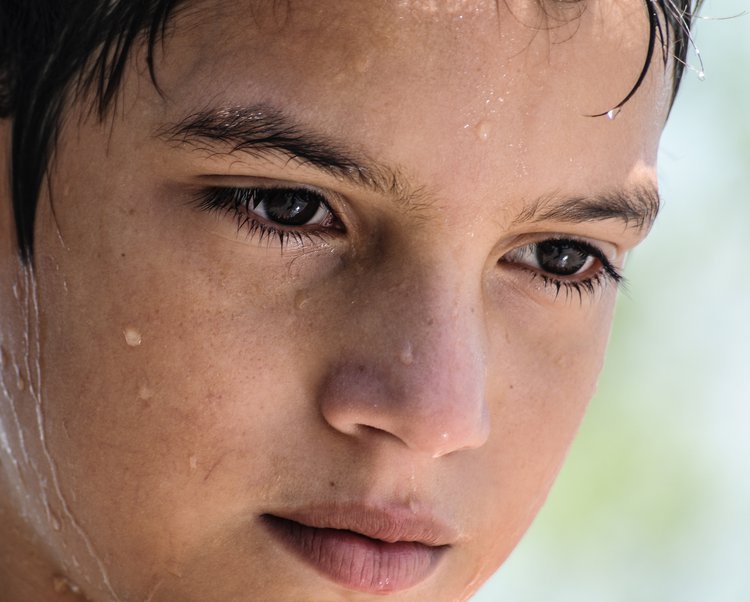 A sign and symptom of Heat Exhaustion may include excessive sweating.
---
What is Heat Exhaustion?
Heat Exhaustion is overheating of the body, as a result of working in hot conditions for an extended period of time, without replenishing the lost fluids and electrolytes
It can result in fatigue, increased heartbeat, cramping of the muscles, and even dehydration. In many cases, adequate rest and replenishment of lost body fluids is sufficient treatment
What are the Causes of Heat Exhaustion?
A Heat Exhaustion may be caused by:
Prolonged exposure to hot conditions
Dehydration
Excessive and extended physical activities without hydration
Insufficient or inappropriate fluid intake; especially drinking (only) plain water and not replenishing any lost electrolytes
What are the Signs and Symptoms of Heat Exhaustion?
Signs and symptoms of Heat Exhaustion may include:
Rapid heartbeat
Excessive sweating
Fatigue
Nausea, vomiting
Lightheadedness, dizziness and/or fainting
Excessive thirst
Fever
Headache
Moist, cold, and pale skin
Muscle cramps
Dark-coloredurine
How is First Aid administered for Heat Exhaustion?
First Aid tips for Heat Exhaustion include:
Move away from the sun to the shade (or to a cooler place)
Loosen tight clothes or remove extra clothing
Drink cool water, clear juices or a 'sports drink'
Lay down with your legs elevated
DO NOT take any alcoholic beverages or drinks, with caffeine
Remain under the fan, if possible
Have a cool bath or 'wet' sponge your body
Take fluids every 15 minutes
Maintain close observation for any worsening signs or symptoms
Call 911 (or your local emergency number), or seek medical help, if the following are noted:
Fainting
Confusion
Worsening of the above-mentioned symptoms
Unconsciousness
High fever (greater than 102 deg. F)
Who should administer First Aid for Heat Exhaustion?
The individual suffering from Heat Exhaustion can follow the initial First Aid steps. They should approach a medical professional, if the symptoms worsen.
What is the Prognosis of Heat Exhaustion?
The prognosis is usually good, if Heat Exhaustion is addressed in a timely manner. The condition may lead to a heat stroke, if adequate treatment measures are not taken.
How can Heat Exhaustion be Prevented?
A few helpful tips to prevent Heat Exhaustion:
Avoid physical activity in hot conditions
Wear appropriate clothing during sport activities
Avoid alcohol and caffeine on hot days
Replenish the lost body fluids and electrolytes, in a timely manner
What are certain Crucial Steps to be followed?
HYDRATE, HYDRATE, HYDRATE, with appropriate fluids containing electrolytes
Avoid excessive physical activity, under hot conditions
Avoid alcohol on hot days
Call 911 (or your local emergency number), or seek medical help, if symptoms worsen
What are some Useful Resources for Additional Information?
American Academy of Family Physicians (AAFP)
11400 Tomahawk Creek Parkway Leawood, KS 66211-2672
Phone: (913) 906-6000
Toll-Free: (800) 274-2237
Fax: (913) 906-6095
Email: fp@aafp.org
Website: http://www.aafp.org
References and Information Sources used for the Article:
http://www.mayoclinic.com/health/first-aid-heat-exhaustion/FA00020 (accessed on 11/26/2013)

http://umm.edu/health/medical/altmed/condition/heat-exhaustion (accessed on 11/26/2013)
Helpful Peer-Reviewed Medical Articles:
Glazer, J. L. (2005). Management of heatstroke and heat exhaustion. Am Fam Physician, 71(11), 2133-2140.

Darling, W. M. (2017). Managing heat exhaustion in primary care. diabetic foot, 11, 27.

Deshwal, R., & Gupta, V. (2015). Krait envenomation disguised as heat exhaustion in a wilderness setting. Wilderness & environmental medicine, 26(1), 102-104.

Frank, B., & Fields, S. A. (2015). Heat exhaustion and heat stroke. In The 5-Minute Clinical Consult Standard 2016: Twenty Fourth Edition. Wolters Kluwer Health Adis (ESP).

Erickson, T. (2016). SDSU iGrow 2016-7-21: Heat Exhaustion & Stroke: Protecting yourself and your employees.

Lewis, A. M. (2007). Heatstroke in Older Adults: In this population it's a short step from heat exhaustion. AJN The American Journal of Nursing, 107(6), 52-56.

Hoppe, J., & Sinert, R. (2005). Heat exhaustion and Heatstroke. Retrieved May, 7, 2006.

Khan, D. A., & Aslam, M. (2007). Heat exhaustion and exertional heat stroke. Pak Armed Forces Med J Jun, 57(2), 143-50.

Hoppe, J. (2006). Heat exhaustion and heatstroke. eMedicine. Retrieved March, 28, 2008.

Illness, H. (2007). Heat Exhaustion, Heat Stroke. The Nemours Foundation/Kids Health at www. revolutionhealth. com January, 3.
Reviewed and Approved by a member of the DoveMed Editorial Board
First uploaded: Nov. 26, 2013
Last updated: March 5, 2018