First Aid for Heat Cramps
Last updated March 5, 2018
Approved by: Maulik P. Purohit MD, MPH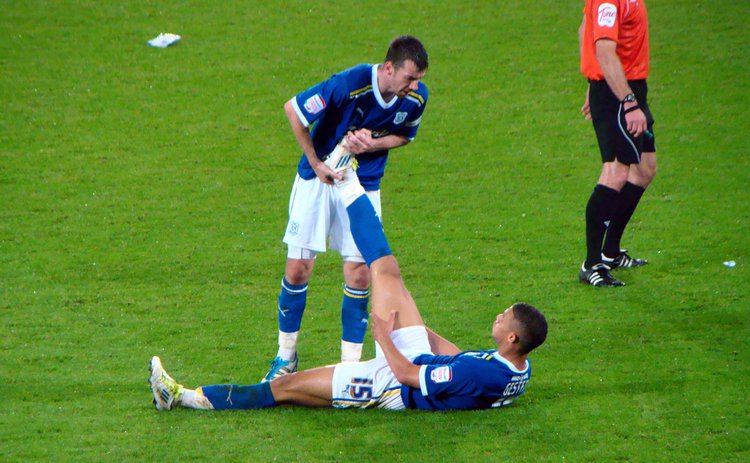 Heat Cramps are involuntary muscle spasms caused by excessive physical activity in hot conditions. These spasms are painful and are usually observed intermittently.
---
What is Heat Cramps?
Heat Cramps are involuntary muscle spasms caused by excessive physical activity in hot conditions. These spasms are painful and are usually observed intermittently
In many cases, cooler temperatures, adequate rest, and replenishment of lost body fluids is sufficient treatment
What are the Causes of Heat Cramps?
Heat Cramps may be caused by the following factors:
Exercise or physical activity under hot conditions
Dehydration
Excessive alcohol and/or caffeine intake, prior to any physical activity
What are the Signs and Symptoms of Heat Cramps?
Signs and symptoms of Heat Cramps may include:
Intermittent cramping pain, which may involve any muscle group within the body. But, usually those muscles that have been stressed the most during the physical activities, are affected
Excessive sweating
Symptoms may appear hours after physical activity
How is First Aid administered for Heat Cramps?
First Aid tips for Heat Cramps include:
Move away from the sun or heat, to a cooler area (or under the shade)
Rest
Replenish lost fluid and electrolytes, by drinking juice or any 'sports-drink' that contain electrolytes
DO NOT take any alcoholic beverages or drinks containing caffeine (such as coffee)
Gently stretch the cramping muscle
Do not resume any activity that can stress the affected muscle group for several hours after the cramps
Take over-the-counter anti-inflammatory medication such as ibuprofen or naproxen
Who should administer First Aid for Heat Cramps?
The individual with the Heat Cramps or someone near the affected person may administer First Aid.
What is the Prognosis of Heat Cramps?
The prognosis is usually good. However, if appropriate measures are not taken, the condition may lead to heat exhaustion and heat stroke.
How can Heat Cramps be Prevented?
A few helpful tips to prevent Heat Cramps:
Hydration
Avoid alcohol and caffeine on hot days
Avoid outdoor exercising or performing strenuous activities on hot days
What are certain Crucial Steps to be followed?
Adequate hydration prior to physical activity
Avoid strenuous activities in hot conditions
Replenish lost fluids and electrolytes
Children need to be dressed appropriately for outdoor activities
What are some Useful Resources for Additional Information?
American Academy of Family Physicians (AAFP)
11400 Tomahawk Creek Parkway Leawood, KS 66211-2672
Phone: (913) 906-6000
Toll-Free: (800) 274-2237
Fax: (913) 906-6095
Email: fp@aafp.org
Website: http://www.aafp.org
References and Information Sources used for the Article:
http://www.mayoclinic.com/health/first-aid-heat-cramps/FA00021 (accessed on 11/26/2013)
Helpful Peer-Reviewed Medical Articles:
Bergeron, M. F. (2007). Exertional heat cramps: recovery and return to play. Journal of sport rehabilitation, 16(3), 190-196.

Eichner, E. R. (2008). Heat cramps in sports. Current sports medicine reports, 7(4), 178-179.

Poynter, D. J., & Thornton, H. (2010). Heat Cramps: Treatment and Prevention. Athletic Training and Sports Health Care, 2(5), 205-207.

Ma, T. W., Chan, K. P., Chow, K. M., Leung, C. B., & Szeto, C. C. (2011). Pseudohypercalcaemia in patients with heat cramps: implications on clinical practice. QJM: An International Journal of Medicine, 105(10), 997-999.

Lopez, R. M., Cleary, M. A., & Diaz, T. (2013). Severe Heat Cramps in a High School Football Player: A Case Report.

Korey, S. I., & National Athletic Trainers' Association. (2011). Tips for exercising safely in the heat: steer clear of heat cramps, heat exhaustion, and heat stroke with key information. NASN school nurse (Print), 26(4), 230.

GLASS, P. (2008). Heat cramps. WORK BOAT, 65(11).

van der Linden, P. W. G., & Bergkamp, F. J. M. (2009). Heat cramps in a race-car driver can be prevented by NaCl and concentrated oral rehydration solution. Sport en Geneeskunde, 42(1), 20.
Reviewed and Approved by a member of the DoveMed Editorial Board
First uploaded: Nov. 26, 2013
Last updated: March 5, 2018