First Aid for Snake Bite
Last updated March 5, 2018
Approved by: Krish Tangella MD, MBA, FCAP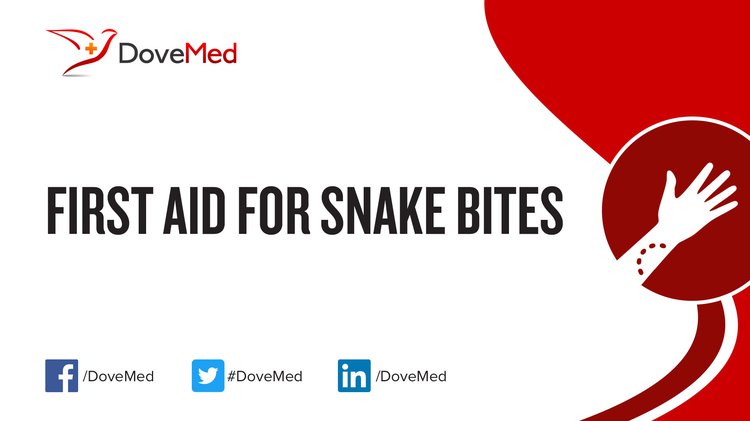 Snake Bites are wounds caused on contact with a snake. It is common in some parts of the world, more so in tropical countries. However, most of the snakes are not venomous to humans.
---
What is Snake Bite?
Snake Bites are wounds caused on contact with a snake. It is common in some parts of the world, more so in tropical countries. However, most of the snakes are not venomous to humans
The severity of the incident depends on the snake species involved, the type of venom injected, and the site of the bite. Typically, children and older adults are affected more by the toxic effects of the venom
What are the Causes of Snake Bite?
Snakes generally bite on provocation (while defending their habitat or eggs, during the mating season), which may be unintentional or inadvertent, or when they are suddenly surprised.
A few of the venomous snakes that are known to come into common contact with humans around the world are listed below:
Cobra
Copper head
Coral snake
Rattlesnake
Viper
Water moccasin
Snake venom is broadly classified into neurotoxin, affecting the central nervous system, or hemotoxin, which destroy the red blood cells. The type of venom dictates the symptoms observed. However, the venom of many snakes contains components of both compounds.
What are the Signs and Symptoms of Snake Bite?
The signs and symptoms of Snake Bites depend on the species of snake involved and the venom injected. It can vary from one individual to another. The signs and symptoms also depend on the age (whether child or adult), weight, and overall health status of the individual (whether having an underlying condition or illness).
The common signs and symptoms of Snake Bites may include:
Pain at the bite site; fang marks (a set of two puncture marks may be visible)
Burning and swelling
Increased thirst, vomiting
Diarrhea
Blurry vision
Numbness
Fever, sweating, rapid pulse
Breathing difficulties
Fainting, dizziness
How is First Aid administered for Snake Bite?
First aid tips for Snake Bites:
Call 911 (or your local emergency help number), if the condition is life-threatening or severe symptoms are noted
Call the Poison Control Center at 1-800-222-1222 (or your local poison control center) for further instructions
Keep calm and AVOID any physical activity such as walking or running or shaking the affected arm/leg
Immobilize the affected area; try to keep the affected area below the level of heart
Wash wound with soap and water; cover it with a clean cloth or bandage
If you are wearing any tight bracelets or rings on the affected limb or finger - take them off, since the arm or leg may get swollen and such materials may cut-off any blood supply to the region
DO NOT cut the wound to make it bigger, or try to suck the venom out
Consider using a splint to restrict the movement of the affected area, but avoid blocking blood flow to the region
DO NOT apply ice, but instead put a wet cloth on the affected area
Apply a tight bandage, slightly above the bite area to stop venom from spreading
DO NOT take any alcoholic beverages or coffee
Try to remember the snake's color, shape, or any other features to help the attending physician treat the bite. Else, if safely possible, try to take the snake (alive or dead) to the visiting healthcare facility to get it identified
Who should administer First Aid?
The individual who was bitten by a snake or someone nearby can administer first aid. Immediately call 911 (or the local emergency number), if the symptoms are severe.
What is the Prognosis of Snake Bite?
The prognosis of a Snake Bite is dependent on the type of snake involved, the venom type, site of bite, overall health of the individual, and promptness of medical response
In many cases, the prognosis is good with prompt treatment and administration of the appropriate antivenom serum (antidote). Also, in many cases, the snake species involved may belong to a non-venomous category
How can Snake Bite be Prevented?
Snake Bites may be avoided by:
Being alert, if you are in snake-infested regions, particularly containing dangerous species of snakes
Carry a snake bite kit, if possible, when traveling through areas containing highly venomous snake species
Avoiding being outdoors at night in forested areas (snakes are generally nocturnal); be careful while camping outdoors
Avoid tall grassy areas or thick bushes; if you plan to explore the area, use heavy boots and thick pants
Do not pick up dead snakes - they may be poisonous and still cause a bite through a reflex action
Be cautious in areas known to have venomous snakes, especially when outdoors
Avoid wearing clothes or shoes that have been lying around undisturbed for a while, without first inspecting them thoroughly
Do not reach into dark nooks/corners/recesses of the house with your bare hands/foot
Do not let clutter accumulate in various parts of the house (such as in the cellar, garage, closets, etc.)
What are certain Crucial Steps to be followed?
Call 911 or your local emergency number, if the condition is serious
DO NOT panic and run around, for this will cause the venom to circulate faster in the body
DO NOT mutilate the bite site in any manner, such as by using electricity, burning the area, or incising it to drain blood
Apply a tight bandage above the wound to prevent the venom from spreading, but DO NOT cut-off blood circulation
Try to remember features of the snake, to help treat the condition appropriately
What are some Useful Resources for Additional Information?
National Capital Poison Center (USA)
3201 New Mexico Ave, Suite 310 Washington, DC 20016
Administrative Line: (202) 362-3867
Emergency Line: 1 (800) 222-1222
Fax: (202) 362-8377
Email: pc@poison.org
Website: http://www.poison.org

American Association of Poison Control Centers (USA)
515 King St., Suite 510, Alexandria, VA 22314
Phone: (703) 894-1858
Email: info@aapcc.org
Website: http://www.aapcc.org

National Poisons Centre (New Zealand)
Dunedin School of Medicine, University of Otago
PO Box 913 Dunedin 9054, New Zealand
Phone: 0800 POISON (0800 764 766)
Website: http://www.poisons.co.nz

NSW Poisons Information Centre (Australia)
Hawkesbury Rd & Hainsworth Street, Westmead NSW 2145, Australia
Phone: +61 13 11 26
Email: nswpoisons@chw.edu.au
Website: https://www.poisonsinfo.nsw.gov.au

British Columbia Drug and Poison Information Centre (Canada)
Room 0063, BC Centre for Disease Control
655 West 12th Avenue
Vancouver, BC V5Z 4R4 Canada
Phone: (604) 682-5050
Toll-Free: 1 (800) 567-8911
Fax: (604) 707-2807
Website: http://www.capcc.ca

Poisons Information Centre (South Africa)
Room 411, Institute of Child Health
Red Cross Children's Hospital
Klipfontein Road, Rondebosch, 7700, Cape Town South Africa
Phone: +27 21 658 5308
Fax: +27 21  650 4492
Email: poisonsinformation@uct.ac.za
Website: https://www.afritox.co.za

National Poisons Information Service (United Kingdom)
City Hospital Dudley Rd, Birmingham United Kingdom B187QH
Phone: +44 844 892 0111
Fax: +44 121 507 55 88
Email: mail@npis.org
Website: http://www.npis.org
References and Information Sources used for the Article:
https://medlineplus.gov/ency/article/000031.htm (accessed on 08/20/2017)

https://www.auroville.org/contents/1675 (accessed on 08/20/2017)

http://www.mayoclinic.org/first-aid/first-aid-snake-bites/basics/art-20056681 (accessed on 08/20/2017)
Helpful Peer-Reviewed Medical Articles:
Warrell, D. A. (2010). Guidelines for the management of snake-bites. Guidelines for the management of snake-bites.

Del Brutto, O. H., & Del Brutto, V. J. (2012). Neurological complications of venomous snake bites: a review. Acta Neurologica Scandinavica, 125(6), 363-372.

Rahman, R., Faiz, M. A., Selim, S., Rahman, B., Basher, A., Jones, A., ... & Milton, A. H. (2010). Annual incidence of snake bite in rural Bangladesh. PLoS neglected tropical diseases, 4(10), e860.

Hiremath, V. T., & Taranath, T. C. (2010). Traditional phytotherapy for snake bites by tribes of Chitradurga District, Karnataka, India. Ethnobotanical leaflets, 2010(2), 2.

Thirumalai, T., Elumalai, E. K., Therasa, S. V., Senthilkumar, B., & David, E. (2010). Ethnobotanical survey of folklore plants for the treatment of jaundice and snakebites in Vellore districts of Tamilnadu, India. Ethnobotanical leaflets, 2010(4), 15.

Weinstein, S. A., Warrell, D. A., White, J., & Keyler, D. E. (2011). "Venomous Bites from Non-Venomous Snakes: A Critical Analysis of Risk and Management of "Colubrid Snake Bites. Elsevier.

Halesha, B. R., Harshavardhan, L., Lokesh, A. J., Channaveerappa, P. K., & Venkatesh, K. B. (2013). A study on the clinico-epidemiological profile and the outcome of snake bite victims in a tertiary care centre in southern India. Journal of clinical and diagnostic research: JCDR, 7(1), 122.

Williams, D., Gutiérrez, J. M., Harrison, R., Warrell, D. A., White, J., Winkel, K. D., & Gopalakrishnakone, P. (2010). The Global Snake Bite Initiative: an antidote for snake bite. The lancet, 375(9708), 89-91.
Reviewed and Approved by a member of the DoveMed Editorial Board
First uploaded: Aug. 26, 2017
Last updated: March 5, 2018