First Aid for Gastric Problems
Last updated March 5, 2018
Approved by: Krish Tangella MD, MBA, FCAP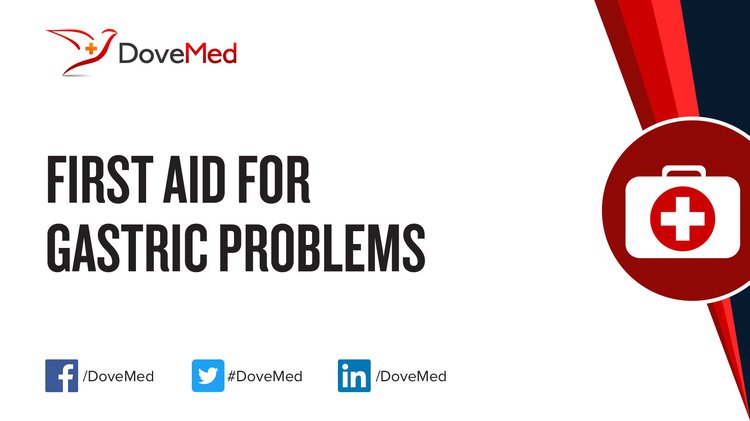 Gastric Problems may be described as the pain, discomfort, and uneasiness in the stomach, caused by stomach acids, experienced in the esophagus (food-pipe).
---
What is Gastric Problems?
Gastric Problems may be described as the pain, discomfort, and uneasiness in the stomach, caused by stomach acids, experienced in the esophagus (food-pipe). These are generally more common in individuals with diabetes and pregnant women
Also, individuals with disorders affecting the internal organs, such as the liver and pancreas, gall bladder, spleen, and gastrointestinal tract, are higher prone to gastric discomfort and pain
What are the Causes of Gastric Problems?
The cause of Gastric Problems may include the following:
Consumption of spicy or fatty food
Eating too fast
Inadequate fluid intake
Peptic ulcer
Smoking and alcohol consumption
Stress
Use of drugs such as aspirin, corticosteroids, beta-blockers, etc.
Medical conditions affecting the stomach, intestine, and other abdominal organs
What are the Signs and Symptoms of Gastric Problems?
The signs and symptoms of Gastric Problems may include:
Pain in the stomach; regular pain
Indigestion
Passing of gas that may be mild or excessive
Bloating of stomach
Nausea and vomiting
Diarrhea
Burning sensation in stomach
Heartburn
Loss of appetite
How is First Aid administered for Gastric Problems?
First Aid tips for Gastric Problems:
Replenish body fluids
Do NOT take antidiarrheal drugs or laxatives or pain medication, unless specified by a medical professional
Taking antacids may help, per recommendation of a healthcare professional
If prone to frequent heartburns, seek medical help
Taking meals that are not spicy regularly, can relieve ulcer pains
Call 911 (or your local emergency number), if there is blood in stool, urine, or vomit
Who should administer First Aid for Gastric Problems?
The individual with Gastric Problems or someone nearby may administer first aid
Seek medical help, if conditions persist or continue to worsen
What is the Prognosis of Gastric Problems?
The prognosis of an individual with a Gastric Problem is dependent on the underlying cause of the stomach condition, but is usually good in a majority of cases.
How can Gastric Problems be Prevented?
Gastric Problems can be prevented by:
Avoiding fatty, greasy, or spicy foods
Hydrating oneself well and regularly, while eating
Avoiding eating too heavily before bedtime
Avoiding binge or extreme eating
By trying to maintain a healthy lifestyle; avoiding alcohol, smoking, and including exercise into one's regimen
What are certain Crucial Steps to be followed?
Hydrate oneself
Monitor frequency and severity of Gastric Problems and seek the advice of a healthcare expert, if needed
What are some Useful Resources for Additional Information?
American College of Gastroenterology (ACG)
4900 B South, 31st St. Arlington, VA 22206
Phone: (703) 820-7400
Fax: (703) 931-4520
Website: http://www.acg.gi.org

American Gastroenterological Association (AGA)
4930 Del Ray Avenue Bethesda, MD 20814
Phone: (301) 654-2055
Fax: (301) 652-3890
Email: member@gastro.org
Website: http://www.gastro.org
References and Information Sources used for the Article:
https://medlineplus.gov/ency/article/002658.htm (accessed on 06/20/2017)

http://www.nlm.nih.gov/medlineplus/stomachdisorders.html (accessed on 06/20/2017)

http://www.diabetes.co.uk/diabetes-complications/gastric-problems-and-diabetes.html (accessed on 06/20/2017)

http://www.healthdummy.org/24/symptoms-of-gastric-problems.html (accessed on 06/20/2017)
Helpful Peer-Reviewed Medical Articles:
Netto, F. O. G., Diniz, I. M. A., Grossmann, S. M. C., de Abreu, M. H. N. G., do Carmo, M. A. V., & Aguiar, M. C. F. (2011). Risk factors in burning mouth syndrome: a case–control study based on patient records. Clinical oral investigations, 15(4), 571-575.

Tsuzuki, T., Okada, H., Nasu, J., Takenaka, R., Inoue, M., Kawano, S., ... & Yamamoto, K. (2011). Usefulness and problems of endoscopic ultrasonography in prediction of the depth of tumor invasion in early gastric cancer. Acta Medica Okayama, 65(2), 105-112.

Sen, S., Chakraborty, R., Sridhar, C., Reddy, Y. S. R., & De, B. (2010). Free radicals, antioxidants, diseases and phytomedicines: current status and future prospect. International Journal of Pharmaceutical Sciences Review and Research, 3(1), 91-100.

Sheptulin, A. A. (2014). Helicobacter pylori infection: what else besides gastric problems?. Klinicheskaia meditsina, 92(5), 33-39.

Blaser, A. R., Malbrain, M. L., Starkopf, J., Fruhwald, S., Jakob, S. M., De Waele, J., ... & Spies, C. (2012). Gastrointestinal function in intensive care patients: terminology, definitions and management. Recommendations of the ESICM Working Group on Abdominal Problems. Intensive care medicine, 38(3), 384-394.

Katritzky, A. R., Hall, C. D., El-Gendy, B. E. D. M., & Draghici, B. (2010). Tautomerism in drug discovery. Journal of computer-aided molecular design, 24(6-7), 475-484.

Van Veggel, M., Olofinjana, O., Davies, G., & Taylor, D. (2013). Clozapine and gastro‐oesophageal reflux disease (GORD)–an investigation of temporal association. Acta Psychiatrica Scandinavica, 127(1), 69-77.

de Zwaan, M., Hilbert, A., Swan-Kremeier, L., Simonich, H., Lancaster, K., Howell, L. M., ... & Mitchell, J. E. (2010). Comprehensive interview assessment of eating behavior 18–35 months after gastric bypass surgery for morbid obesity. Surgery for Obesity and Related Diseases, 6(1), 79-85.
Reviewed and Approved by a member of the DoveMed Editorial Board
First uploaded: Aug. 28, 2017
Last updated: March 5, 2018