First Aid for Elemental Mercury Poisoning
Last updated March 5, 2018
Approved by: Krish Tangella MD, MBA, FCAP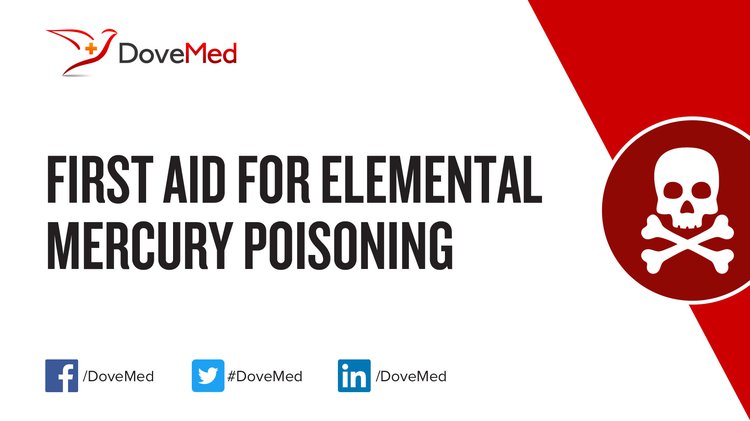 Elemental Mercury Poisoning is the accidental or intentional intake of compounds containing the mercury in its elemental form.
---
What is Elemental Mercury Poisoning?
Mercury (Hg) is a heavy silver-grey liquid metal that exists in elemental, organic, and inorganic forms. Elemental mercury may be used in dental fillings and is found in batteries and thermometers
Elemental Mercury Poisoning is the accidental or intentional intake of compounds containing the mercury in its elemental form (i.e., when used as an element)
The condition is diagnosed based upon the clinical history, combination of signs and symptoms, and additional tests (that may include, in some cases, radiological studies and laboratory tests)
Elemental Mercury Poisoning may be also referred to as Elemental Mercury Toxicity.
What are the Causes of Elemental Mercury Poisoning?
Elemental Mercury Poisoning is caused by the ingestion/swallowing of elemental mercury. Exposure may also occur following inhalation of tiny droplets of mercury into the lungs
This intake could be accidental, or in some cases intentional, to bring self-harm
All forms of mercury are considered to be highly-toxic and exposure to mercury compounds are known to present severe symptoms and complications
Elemental mercury is also found in certain medical equipment, glass bulb thermometers, and electrical lights (fluorescent bulbs) and accessories
Note: The compound can interact with other prescribed or non-prescribed medications in the body. Such interactions may enhance the therapeutic effects of other medications being taken, resulting in undesired side effects.
What are the Signs and Symptoms of Elemental Mercury Poisoning?
The signs and symptoms of Elemental Mercury Poisoning can vary from one individual to another. It may be mild in some and severe in others. Several systems of the body may be affected. The poisoning may occur due to swallowing or inhalation of mercury. Children are severely affected from mercury poisoning than adults, especially if the element is inhaled.
The signs and symptoms of Elemental Mercury Poisoning may include:
Fever and chills
Headache
Nausea and vomiting
Diarrhea (blood in stool may be noted)
Cough, sore throat, and chest pain
Abdominal pain
Visual disturbances
Swallowing difficulties
Skin and eye exposure may result in dermatitis (inflammation of the skin) and itching of eyes respectively
Breathing difficulties from inhaling tiny mercury droplets that may include coughing and respiratory distress
Long-term inhalation (over a period) may lead to chronic symptoms, severe lung damage, and even present neurological symptoms. Chronic symptoms may include the following:
Taste of metal in the mouth
Severe coughing and breathing difficulties
Mouth ulcers and bleeding gums
Vomiting
In most cases, ingesting or swallowing small quantities of mercury in its elemental (pure or metallic) form may not cause severe symptoms. The ingested mercury may be excreted from the stomach and gastrointestinal tract without being absorbed by the body, since it is a dense and slippery liquid metal.
How is First Aid administered for Elemental Mercury Poisoning?
First Aid tips for Elemental Mercury Poisoning:
Call 911 or your local emergency help number immediately, for emergency assistance
Call the Poison Control Center at 1-800-222-1222 (or your local poison control center) for further instructions
Provide them with information such as the compound taken, quantity and time of ingestion, age, weight and general health status of affected individual
Carefully remove the individual from the exposure area; move them to region of fresh air immediately
Confirm that the airways are protected; also, ensure breathing and the presence of pulse
Take individual to emergency room (ER) for further treatment
Always try to take the compound bottle/container to the ER
The emergency medical health professional might perform the following steps towards treating the condition:
Monitoring of vital signs
Medically manage symptoms and provide breathing support, if necessary
Administer activated charcoal to avoid absorbance of the substance in the body
Administer suitable medication to counter the effects of the toxin
Administer fluids by an intravenous drip line
Undertake kidney dialysis, if necessary
In case of inhalation of elemental mercury presenting symptoms, the following treatment measures may be undertaken:

Administer suitable medication to remove the toxic element from the body
Use of suction to remove mercury from lungs
Provide breathing support via humidified oxygen/air
In case the individual is unable to breathe, then breathing tubes may be placed into the lungs
Who should administer First Aid for Elemental Mercury Poisoning?
First aid for Elemental Mercury Poisoning is administered by healthcare professionals.
The individual who is affected, or someone near, should call 911 for emergency assistance (or the local emergency number)
They should also call the poison control center at 1-800-222-1222 (or the local poison control center) and follow instructions
What is the Prognosis of Elemental Mercury Poisoning?
The prognosis of Elemental Mercury Poisoning is dependent on the amount of substance consumed, time between consumption and treatment, severity of the symptoms, as well as general health status of the patient
Severity of the poisoning and timely medical assistance are the key prognostic indicators. If early treatment is provided and suitable medication and support provided, the prognosis may be improved
Inhalation of large amounts of elemental mercury can lead to permanent injury to the lungs and central nervous system. In such cases, deaths have been reported
In general, toxicities are common situations in the emergency departments. A majority of the cases are often not fatal, when appropriate treatment is given.
How can Elemental Mercury Poisoning be Prevented?
Elemental Mercury Poisoning can be prevented by:
Suitably disposing any material or equipment that contains mercury and its compounds/salts
Keeping any poisonous/hazardous chemicals and other materials out of children's reach
Keep all poisons correctly labeled and in suitable storage locations
Being aware of basic first aid steps in case of an emergency (such as inadvertent poisoning)
What are certain Crucial Steps to be followed?
Call 911 (or your local emergency number) for emergency assistance, if symptoms are life-threatening
Call Poison Control Center at 1-800-222-1222 (or the local poison control center) and follow the recommend steps
It would be helpful if the following information is readily available:

Type, amount and time of consumption of the substance
Age and weight of the individual
And, the overall health status of the individual
What are some Useful Resources for Additional Information?
National Capital Poison Center (USA)
3201 New Mexico Ave, Suite 310 Washington, DC 20016
Administrative Line: (202) 362-3867
Emergency Line: 1 (800) 222-1222
Fax: (202) 362-8377
Email: pc@poison.org
Website: http://www.poison.org

American Association of Poison Control Centers (USA)
515 King St., Suite 510, Alexandria, VA 22314
Phone: (703) 894-1858
Email: info@aapcc.org
Website: http://www.aapcc.org

National Poisons Centre (New Zealand)
Dunedin School of Medicine, University of Otago
PO Box 913 Dunedin 9054, New Zealand
Phone: 0800 POISON (0800 764 766)
Website: http://www.poisons.co.nz

NSW Poisons Information Centre (Australia)
Hawkesbury Rd & Hainsworth Street, Westmead NSW 2145, Australia
Phone: +61 13 11 26
Email: nswpoisons@chw.edu.au
Website: https://www.poisonsinfo.nsw.gov.au

British Columbia Drug and Poison Information Centre (Canada)
Room 0063, BC Centre for Disease Control
655 West 12th Avenue
Vancouver, BC V5Z 4R4 Canada
Phone: (604) 682-5050
Toll-Free: 1 (800) 567-8911
Fax: (604) 707-2807
Website: http://www.capcc.ca

Poisons Information Centre (South Africa)
Room 411, Institute of Child Health
Red Cross Children's Hospital
Klipfontein Road, Rondebosch, 7700, Cape Town South Africa
Phone: +27 21 658 5308
Fax: +27 21  650 4492
Email: poisonsinformation@uct.ac.za
Website: https://www.afritox.co.za

National Poisons Information Service (United Kingdom)
City Hospital Dudley Rd, Birmingham United Kingdom B187QH
Phone: +44 844 892 0111
Fax: +44 121 507 55 88
Email: mail@npis.org
Website: http://www.npis.org
References and Information Sources used for the Article:
https://medlineplus.gov/ency/article/002476.htm (accessed on 07/20/2017)

https://www.ncbi.nlm.nih.gov/pmc/articles/PMC3514464/ (accessed on 07/20/2017)

https://www.epa.gov/mercury/health-effects-exposures-mercury (accessed on 07/20/2017)

http://www.who.int/mediacentre/factsheets/fs361/en/ (accessed on 07/20/2017)

https://www.atsdr.cdc.gov/mmg/mmg.asp?id=106&tid=24 (accessed on 07/20/2017)

https://www.fda.gov/ForConsumers/ConsumerUpdates/ucm253338.htm (accessed on 06/20/2017)
Helpful Peer-Reviewed Medical Articles:
Park, J. D., & Zheng, W. (2012). Human exposure and health effects of inorganic and elemental mercury. Journal of Preventive Medicine and Public Health, 45(6), 344.

Sarikaya, S., Karcioglu, O., Ay, D., Cetin, A., Aktas, C., & Serinken, M. (2010). Acute mercury poisoning: a case report. BMC emergency medicine, 10(1), 7.

Brannan, E. H., Su, S., & Alverson, B. K. (2012). Elemental mercury poisoning presenting as hypertension in a young child. Pediatric emergency care, 28(8), 812-814.

Rice, K. M., Walker Jr, E. M., Wu, M., Gillette, C., & Blough, E. R. (2014). Environmental mercury and its toxic effects. Journal of preventive medicine and public health, 47(2), 74.

Echeverria, D., Woods, J. S., Heyer, N. J., Martin, M. D., Rohlman, D. S., Farin, F. M., & Li, T. (2010). The association between serotonin transporter gene promotor polymorphism (5-HTTLPR) and elemental mercury exposure on mood and behavior in humans. Journal of Toxicology and Environmental Health, Part A, 73(15), 1003-1020.

Fernandes Azevedo, B., Barros Furieri, L., Peçanha, F. M., Wiggers, G. A., Frizera Vassallo, P., Ronacher Simões, M., ... & Stefanon, I. (2012). Toxic effects of mercury on the cardiovascular and central nervous systems. BioMed Research International, 2012.

Gibb, H., & O'Leary, K. G. (2014). Mercury exposure and health impacts among individuals in the artisanal and small-scale gold mining community: a comprehensive review. Environmental health perspectives, 122(7), 667.

Goodrich, J. M., Wang, Y., Gillespie, B., Werner, R., Franzblau, A., & Basu, N. (2013). Methylmercury and elemental mercury differentially associate with blood pressure among dental professionals. International journal of hygiene and environmental health, 216(2), 195-201.
Reviewed and Approved by a member of the DoveMed Editorial Board
First uploaded: Aug. 28, 2017
Last updated: March 5, 2018