First Aid for Crush Injury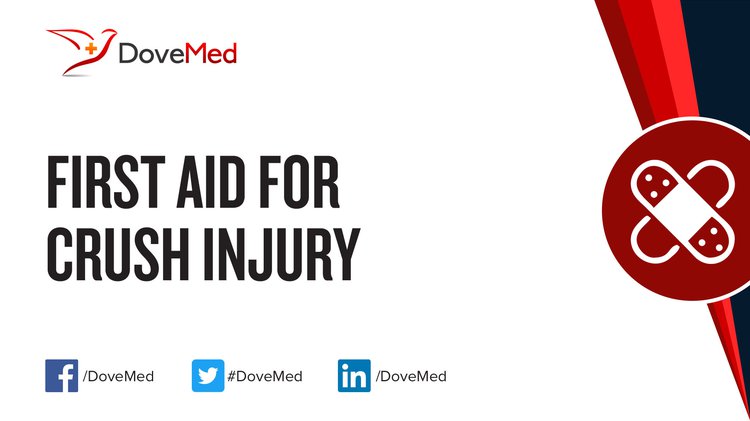 A Crush Injury may be described as an injury caused when a body part is caught or squeezed between (or comes under) heavy objects, such as a boulder, steel girder, or an automobile.
What is Crush Injury? 
A Crush Injury may be described as an injury caused when a body part is caught or squeezed between (or comes under) heavy objects, such as a boulder, steel girder, or an automobile
The force or pressure on the body part is such that it results in excruciating pain, bruising, bleeding, broken bones, and injury to the nerves. In most incidents, localized tissue injury is only observed
What are the Causes of Crush Injury?
Crush Injuries are caused by a variety of factors including:
Fall injuries (especially if the individuals are heavy or overweight)
Automobile and sports-related injuries
Occupational hazard related, while working with mechanical equipment or tools
Hands or fingers getting jammed in doors and windows
Dropping heavy objects onto the foot
House or building collapse from natural or manmade disasters
Some injuries are minor, while others may be major resulting in serious harm and even death.
What are the Signs & Symptoms of Crush Injury?
The common signs and symptoms in case of a minor Crush Injury may include:
Moderate pain
Bruising, bleeding
Hairline fractures
Often, an isolated body part or limb is involved
The signs and symptoms in case of a major Crush Injury may additionally include:
Severe pain and severe bleeding
Open wound injury
Obvious visual deformities
Fractures that may be severe or compound; broken bones may be visible
Crushed skin tissue, muscles, and bones; nerve damage
Compartment syndrome
Hypothermia (reduction of body temperature)
Numbness and paralysis of the affected region
Loss of consciousness
Multiple body parts or systems may be affected
Severe Crush Injuries may have complications including crush syndrome, fat embolism, rhabdomyolysis (severe damage of muscles), infection, and shock.
How is First Aid administered for Crush Injury?
First Aid tips for Crush Injuries include:
Calling 911 (or your local emergency number) immediately, if:

The Crush Injury is a result of a major trauma or motor vehicle accident
There is heavy bleeding from the injury site and mangled body part(s)
A head, neck, back, or hip injury is suspected
The end of the limb, finger, or toe, is insensitive or turning blue
There are signs of shock or the affected individual has difficulty breathing
The individual is unable to move or is unconscious

If the individual is still trapped beneath the compressive force/object, try to remove it as safely as you can without causing further injuries to the affected individual
Else, wait for help from a professionally-trained team. In the meantime, try to keep the injured individual calm and comforted
For minor cases of Crush Injuries, the following may be considered:

Clean visible wounds with water
Apply an ice pack to injury site to reduce swelling and pain; do not apply ice directly to the skin, wrap it up in a cloth or towel
Stop any bleeding by applying pressure, using a sterile dressing or a clean cloth
In case of a fracture, try to immobilize the site (if you are trained to do so)

If arterial bleeding is suspected and medical assistance is not immediately available, use of a tourniquet may be appropriate
A tetanus shot may be necessary, in case of an open cut/wound
Take the individual to emergency room (ER) for further treatment, as quickly as possible
Who should administer First Aid for Crush Injury?
Any individual, in close vicinity of the injured person, can provide immediate comfort and first aid, but one must seek medical help in almost all cases of Crush Injuries
In case of a severe injury, calling 911 (or your local emergency number) is the first and immediate line of action
What is the Prognosis of Crush Injury?
The prognosis for a Crush Injury varies widely and depends on:

The body part(s) involved and the extent of injury
Age of the victim and the presence of any underlying condition(s)
Severity of the trauma associated with the Crush Injury

Minor cases have a much better prognosis than moderate to severe Crush Injury cases. Often, in the case of a major injury, the treatment may be prolonged and necessitate multiple surgeries and physical therapy, to repair damaged tissues, tendons, and nerves
In case of an injury due to a severe compressive force, delayed treatment, and/or the setting in of compartment syndrome, the prognosis may be guarded. It can result in permanent limb injury (or injury to the affected part), amputation, or even be fatal
How can Crush Injury be Prevented?
A few helpful tips to prevent Crush Injuries:
Utilize suitable PPE (personal protective equipment) while performing certain dangerous activities, outdoor activities, or sports
Carefully supervise children at parks and playgrounds
Use seatbelts in motor vehicles
Add safety features, such as non-slick patches and handrails to the stairs, to avoid fall injuries
What are certain Crucial Steps to be followed?
If the individual is feeling faint, turning grey, or breathing in short rapid bursts, treat for shock by loosening any restrictive clothing and elevating the legs above the head, if the injury is not in the lower extremities
Do NOT attempt to move any individual with a suspected head, neck, or back injury; or, if you suspect a broken hip or pelvis
Immediately call 911 or your local emergency number, if the injury is severe or the individual is still trapped beneath the object or structure
What are some Useful Resources for Additional Information?
American Academy of Orthopaedic Surgeons (AAOS)
6300 North River Rd. Rosemont, IL 60018-4262
Phone: (847) 823-7186
Toll-Free: (800) 346-2267
Fax: (847) 823-8125
Email: hackett@aaos.org
Website: http://www.aaos.org
References and Information Sources used for the Article:
https://medlineplus.gov/ency/article/000024.htm (accessed on 08/10/2017)
https://patient.info/in/doctor/crush-syndrome (accessed on 08/10/2017)
https://www.ambulance.qld.gov.au/docs/clinical/cpg/CPG_Crush%20injury.pdf (accessed on 08/10/2017)
Helpful Peer-Reviewed Medical Articles:
Cheng, F. C., Tai, M. H., Sheu, M. L., Chen, C. J., Yang, D. Y., Su, H. L., ... & Pan, H. C. (2010). Enhancement of regeneration with glia cell line–derived neurotrophic factor–transduced human amniotic fluid mesenchymal stem cells after sciatic nerve crush injury [RETRACTED] Laboratory investigation. Journal of neurosurgery, 112(4), 868-879.
He, Q., Wang, F., Li, G., Chen, X., Liao, C., Zou, Y., ... & Wang, L. (2011). Crush syndrome and acute kidney injury in the Wenchuan Earthquake. Journal of Trauma and Acute Care Surgery, 70(5), 1213-1218.
Bélanger, E., Henry, F. P., Vallée, R., Randolph, M. A., Kochevar, I. E., Winograd, J. M., ... & Côté, D. (2011). In vivo evaluation of demyelination and remyelination in a nerve crush injury model. Biomedical optics express, 2(9), 2698-2708.
Britt, J. M., Kane, J. R., Spaeth, C. S., Zuzek, A., Robinson, G. L., Gbanaglo, M. Y., ... & Bittner, G. D. (2010). Polyethylene glycol rapidly restores axonal integrity and improves the rate of motor behavior recovery after sciatic nerve crush injury. Journal of neurophysiology, 104(2), 695-703.
Pan, H. C., Yang, D. Y., Ou, Y. C., Ho, S. P., Cheng, F. C., & Chen, C. J. (2010). Neuroprotective effect of atorvastatin in an experimental model of nerve crush injury. Neurosurgery, 67(2), 376-389.
Lindsay, R. W., Heaton, J. T., Edwards, C., Smitson, C., & Hadlock, T. A. (2010). Nimodipine and acceleration of functional recovery of the facial nerve after crush injury. Archives of facial plastic surgery, 12(1), 49-52.
Alavi-Moghaddam, M., Safari, S., Najafi, I., & Hosseini, M. (2012). Accuracy of urine dipstick in the detection of patients at risk for crush-induced rhabdomyolysis and acute kidney injury. European Journal of Emergency Medicine, 19(5), 329-332.
Kim, C. W. (2010). Scientific basis of minimally invasive spine surgery: prevention of multifidus muscle injury during posterior lumbar surgery. Spine, 35(26S), S281-S286.