First Aid for Chalk Poisoning
Last updated Feb. 24, 2018
Approved by: Krish Tangella MD, MBA, FCAP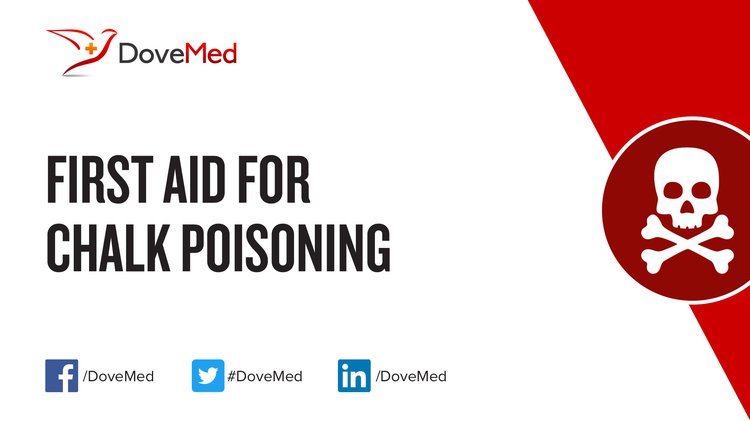 Chalk Poisoning is the accidental or intentional intake (consumption) of chalk and chalk containing products.
---
What is Chalk Poisoning?
A chalk is a white powdery substance of limestone composition (i.e., derived from calcium carbonate). It was traditionally used for marking blackboards. Nevertheless, presently, writing chalks are made from gypsum mineral based products
Chalk Poisoning is the accidental or intentional intake (consumption) of chalk and chalk containing products
The condition is diagnosed based upon the clinical history, combination of signs and symptoms, and additional tests (that may include, in some cases, radiological studies and laboratory tests)
Chalk Poisoning may be also referred to as Swallowing Chalk and Chalk Toxicity.
What are the Causes of Chalk Poisoning?
Chalk Poisoning is caused by eating or swallowing chalk products
This intake could be accidental, or in some cases intentional, to bring self-harm
Chalks may consist of magnesium carbonate or calcium sulfate dihydrate; also, certain compounds and synthetic colors that are added to them may be toxic
Note: The compound can interact with other prescribed or non-prescribed medications in the body. Such interactions may enhance the therapeutic effects of other medications being taken, resulting in undesired side effects.
What are the Signs and Symptoms of Chalk Poisoning?
The signs and symptoms of Chalk Poisoning can vary from one individual to another. It may be mild in some and severe in others. The signs and symptoms may include:
Nausea and vomiting
Stomach and abdominal pain
Constipation or diarrhea
Cough and breathing difficulties, in some cases
Obstruction of the bowel, if significant quantities are consumed
How is First Aid administered for Chalk Poisoning?
First Aid tips for Chalk Poisoning:
Call 911 or your local emergency help number immediately, for emergency assistance
Call the Poison Control Center at 1-800-222-1222 (or your local poison control center) for further instructions
Provide them with information such as the compound taken, quantity and time of ingestion, age, weight and general health status of affected individual
Confirm that the airways are protected; also, ensure breathing and the presence of pulse
Clean the mouth to remove any remaining pieces; wipe mouth with a wet cloth
Unless instructed by a healthcare professional, DO NOT induce vomiting in the affected individual
Take individual to emergency room (ER) for further treatment
Always try to take the compound bottle/container to the ER
Generally, Chalk Poisoning is a non-serious condition. With appropriate and adequate home care, the individual may recover completely, without any severe symptoms being noted. 
In case of severe symptoms, emergency health care may be required. The emergency medical professional might perform the following steps towards treating the condition:
Monitor vital signs
Medically manage symptoms and provide breathing support, if necessary
Administer fluids by an intravenous drip line, if necessary
Who should administer First Aid for Chalk Poisoning?
First aid for Chalk Poisoning is administered by healthcare professionals.
The individual who is affected, or someone near, should call 911 for emergency assistance (or the local emergency number)
They should also call the poison control center at 1-800-222-1222 (or the local poison control center) and follow instructions
What is the Prognosis of Chalk Poisoning?
The prognosis of Chalk Poisoning is dependent on the amount of substance consumed, time between consumption and treatment, severity of the symptoms, as well as general health status of the patient
If the individual can recover from the symptoms, with appropriate medication and early support, the outcome is generally good
Chalk is a non-poisonous substance, and hence, the condition is not very dangerous. In a majority of cases, early recovery is reported
In general, toxicities are common situations in the emergency departments. A majority of the cases are often not fatal, when appropriate treatment is given.
How can Chalk Poisoning be Prevented?
Chalk Poisoning can be prevented by:
Always following instructions for usage of any health or cosmetic products
Keeping cosmetics, medications, and other healthcare products out of reach of children in child-proof containers
Being aware of basic first aid steps in case of an emergency (such as inadvertent poisoning)
What are certain Crucial Steps to be followed?
Call 911 (or your local emergency number) for emergency assistance, if necessary
Call Poison Control Center at 1-800-222-1222 (or the local poison control center) and follow the recommend steps
It would be helpful if the following information is readily available:

Type, amount and time of consumption of the substance Age and weight of the individual
And, the overall health status of the individual
What are some Useful Resources for Additional Information?
National Capital Poison Center (USA)
3201 New Mexico Ave, Suite 310 Washington, DC 20016
Administrative Line: (202) 362-3867
Emergency Line: 1 (800) 222-1222
Fax: (202) 362-8377
Email: pc@poison.org
Website: http://www.poison.org

American Association of Poison Control Centers (USA)
515 King St., Suite 510, Alexandria, VA 22314
Phone: (703) 894-1858
Email: info@aapcc.org
Website: http://www.aapcc.org

National Poisons Centre (New Zealand)
Dunedin School of Medicine, University of Otago
PO Box 913 Dunedin 9054, New Zealand
Phone: 0800 POISON (0800 764 766)
Website: http://www.poisons.co.nz

NSW Poisons Information Centre (Australia)
Hawkesbury Rd & Hainsworth Street, Westmead NSW 2145, Australia
Phone: +61 13 11 26
Email: nswpoisons@chw.edu.au
Website: https://www.poisonsinfo.nsw.gov.au

British Columbia Drug and Poison Information Centre (Canada)
Room 0063, BC Centre for Disease Control
655 West 12th Avenue
Vancouver, BC V5Z 4R4 Canada
Phone: (604) 682-5050
Toll-Free: 1 (800) 567-8911
Fax: (604) 707-2807
Website: http://www.capcc.ca

Poisons Information Centre (South Africa)
Room 411, Institute of Child Health
Red Cross Children's Hospital
Klipfontein Road, Rondebosch, 7700, Cape Town South Africa
Phone: +27 21 658 5308
Fax: +27 21  650 4492
Email: poisonsinformation@uct.ac.za
Website: https://www.afritox.co.za

National Poisons Information Service (United Kingdom)
City Hospital Dudley Rd, Birmingham United Kingdom B187QH
Phone: +44 844 892 0111
Fax: +44 121 507 55 88
Email: mail@npis.org
Website: http://www.npis.org
References and Information Sources used for the Article:
https://medlineplus.gov/ency/article/002771.htm (accessed on 06/20/2017)

https://illinoispoisoncenter.org/my-child-ate-chalk (accessed on 06/20/2017)

https://www.ncbi.nlm.nih.gov/pubmed/18551820 (accessed on 06/20/2017)

https://www.fda.gov/ForConsumers/ConsumerUpdates/ucm253338.htm (accessed on 06/20/2017)
Helpful Peer-Reviewed Medical Articles:
Ekong, M. B., Ekanem, T. B., Sunday, A. O., Aquaisua, A. N., & Akpanabiatu, M. I. (2012). Evaluation of calabash chalk effect on femur bone morphometry and mineralization in young Wistar rats: a pilot study. International Journal of Applied and Basic Medical Research, 2(2), 107.

Akpantah, A. O., Ibok, O. S., Ekong, M. B., Eluwa, M. A., & Ekanem, T. B. (2010). The effect of calabash chalk on some hematological parameters in female adult Wistar rats/Kalabas tebesiri (Calabash chalk) disi yetiskin Wistar sicanlarin bazi hematolojik parametreleri uzerindeki etkisi. Turkish Journal of Hematology, 27(3), 177-182.

Ekong, M. B., Peter, A. I., Ekanem, T. B., & Osim, E. E. (2015). Determination of elemental composition and median lethal dose of calabash chalk. Int J Biol Med Res, 6(2), 4902-4906.

Michel, J., Nixon, Z., Dahlin, J., Betenbaugh, D., White, M., Burton, D., & Turley, S. (2011, March). Persistence and Toxicity of Oil in Brackish Marshes Seven Years After the Chalk Point, Maryland Oil Spill. In International Oil Spill Conference Proceedings (IOSC) (Vol. 2011, No. 1, p. abs11). American Petroleum Institute.

El-Wahab, M. A., Morsy, Z., & El-Faramawy, N. (2010). Determination of naturally radioactive elements in chalk sticks by means of gamma spectroscopy. Radiation Effects & Defects in Solids: Incorporating Plasma Science & Plasma Technology, 165(4), 313-320.

Wyke, S., Ghosh, A., Brooke, N., & Lintot, E. (2012). Bromate contamination of the Hertfordshire chalk aquifer and how it was remediated. World Health, 24, 07.

Zhang, Y., Yang, Z., Feng, Y., Li, R., Zhang, Q., Geng, H., & Dong, C. (2015). Effects of coarse chalk dust particles (2.5-10 [mu] m) on respiratory burst and oxidative stress in alveolar macrophages. Environmental science and pollution research international, 22(16), 12450.

Fayez-Hassan, M. Investigation of Lecturer's Chalk by X-Ray Florescence and Fast Neutron Activation Techniques.

Zhang, Y., Yang, Z., Li, R., Geng, H., & Dong, C. (2015). Investigation of fine chalk dust particles' chemical compositions and toxicities on alveolar macrophages in vitro. Chemosphere, 120, 500-506.
Reviewed and Approved by a member of the DoveMed Editorial Board
First uploaded: July 9, 2017
Last updated: Feb. 24, 2018