First Aid for Cuts
Last updated March 5, 2018
Approved by: Maulik P. Purohit MD, MPH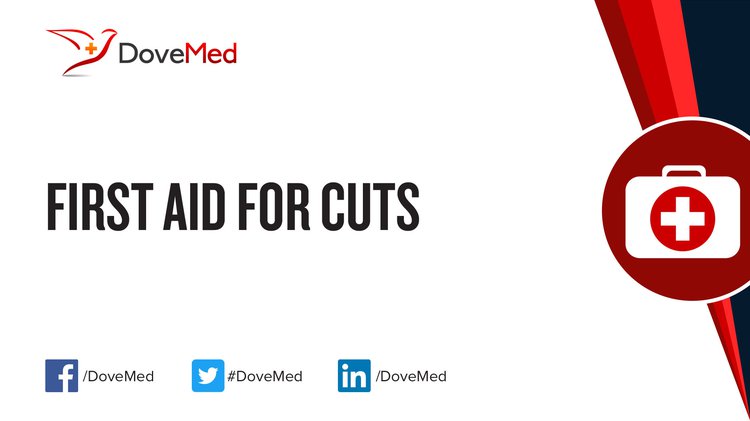 A Cut is defined as a break in the skin. It may occur from sharp or pointed objects. In most cases, appropriate home care and medication is sufficient treatment.
---
IMPORTANT INFORMATION: Read This First
All severe Cuts should be evaluated by a trained medical professional, as soon as possible! DO NOT wait! Failure to obtain evaluation as soon as possible may result in serious injury or death. Call 911 (or your local emergency number) immediately, if you experience any severe Cuts.
What is Cuts?
A Cut is defined as a break in the skin. It may occur from sharp or pointed objects
In most cases, appropriate home care and medication is sufficient treatment
What are the Causes of Cuts?
Cuts may be caused by:
Contact with sharp objects
Falls
Animal bites
What are the Signs and Symptoms of Cuts?
The signs and symptoms of Cuts include:
Bleeding
Swelling
Sharp, localized pain
How is First Aid administered for Cuts?
First Aid tips for Cuts include:
Apply gentle pressure on the wound with a clean cloth to stop the bleeding. Try to elevate the affected part of the body if possible
Rinse the Cut thoroughly with clean water
Apply an antibiotic ointment (like Neosporin)
Cover it with a bandage or sterile gauze for the first 1-2 days, until the wound heals; thereafter leave it open
Change bandages regularly
Seek medical assistance, if the wound is too deep/wide, bleeding does not stop, or there are any signs of infection like redness, swelling, pain, and purulent (pus) drainage
Tetanus prophylaxis if necessary. If you are unsure of the last tetanus shot, check with your physician for a booster dose
Who should administer First Aid for Cuts?
First Aid can be administered by the person themselves, or by someone nearby.
What is the Prognosis of Cuts?
The prognosis is usually good. However, one should carefully monitor the Cut for any signs of infection.
How can Cuts be Prevented?
Keep sharp objects away from children
Fall-proofing the house
What are certain Crucial Steps to be followed?
Stop the bleeding
Cleanse the wound
Tetanus prophylaxis
Monitor for infection signs
What are some Useful Resources for Additional Information?
American Academy of Dermatology
930 E. Woodfield Road Schaumburg, IL 60173
Phone: (866) 503-SKIN (7546)
Fax: (847) 240-1859
Website: http://www.aad.org
References and Information Sources used for the Article:
http://www.mayoclinic.com/health/first-aid-cuts/FA00042 (accessed on 5/28/2013)

http://kidshealth.org/parent/firstaid_safe/sheets/cuts_sheet.html#cat20221 (accessed on 5/28/2013)
Helpful Peer-Reviewed Medical Articles:
Gyedu, A., Mock, C., Nakua, E., Otupiri, E., Donkor, P., & Ebel, B. E. (2015). Pediatric first aid practices in Ghana: a population-based survey. World journal of surgery, 39(8), 1859-1866.

De Buck, E., Van Remoortel, H., Dieltjens, T., Verstraeten, H., Clarysse, M., Moens, O., & Vandekerckhove, P. (2015). Evidence-based educational pathway for the integration of first aid training in school curricula. Resuscitation, 94, 8-22.

de Oliveira, M. R., Leonel, A. R. A., Montezeli, J. H., Gastaldi, A. B., Martins, E. A. P., & Caveião, C. (2016). Conception of undergraduate nursing students on the practice of health education on first aid. Northeast Network Nursing Journal, 16(2).

Lewis, S. P., & Knoll, A. K. (2015). Do it yourself: Examination of self-injury first aid tips on YouTube. Cyberpsychology, Behavior, and Social Networking, 18(5), 301-304.

Auerbach, P. S. (2015). Medicine for the Outdoors E-Book: The Essential Guide to First Aid and Medical Emergencies. Elsevier Health Sciences.

Zeitz, K., Zeitz, C., & Kadow-Griffin, C. (2015). Injury occurrences at a mass gathering event. Australasian Journal of Paramedicine, 3(1).
Reviewed and Approved by a member of the DoveMed Editorial Board
First uploaded: May 28, 2013
Last updated: March 5, 2018