culinary123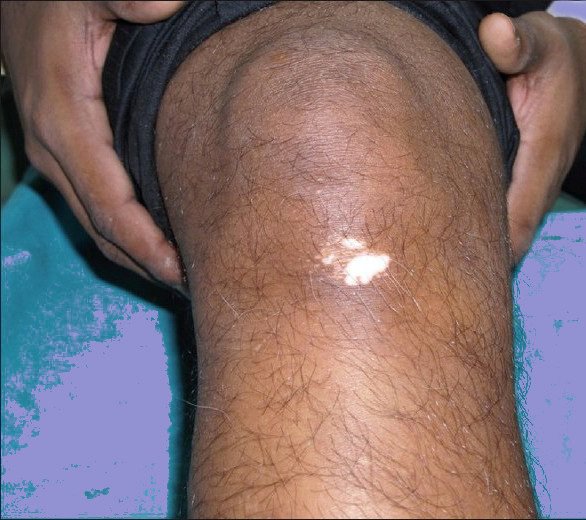 Vitiligo is a common pigmentary (depigmentation) disorder of unknown cause, in which the skin loses its melanocytes.
What are the other Names for this Condition? (Also known as/Synonyms)
Depigmentation of the Skin
Hypopigmented Patches on the Skin
Loss of Brown Pigment on the Skin
What is Vitiligo? (Definition/Background Information)
Vitiligo is a common pigmentary (depigmentation) disorder of unknown cause, in which the skin loses its melanocytes. Melanocytes are cells that make the brown color pigment 'melanin'
As a result, when a patch of skin loses the pigment, it becomes white. This condition is progressive in nature; though, many years may pass, without any new patches developing. Vitiligo is neither contagious nor life-threatening
Vitiligo can either have a focal pattern (white patches seen in one or a few areas), or a segmental pattern (white patches on one side of the body), or a generalized pattern (white patches appearing all over the body)
The most common pattern is the non-segmental Vitiligo pattern, in which generalized pattern of white patches are noticed, all over the body
Mild cases of Vitiligo may not require any treatment, though severe cases may be treated using various medical therapies, such as steroids, tacrolimus (immune-suppressant), ultraviolet light, etc.
Even though there is no complete cure available for Vitiligo, the prognosis is excellent and most individuals are able to lead normal lives
Vitiligo is a skin condition that cannot be prevented; however, avoiding the direct sun (using sunscreens, lotions, wide-brimmed hats) may lessen its severity
Who gets Vitiligo? (Age and Sex Distribution)
The incidence of Vitiligo is around 1-2% of the global population
Most individuals who have Vitiligo, usually develop the condition before they reach 20 years of age
Vitiligo effects both sexes, across all races, ethnic groups, and communities
What are the Risk Factors for Vitiligo? (Predisposing Factors)
The precise cause of Vitiligo is not well-understood; it may be hereditary. It is commonly noticed in association with the following conditions:
Adrenocortical insufficiency
Alopecia areata
Pernicious anemia
Premature graying of the hair (before 35 years of age)
Excessive stress
A positive family history of Vitiligo
It is important to note that having a risk factor does not mean that one will get the condition. A risk factor increases one's chances of getting a condition compared to an individual without the risk factors. Some risk factors are more important than others.
Also, not having a risk factor does not mean that an individual will not get the condition. It is always important to discuss the effect of risk factors with your healthcare provider.
What are the Causes of Vitiligo? (Etiology)
Vitiligo is considered to be an autoimmune disorder, in which the body's immune system attacks its own melanocytes, though the exact cause of the condition is unknown
Vitiligo results in white patches. It is not known exactly what triggers this condition
However, it seems to be a combination of genetic, infectious (usually viral), immunologic, biochemical and neurogenic factors. It can also be hereditary
What are the Signs and Symptoms of Vitiligo?
The signs and symptoms of Vitiligo may include:
Irregular white patches on the skin, especially on the areas exposed to the sun
More commonly, depigmented patches of skin are seen on the face, hands, and wrist, and also around the body orifices such as mouth, eyes, nostrils, genitalia, and umbilicus
Graying of hair: Premature graying (before the age of 35 years) of the hair, eyebrows, eyelashes, and other affected areas, like the retina
However, it is important to note that not all pale patches may be due to Vitiligo.
How is Vitiligo Diagnosed?
The diagnosis of Vitiligo requires a through physical examination, along with an evaluation of medical history. During this, the physician will try to evaluate:
If there was any illness or stressful event, prior to the appearance of the white patches
If there is a family history of Vitiligo
If there was a rash or a sunburn, in and around the white patch
If there is a family history of autoimmune disorders
Diagnostic tests that are performed for Vitiligo may include:
Skin biopsy: A small piece of affected skin is taken and is examined by a pathologist, under the microscope to make a definitive diagnosis
Examination under wood light/ultraviolet light/black light: Skin with Vitiligo when exposed to this light will appear pearl white
Many clinical conditions may have similar signs and symptoms. Your healthcare provider may perform additional tests to rule out other clinical conditions to arrive at a definitive diagnosis.
What are the possible Complications of Vitiligo?
The complications from Vitiligo could include:
Sunburns
Skin cancers
Depression and mood disorders, due to social stigma and isolation
How is Vitiligo Treated?
There is no definitive cure for Vitiligo, though not all cases of the disorder need treatment. The primary goal of the treatment is to slow progression of hypopigmentation. Current treatment options for Vitiligo include:
The use of medical therapies, such as:
Topical steroid therapy may help return color to one's skin, particularly if used early in the disease
Topical calcipotriene: A form of vitamin D
Tacrolimus and pimecrolimus are medications that suppress the immune system and are effective for people with small area of depigmentation, especially on the face and neck
Combined medical and light therapy (photopharmacotherapy): Psoralen, a drug which is either given orally or applied to skin, and the individuals are exposed to UVA or UVB (ultraviolet) lights
Light therapy: This treatment used narrowband UVB light
Laser therapy: A specific wavelength of UVB light is used, to treat only small areas
Depigmantation: When Vitiligo is widespread and other treatment options have failed, a drug monobenzone is applied to the unaffected areas of the skin, which gradually lightens them, to blend with the discolored areas
Surgical therapies include the use of skin grafting, blister grafting, and tattooing (micropigmentation).
How can Vitiligo be Prevented?
Currently, there are no methods available to prevent Vitiligo
The use of sun protection gear and sunscreens may help in decreasing the severity of the condition
What is the Prognosis of Vitiligo? (Outcomes/Resolutions)
Vitiligo is a benign condition that cannot be completely cured
Emphasis is laid on managing the emotional stress and mental trauma an individual undergoes due to Vitiligo
The affected individuals are able to lead normal and active lives
Additional and Relevant Useful Information for Vitiligo:
Individuals with Vitiligo usually have the following co-existing diseases:
Addison's disease
Hyperthyroidism
Vitamin B-12 deficiency anemia (pernicious anemia)
What are some Useful Resources for Additional Information?
National Institute of Arthritis and Musculoskeletal and Skin Diseases
1 AMS Circle, Bethesda, MD 20892-3675
Phone: (301) 495-4484
Toll-Free: (877) 226-4267)
TTY: (301) 565-2966
Fax: (301) 718-6366
Email: NIAMSinfo@mail.nih.gov
Website: http://www.niams.nih.gov
American Academy of Dermatology (AAD)
930 E. Woodfield Road Schaumburg, IL 60173
Phone: (866) 503-SKIN (7546)
Fax: (847) 240-1859
Website: http://www.aad.org
American Vitiligo Research Foundation
PO Box 7540 Clearwater, FL 33758
Email: Vitiligo@avrf.org
Website: http://www.avrf.org
National Vitiligo Foundation, Inc. (NVF)
11250 Cornell Park Drive, Suite 207, Cincinnati, Ohio 45242
Phone: (513) 793-NVFI (6834)                    
Fax: (513) 793-6887
Email: info@nvfi.org
Website: http://www.nvfi.org
Vitiligo Support International Inc.
P.O. Box 3565 Lynchburg, VA 24503
Phone: (434) 326-5380
Website: http://www.vitiligosupport.org
References and Information Sources used for the Article:
http://www.ncbi.nlm.nih.gov/pubmedhealth/PMH0001834/ (accessed on 11/05/14)
http://www.vitiligosupport.org/vitiligo/diagnosis.cfm (accessed on 11/05/14)
http://www.aocd.org/?page=Vitiligo (accessed on 11/05/14)
Helpful Peer-Reviewed Medical Articles:
Chan, M. F., & Chua, T. L. (2012). The effectiveness of therapeutic interventions on quality of life for vitiligo patients: a systematic review. Int J Nurs Pract, 18(4), 396-405. doi: 10.1111/j.1440-172X.2012.02047.x
Colucci, R., Lotti, T., & Moretti, S. (2012). Vitiligo: an update on current pharmacotherapy and future directions. Expert Opin Pharmacother, 13(13), 1885-1899. doi: 10.1517/14656566.2012.712113
Lotti, T. M., Berti, S. F., Hercogova, J., Huggins, R. H., Lee, B. W., Janniger, C. K., & Schwartz, R. A. (2012). Vitiligo: recent insights and new therapeutic approaches. G Ital Dermatol Venereol, 147(6), 637-647.
Malhotra, N., & Dytoc, M. (2013). The pathogenesis of vitiligo. J Cutan Med Surg, 17(3), 153-172.
Vrijman, C., Kroon, M. W., Limpens, J., Leeflang, M. M., Luiten, R. M., van der Veen, J. P., . . . Spuls, P. I. (2012). The prevalence of thyroid disease in patients with vitiligo: a systematic review. Br J Dermatol, 167(6), 1224-1235. doi: 10.1111/j.1365-2133.2012.11198.x
Wu, S., Li, W. Q., Cho, E., Harris, J. E., Speizer, F., & Qureshi, A. A. (2015). Use of permanent hair dyes and risk of vitiligo in women. Pigment cell & melanoma research, 28(6), 744-746.
Boniface, K., Dessarthe, B., Vernisse, C., Boukhedouni, N., Thiolat, D., Darrigade, A., ... & Seneschal, J. (2015, September). Vitiligo is enriched with population of skin T cells expressing a resident memory phenotype. In JOURNAL OF INVESTIGATIVE DERMATOLOGY (Vol. 135, pp. S76-S76). 75 VARICK ST, 9TH FLR, NEW YORK, NY 10013-1917 USA: NATURE PUBLISHING GROUP.
Jin, Y., Hayashi, M., Fain, P. R., Suzuki, T., Fukai, K., Oiso, N., ... & Spritz, R. A. (2015). Major association of vitiligo with HLA‐A* 02: 01 in Japanese. Pigment cell & melanoma research, 28(3), 360-362.