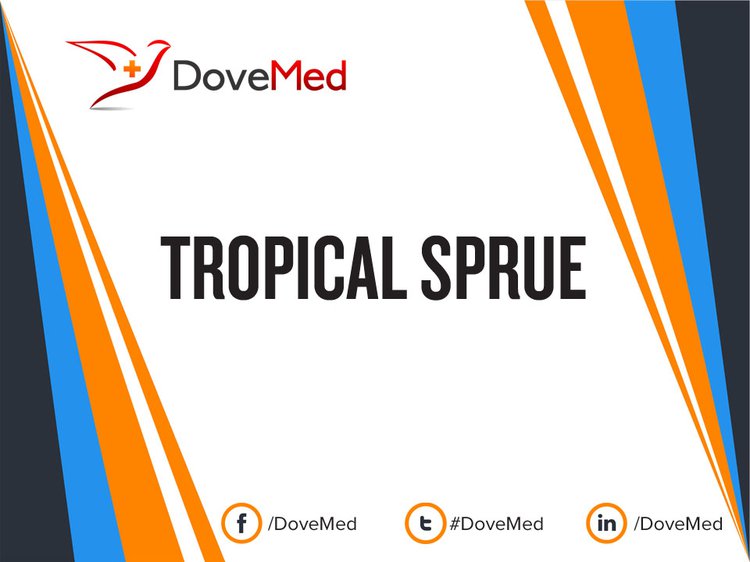 Tropical Sprue (TS) is a digestive disease characterized by malabsorption, generally affecting adults. It is caused by the inability of the small intestine to absorb nutrients effectively.
What are the other Names for this Condition? (Also known as/Synonyms)
Hill Diarrhea
Post Infective Tropical Malabsorption
Tropical Enteropathy
What is Tropical Sprue? (Definition/Background Information)
Tropical Sprue (TS) is a digestive disease characterized by malabsorption, generally affecting adults. It is caused by the inability of the small intestine to absorb nutrients effectively
It is believed that when excess amount of certain type of bacteria gets colonized in the intestines, they become damaged and inflamed, leading to Tropical Sprue
This chronic condition is commonly found in people who live or visit the tropical regions. It is more prevalent in South East Asia, the Caribbean regions, and Puerto Rico; but, not commonly found in southern Africa. TS is known to occur both as an epidemic and an endemic
The main symptoms characterizing TS, include diarrhea and malabsorption, causing weight loss
The disorder can be efficiently managed by the use of antibiotics, effective replenishment of lost body fluids, and nutritional supplements
The prognosis is very good with proper and effective treatment
Who gets Tropical Sprue? (Age and Sex Distribution)
Tropical Sprue is commonly found in people who live in, or visit the tropical regions (for more than a month). Entire tropical regions may not be affected and the condition varies markedly across geographical regions. The condition is more prevalent in some of the Caribbean islands, such as Cuba, Dominican Republic, Haiti, and Puerto Rico; and in some of the South East Asian countries like, Borneo, Burma, India, Indonesia, Malaysia, Singapore, and Vietnam
Note: Very few cases have been identified within the United States. Tropical Sprue is not observed in the geographical regions of Africa, Bahamas, China, Jamaica, and in Middle East Asia.
TS generally affect adults, though some occurrences have been observed in children too
Both genders are equally affected and there is no gender preference
No racial or ethnic  predominance is seen
What are the Risk Factors for Tropical Sprue? (Predisposing Factors)
The risk factors for Tropical Sprue would include:
Living/staying in the tropical regions
Frequently visiting, traveling to, or having a long stay, in the tropical regions
It is important to note that having a risk factor does not mean that one will get the condition. A risk factor increases ones chances of getting a condition compared to an individual without the risk factors. Some risk factors are more important than others.
Also, not having a risk factor does not mean that an individual will not get the condition. It is always important to discuss the effect of risk factors with your healthcare provider.
What are the Causes of Tropical Sprue? (Etiology)
The exact cause of Tropical Sprue occurrence is unknown. Research is currently underway, to identify the relevant cause factors
It is believed that excess accumulation of certain types of bacteria (and other pathogens) in the intestine, causes damage and swelling of the intestine, leading to the condition
Deficiency of folic acid is thought to be a possible causal factor
What are the Signs and Symptoms of Tropical Sprue?
The signs and symptoms of Tropical Sprue are variable and may not appear for a long period of time. An initial set of signs and symptoms are followed by a chronic set of presentations, and these may overlap. A lack of recognition or a lack of treatment of the condition, further leads to nutritional deficiencies, which cause additional health issues.
During the initial phase:
Acute diarrhea (gets worse on consuming oily-foods)
Fever
Weakness, fatigue
Cramps in the abdomen causing severe abdominal pain
Excess accumulation of gas, indigestion
Nausea, vomiting, and dehydration
Infants with Tropical Sprue may present with failure to thrive, bloating, and abnormal stools
During the chronic phase:
Chronic diarrhea
Loss of appetite
Weight loss
Paleness, tiredness
Ankle edema (Excess fluid accumulation in the ankle region), muscle cramps
Steatorrhea: Presence of excess fat in the feces, foul-smelling, foamy, greasy, and colorless stools
Behavioral changes such as: Increased irritability, mood swings, loss of interest in surroundings, anger issues
Malabsorption causing malnutrition; nutritional deficiencies (folic acid, iron, calcium , vitamins A, B12, D, & K)
Deficiency related problems:
Reduced level of hemoglobin in blood leading to paleness of the skin (anemia)
Swollen tongue with change of color (glossitis)
Thickening of outer skin (hyperkeratosis); related to vitamin A deficiency
Abdominal pain, pain in the bones, due to deficiency of calcium and vitamin D
Risk of bleeding (hemorrhage) due to insufficient vitamin K; blood may have a prolonged clotting time
How is Tropical Sprue Diagnosed?
A diagnosis of Tropical Sprue is not easy, since many diseases have similar signs and symptoms. The following methods may be used for a diagnosis:
Bone density test is used to measure the amount of calcium and other minerals, present in the bone
Complete blood count (CBC)
Comprehensive Metabolic Panel (CMP): A group of blood tests done to check the body's chemical balance and metabolism
Serum blood tests to check for folate, iron levels, vitamins B12 and D
Stool examination to check for the presence of bacteria and other parasites
Upper GI endoscopy: An endoscopic procedure is performed using an instrument called an endoscope, which consists of a thin tube and a camera. Using this technique, the radiologist can have a thorough examination of the insides of the gastrointestinal tract. An use of esophagoduodenoscopy will bring out the mucosal changes
Upper GI series: It is a set of x-rays taken to examine the esophagus, stomach, and small intestine
Jejunal biopsy will show an incomplete villous atrophy: A tissue biopsy of the small intestine when examined by a pathologist under a microscope, will reveal the presence of inflammatory cells
Blood and urine test to evaluate D-xylose absorption
Barium swallow (a medical imaging technique), will show thickened small bowel folds, when the x-rays are examined by a radiologist
Recent travel/visits to tropical regions could also be taken as a contributory factor in the diagnosis of TS
Many clinical conditions may have similar signs and symptoms. Your healthcare provider may perform additional tests to rule out other clinical conditions to arrive at a definitive diagnosis.
What are the possible Complications of Tropical Sprue?
The following complications are likely to occur due to Tropical Sprue:
Severe mineral, vitamin deficiencies causing a host of complications
Anemia
In children, severe deficiencies may lead to delayed bone maturation, failure to grow and thrive
How is Tropical Sprue Treated?
The treatment methods for Tropical Sprue include:
Giving lot of fluids and electrolytes, to make up for the lost body fluids and nutrients
Replacement of deficient folate, iron, vitamin B12, and other vitamins
Antibiotic therapy (such as tetracycline)
Note: Oral tetracycline is not recommended for children, who have not developed their permanent teeth. Orally administered tetracycline cause teeth discoloration, in the child's development phase (termed as drug-induced teeth staining).
The treatment is carefully monitored by checking improvement in the signs and symptoms, like:
Improvement in appetite
Weight gain
Improvement in blood levels of folate and other biochemical parameters
How can Tropical Sprue be Prevented?
No definitive preventive measures have been documented for Tropical Sprue
Travelers to the tropical regions should be educated about this disease and steps must be taken to limit ones' exposure to enteric pathogens
If severe, chronic, or acute diarrhea occurs, they must see the physician as early as possible, to prevent complications
Proper follow-up and outpatient care must be undertaken regularly after the start of treatment, to avoid recurrence of TS. This will include:
Monitoring weight gain
Monitoring CBC (blood count) and blood electrolyte levels
Checking regularly for folate, iron, vitamin, and mineral levels
What is the Prognosis of Tropical Sprue? (Outcomes/Resolutions)
The outcome is usually excellent with proper diagnosis and immediate treatment of Tropical Sprue
Chronic illness marked by severe anemia and malabsorption can lead to death. However, such instances are only seen in patients with comorbid conditions
Additional and Relevant Useful Information for Tropical Sprue:
Tropical Sprue must be differentiated from the following diseases, since all these exhibit similar signs and symptoms:
Secondary malabsorption caused by protozoal, viral, and bacterial infections
Celiac disease
Crohn's disease
Tuberculosis, affecting the gastrointestinal tract and pancreas
AIDS
What are some Useful Resources for Additional Information?
Centers for Disease Control and Prevention (CDC)
1600 Clifton Rd. Atlanta, GA 30333, USA
Phone: (404) 639-3534
Toll-Free: 800-CDC-INFO (800-232-4636)
TTY: (888) 232-6348
Email: cdcinfo@cdc.gov
Website: http://www.cdc.gov
National Institute of Diabetes and Digestive and Kidney Disorders (NIDDK)
Office of Communications and Public Liaison
Building 31, Room 9A04 Center Drive, MSC 2560
Phone: (301) 496-3583
Fax: (410) 689-3998
Email: NDDIC@info.niddk.nih.gov
Website: http://www.niddk.nih.gov
Genetic and Rare Diseases (GARD) Information Center   
PO Box 8126 Gaithersburg, MD 20898-8126    
Toll-Free: (888) 205-2311
TTY: (888) 205-3223
International Telephone Access Number: (301) 251-4925    
Fax: (301) 251-4911        
Website: http://rarediseases.info.nih.gov
References and Information Sources used for the Article:
http://www.nlm.nih.gov/medlineplus/ency/article/000275.htm (accessed on 06/05/13)
http://www.uptodate.com/contents/tropical-sprue (accessed on 06/05/13)
http://www.ncbi.nlm.nih.gov/pubmedhealth/PMH0001320/ (accessed on 06/05/13)
http://www.patient.co.uk/doctor/tropical-sprue (accessed on 06/05/13)
http://www.umm.edu/ency/article/000275.htm (accessed on 06/05/13)
Helpful Peer-Reviewed Medical Articles:
Birkenfeld, G. (2009). [Tropical sprue: an unusual differential diagnosis in chronic diarrhea]. Dtsch Med Wochenschr, 134(28-29), 1478-1482. doi: 10.1055/s-0029-1225304
Bouree, P. (2007). [Tropical sprue]. Presse Med, 36(4 Pt 2), 723-726. doi: 10.1016/j.lpm.2006.11.024
Nath, S. K. (2005). Tropical sprue. Curr Gastroenterol Rep, 7(5), 343-349.
Klipstein, F. A. (1981). Tropical sprue in travelers and expatriates living abroad. Gastroenterology, 80(3), 590-600.
GHOSHAL, U. C., GHOSHAL, U., Ayyagari, A., RANJAN, P., KRISHNANI, N., MISRA, A., ... & Naik, S. R. (2003). Tropical sprue is associated with contamination of small bowel with aerobic bacteria and reversible prolongation of orocecal transit time. Journal of gastroenterology and hepatology, 18(5), 540-547.
Haghighi, P., Wolf, P. L., & Durie, P. (1997). Tropical sprue and subclinical enteropathy: a vision for the nineties. Critical reviews in clinical laboratory sciences, 34(4), 313-341.
McCarroll, M. G., Riddle, M. S., Gutierrez, R. L., & Porter, C. K. (2015). Infectious Gastroenteritis as a Risk Factor for Tropical Sprue and Malabsorption: A Case–Control Study. Digestive diseases and sciences, 60(11), 3379-3385.
Walker, M. M. (2003). What is tropical sprue?. Journal of gastroenterology and hepatology, 18(8), 887-890.
Lim, M. L. (2001). A perspective on tropical sprue. Current gastroenterology reports, 3(4), 322-327.
Westergaard, H. (2004). Tropical sprue. Current treatment options in gastroenterology, 7(1), 7-11.