Transplant Rejection of Kidney
Last updated Jan. 6, 2019
Approved by: Krish Tangella MD, MBA, FCAP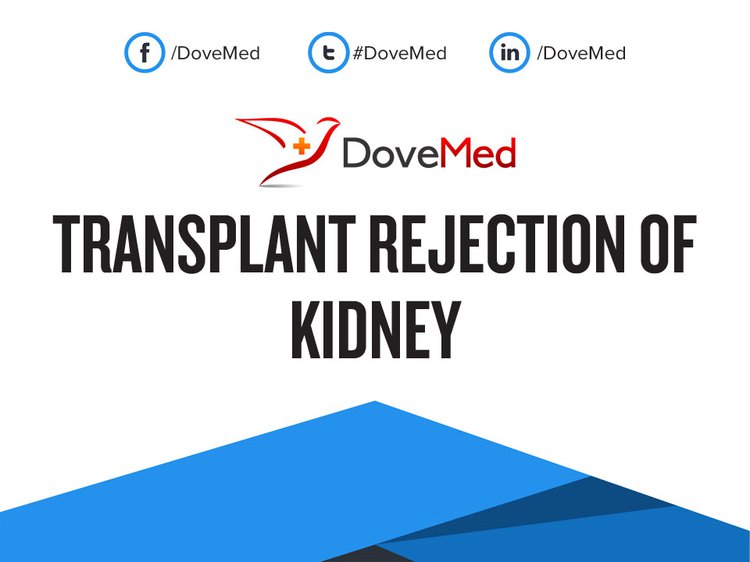 Transplant Rejection of Kidney occurs when the immune system of the recipient recognizes the new kidney as being a foreign object and thus, harmful.
---
What are the other Names for this Condition? (Also known as/Synonyms)
Kidney Graft Rejection
Organ Rejection - Kidney
Renal Graft Rejection
What is Transplant Rejection of Kidney? (Definition/Background Information)
Kidney transplantation is a procedure to surgically remove a damaged or diseased kidney and replace it with a healthy kidney, from a compatible donor
Transplant Rejection of Kidney occurs when the immune system of the recipient recognizes the new kidney as being a foreign object and thus, harmful.
Every individual has an immune system that ensures that no foreign particle or material enters the body. Sometimes, when there is an entry of a foreign substance, the body automatically starts to react or fight against the substance, in order to eliminate it from the body
The immune cells attack the foreign object, in this case, a donor kidney, in an attempt to destroy it, if they do not recognize the antigens of the new kidney
Antigens are foreign entities that get introduced in the body, against which antibodies are produced to render them harmless. Hence the need for matching the 'donor' to the 'recipient' as immunologically close as possible, by using tissue-typing techniques
The types of Transplant Rejection of Kidney are as follow:

Acute: An immune response is observed in the first few months after the transplant. This is common, since the body needs to get used to the addition of the new organ before beginning to accept it
Chronic: It takes several years to resolve and may damage the transplanted organ
Hyperacute: Completely mismatched kidney transplantation could result in very severe immune reactions, which could be fatal

An infection, being exposed to individuals with illnesses, certain medications, etc. might predispose an individual to a severe or more prolonged Transplant Rejection of Kidney
An adverse reaction to a new kidney could occur if the recipient and donor are 'mismatched'; if the recipient suffers from some chronic disease or disorder; or, is on certain medications that could trigger such a response
The characteristic symptoms of such a rejection could include fever, inability to urinate, aches, breathing difficulties, and discomfort. Individuals who have received a new kidney are generally placed under close observation
Any rejection may be diagnosed by doing functional tests on the new organ, tests to check other vital organs, imaging studies to assess damage, if any, etc. Medications are usually prescribed to address any Kidney Transplant Rejection. If diagnosed and treated promptly, and if the affected individual responds satisfactorily, the prognosis can be good
Who gets Transplant Rejection of Kidney? (Age and Sex Distribution)
Any individual who receives a kidney transplant can potentially reject it
This condition is observed in both males and females
Generally, individuals with weaker immune systems have a lower risk of graft rejection than those with stronger immunity
What are the Risk Factors for Transplant Rejection of Kidney? (Predisposing Factors)
Some of the predisposing factors that could potentially lead to Transplant Rejection of Kidney include:
Infection
Age: Younger the age, higher the risk
Prior similar episodes
Medications
Being around individuals who are ill
Noncompliance with therapy
It is important to note that having a risk factor does not mean that one will get the condition. A risk factor increases ones chances of getting a condition compared to an individual without the risk factors. Some risk factors are more important than others.
Also, not having a risk factor does not mean that an individual will not get the condition. It is always important to discuss the effect of risk factors with your healthcare provider.
What are the Causes of Transplant Rejection of Kidney? (Etiology)
The causes for Transplant Rejection of Kidney could include
The donor organ being "mismatched" or not matching closely with the recipient's body system
An adverse reaction that occurs when the body recognizes the new organ as being harmful
Underlying conditions such as an infection or a chronic illness
What are the Signs and Symptoms of Transplant Rejection of Kidney?
The signs and symptoms of Transplant Rejection of Kidney include:
Increase in body temperature
Difficulty breathing
Flu-like symptoms
Noticeable change in body weight
Inability to urinate
Inflammation, in or around the transplanted kidney
Upset stomach
Aches and discomfort
Abnormal heart rhythm
How is Transplant Rejection of Kidney Diagnosed?
A diagnosis of Transplant Rejection of Kidney may be made through the following measures:
A physical examination after completion of the transplant
Keeping the patient under observation to check for any sign of rejection
Assessment of kidney function
Imaging studies, such as ultrasound of the kidney and chest x-ray
Echocardiograph to check heart function
Biopsy of the kidney tissue: A piece of tissue is taken and sent to the laboratory for examination by a pathologist under the microscope. The pathologist will look for possible microscopic changes that could be present in the rejected kidney
Many clinical conditions may have similar signs and symptoms. Your healthcare provider may perform additional tests to rule out other clinical conditions to arrive at a definitive diagnosis.
What are the possible Complications of Transplant Rejection of Kidney?
The possible complications associated with Transplant Rejection of Kidney include:
Obstruction in the kidney 
Excessive loss of blood
Aneurysm
Low blood pressure
Complete blockage of the urine flow passage (transplanted organ failure)
Swelling
Lymphocele
Hydrocele
Infection
How is Transplant Rejection of Kidney Treated?
Transplant Rejection of Kidney is usually treated with:
Medications to stop the adverse reaction
Immunosuppressants, to allow the body to accept the new organ
Hospitalization in severe cases, till the condition resolves
How can Transplant Rejection of Kidney be Prevented?
Transplant Rejection of Kidney could potentially be prevented by:
Tissue-typing of the recipient and donor to get as close a match as possible, so that adverse reactions could be minimized
Regular post-surgery follow-up
By identifying the issue in its early stages, so that it could be treated effectively
How is the Prognosis of Transplant Rejection of Kidney? (Outcomes/Resolutions)
The prognosis of Transplant Rejection of Kidney is considered satisfactory, if the complications are diagnosed and treated promptly
If the condition is not addressed on time, the complications could get very severe, necessitating dialysis
In some rare cases, an extreme Transplant Rejection of Kidney is a possibility, which can be fatal
Additional and Relevant Useful Information for Transplant Rejection of Kidney:
A kidney transplant procedure should only be performed if it is deemed absolutely necessary, as the surgery itself can lead to severe obstruction, if not performed properly, apart from the possibility of a transplant rejection
Kidney transplantation procedures are required for patients with long-term kidney failure/end-stage kidney disease, when the kidneys are unable to remove waste material from the body
The following article link will help you understand kidney transplant surgical procedure:
http://www.dovemed.com/common-procedures/procedures-surgical/kidney-transplantation/
What are some Useful Resources for Additional Information?
References and Information Sources used for the Article:
http://my.clevelandclinic.org/transplant/services/kidney/what_you_need_to_know.aspx (accessed on 10/1/2015)

https://www.kidney.org/transplantation/transaction/TC/summer09/TCsm09_TransplantFails (accessed on 10/1/2015)
Helpful Peer-Reviewed Medical Articles:
Scornik, J. C., Lefor, W. M., Cicciarelli, J. C., Brunson, M. E., Bogaard, T., Howard, R. J., ... & Pfaff, W. W. (1992). Hyperacute and acute kidney graft rejection due to antibodies against B cells. Transplantation, 54(1), 61-64.

Zhong, X. Y., Hahn, D., Troeger, C., Klemm, A., Stein, G., Thomson, P., ... & Hahn, S. (2001). Cell‐free DNA in urine: a marker for kidney graft rejection, but not for prenatal diagnosis?. Annals of the New York Academy of Sciences, 945(1), 250-257.

Einecke, G., Melk, A., Ramassar, V., Zhu, L. F., Bleackley, R. C., Famulski, K. S., & Halloran, P. F. (2005). Expression of CTL associated transcripts precedes the development of tubulitis in T‐cell mediated kidney graft rejection. American journal of transplantation, 5(8), 1827-1836.

Kreis, H., Noel, L. H., Chailley, J., Lacombe, M., Descamps, J. M., & Crosnier, J. (1978). Kidney-graft rejection: has the need for steroids to be re-evaluated?. The Lancet, 312(8101), 1169-1172.

Simon, T., Opelz, G., Wiesel, M., Pelzl, S., Ott, R. C., & Süsal, C. (2004). Serial peripheral blood interleukin-18 and perforin gene expression measurements for prediction of acute kidney graft rejection. Transplantation, 77(10), 1589-1595.

Bibashi, E., Papagianni, A., Kelesidis, A., Antoniadou, R., & Papadimitriou, M. (1993). Peritonitis due to Aspergillus niger in a patient on continuous ambulatory peritoneal dialysis shortly after kidney graft rejection. Nephrology Dialysis Transplantation, 8(2), 185-187.

Porcheray, F., DeVito, J., Helou, Y., Dargon, I., Fraser, J. W., Nobecourt, P., ... & Saidman, S. L. (2012). Expansion of polyreactive B cells cross‐reactive to HLA and self in the blood of a patient with kidney graft rejection. American Journal of Transplantation, 12(8), 2088-2097.

Chevrier, D., Giral, M., Braud, V., Bourbigot, B., Muller, J. Y., Bignon, J. D., & Soulillou, J. P. (1995). Effects of MHC-encoded TAP1 and TAP2 gene polymorphism and matching on kidney graft rejection. Transplantation, 60(3), 292-296.
Reviewed and Approved by a member of the DoveMed Editorial Board
First uploaded: Oct. 23, 2015
Last updated: Jan. 6, 2019