Squamous Cell Carcinoma of Tongue
DoveMed.com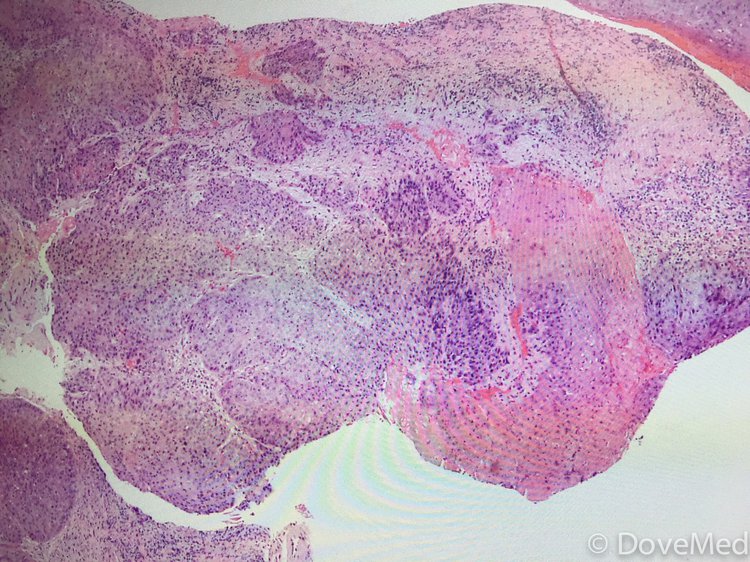 Microscopic pathology image showing Squamous Cell Carcinoma (SCC) of the Tongue.
What are the other Names for this Condition? (Also known as/Synonyms)
Tongue Cancer - Squamous Cell Type
SCC of Tongue
What is Squamous Cell Carcinoma of Tongue? (Definition/Background Information)
Squamous Cell Carcinoma (SCC) of Tongue is a common malignant tumor that typically affects elderly men and women. It is more aggressive than conventional squamous cell carcinoma affecting other body regions
The cause of the condition is unknown, but genetic mutations may be involved. Factors that may influence its development include smoking and chewing of tobacco, radiation treatment for other reasons, and exposure to coal tar and arsenic
The squamous cell carcinoma may appear as slow-growing skin lesions. The lesions may ulcerate and cause scarring of the tongue. It may be difficult to eat, swallow food, or even to speak
The treatment of choice is a surgical excision (glossectomy) with clear margins followed by radiation therapy or chemotherapy, as decided by the healthcare provider. In majority of the cases, the prognosis is good with appropriate treatment
Nevertheless, the prognosis of Squamous Cell Carcinoma of Tongue depends upon many factors including the stage of the tumor and health status of the affected individual. There is a possibility of local or regional metastasis, which can involve the lymph nodes. This may dictate the course of the condition
Who gets Squamous Cell Carcinoma of Tongue? (Age and Sex Distribution)
Squamous Cell Carcinoma of Tongue generally affects elderly or older adults; some cases rarely develop in children too
It can occur in both males and females
SCC is generally prevalent worldwide, though dark-skinned individuals (Asians and Africans) are affected less than lighter-skinned individuals (Europeans and Americans)
What are the Risk Factors for Squamous Cell Carcinoma of Tongue? (Predisposing Factors)
The risk factors for Squamous Cell Carcinoma of Tongue include:
Smoking and chewing of tobacco are strong risk factors for this type of Tongue Cancer
Radiation therapy in the region of the tongue (such as to the face or throat)
Arsenic exposure
Coal tar exposure
Individuals with weak immune system, which could be due to cancer treatment, AIDS, or those on immunosuppressant drugs after receiving an organ transplant
Caucasians are more vulnerable compared to other dark-skinned individuals
It is important to note that having a risk factor does not mean that one will get the condition. A risk factor increases ones chances of getting a condition compared to an individual without the risk factors. Some risk factors are more important than others.
Also, not having a risk factor does not mean that an individual will not get the condition. It is always important to discuss the effect of risk factors with your healthcare provider.
What are the Causes of Squamous Cell Carcinoma of Tongue? (Etiology)
Currently, the cause of formation of Squamous Cell Carcinoma of Tongue is unknown
However, genetic mutations have been detected, which are currently being characterized
Smoking or chewing of tobacco have been indicated as strong risk factors for the formation of this cancer type
What are the Signs and Symptoms of Squamous Cell Carcinoma of Tongue?
The signs and symptoms of Squamous Cell Carcinoma of Tongue include:
In majority of the cases, the condition is asymptomatic and does not present any signs or symptoms (during the initial period)
Generally, squamous cell carcinomas are slow-growing tumors; though SCC of Tongue is an aggressive form of cancer
The skin lesions may appear as crusted ulcer, plaques, and nodules
It may ulcerate and bleed. Occasionally, after the ulcer heals, it may become ulcerated again
The size of the lesions range from 1-10 cm; average size is usually less than 3 cm
Individuals with immunocompromised states have more aggressive tumors
Due to the presence of the tongue lesion, it may be difficult for the individual to consume food and drink. Also, speaking may be difficult and painful
How is Squamous Cell Carcinoma of Tongue Diagnosed?
A diagnosis of Squamous Cell Carcinoma of Tongue is made by:
Complete physical examination with detailed medical history evaluation
Examination by a dermatologist using a dermoscopy, a special device to examine the skin
Wood's lamp examination: In this procedure, the healthcare provider examines the skin using ultraviolet light. It is performed to examine the change in skin pigmentation
Although the above modalities can be used to make an initial diagnosis, a tissue biopsy of the tumor is necessary to make a definitive diagnosis to begin treatment.
Tissue biopsy: A portion of the tongue tumor is removed for biopsy.
A tissue biopsy of the tumor is performed and sent to a laboratory for a pathological examination. A pathologist examines the biopsy under a microscope. After putting together clinical findings, special studies on tissues (if needed) and with microscope findings, the pathologist arrives at a definitive diagnosis. Examination of the biopsy under a microscope by a pathologist is considered to be gold standard in arriving at a conclusive diagnosis
Biopsy specimens are studied initially using Hematoxylin and Eosin staining. The pathologist then decides on additional studies depending on the clinical situation
Sometimes, the pathologist may perform special studies, which may include immunohistochemical stains, molecular testing, and very rarely, electron microscopic studies to assist in the diagnosis
In case of metastatic SCC, the following diagnostic procedures can be used to procure the tissue sample: 
Fine needle aspiration (FNA) biopsy of the tumor: A FNA biopsy may not be helpful, because one may not be able to visualize the different morphological areas of the tumor. Hence, a FNA biopsy as a diagnostic tool has certain limitations, and an open surgical biopsy is preferred
Core biopsy or open biopsy of the tumor: Generally, these methods are not suited or preferred
Many clinical conditions may have similar signs and symptoms. Your healthcare provider may perform additional tests to rule out other clinical conditions to arrive at a definitive diagnosis.
What are the possible Complications of Squamous Cell Carcinoma of Tongue?
The possible complications due to Squamous Cell Carcinoma of Tongue could be:
Severe discomfort while eating, chewing, or swallowing food; this can even lead to weight loss
A partial of complete loss of taste sensation
They can metastasize to the lymph nodes; SCC of Tongue has a higher chance of metastasis than if they are at other locations
Tumors that invade into nerves (perineurial invasion) have higher chances of recurrence and metastasis
Tumors that are over 2 cm in size have a higher incidence of recurrence and metastasis, than tumors that are less than 2 cm in size
Severe emotional and psychological stress
Complications that arise from cancer therapy (such as due to chemotherapy or radiation therapy)
How is Squamous Cell Carcinoma of Tongue Treated?
Early diagnosis and treatment of Squamous Cell Carcinoma of Tongue is important to avoid complications such as metastasis to other regions. The treatment measures may include:
In most cases, a wide surgical excision and removal of the entire tumor is the preferred treatment option (partial or complete glossectomy). This may be followed by radiation therapy and/or chemotherapy
If the tumor has metastasized (in rare cases), then a combination of chemotherapy, radiation therapy, and invasive procedures may be used to treat the tumor
Targeted therapy medications are generally used for locally infiltrated or metastatic SCCs. This therapy destroys the tumor cells by acting against the proteins that are responsible for tumor growth
Post-operative care is important: One must maintain minimum activity levels, until the surgical wound heals
Follow-up care with regular screening and check-ups are important and encouraged
How can Squamous Cell Carcinoma of Tongue be Prevented?
A few methods to prevent Squamous Cell Carcinoma of Tongue include:
Maintain proper oral hygiene
Avoid chewing tobacco and smoking
Regular medical screening at periodic intervals with blood tests, scans, and physical examinations, are mandatory, due to its high metastasizing potential and possibility of recurrence. Often several years of active vigilance is necessary.
What is the Prognosis of Squamous Cell Carcinoma of Tongue? (Outcomes/Resolutions)
In general, Squamous Cell Carcinoma of Tongue is an aggressive form of cancer. If metastasis (such as to the local lymph nodes) is observed, then the prognosis is guarded or unpredictable
Tumors in their early stage with complete excisional treatment typically have good prognosis
In cases of metastasis, its prognosis depends upon a set of several factors that include:

Stage of tumor: With lower-stage tumors, when the tumor is confined to site of origin, the prognosis is usually excellent with appropriate therapy. In higher-stage tumors, such as tumors with metastasis, the prognosis is poor
The surgical respectability of the tumor (meaning, if the tumor can be removed completely) 
Overall health of the individual: Individuals with overall excellent health have better prognosis compared to those with poor health
Age of the individual: Older individuals generally have poorer prognosis than younger individuals
Whether the tumor is occurring for the first time, or is a recurrent tumor. Recurring tumors have a poorer prognosis compared to tumors that do not recur
Response to treatment: Tumors that respond to treatment have better prognosis compared to tumors that do not respond so well to treatment
Additional and Relevant Useful Information for Squamous Cell Carcinoma of Tongue:
The following DoveMed website link is a useful resource for additional information:
What are some Useful Resources for Additional Information?
American Cancer Society (ACS)
1599 Clifton Road, NE Atlanta, GA 30329-4251
Toll-Free: (800) 227-2345
TTY: (866) 228-4327
Website: http://www.cancer.org
National Cancer Institute (NCI)
U.S. National Institutes of Health
Public Inquiries Office
Building 31, Room 10A03
31 Center Drive, MSC 8322 Bethesda, MD 20892-2580
Phone: (301) 435-3848
Toll-Free: (800) 422-6237
TTY: (800) 332-8615
Email: cancergovstaff@mail.nih.gov
Website: http://www.cancer.gov
American Academy of Dermatology
930 E. Woodfield Road Schaumburg, IL 60173
Phone: (866) 503-SKIN (7546)
Fax: (847) 240-1859
Website: http://www.aad.org
References and Information Sources used for the Article:
Wolff, K., & Johnson, R. A. (2009). Fitzpatrick's color atlas and synopsis of clinical dermatology. McGraw-Hill Medical.
Thiers, B. H. (1989). Year Book of Dermatology 1988. Archives of Dermatology, 125(8), 1150.
Burns, T., & Breathnach, S. (1992). Rook's Textbook of dermatology Vol 4. London: Blackwell Scientific Publications, 1992.
Bolognia, J. L., Schaffer, J. V., Duncan, K. O., & Ko, C. J. (2014). Dermatology Essentials E-Book. Elsevier Health Sciences.
Helpful Peer-Reviewed Medical Articles:
Sawair FA, Irwin CR, Gordon DJ, Leonard AG, Stephenson M, Napier SS. Invasive front grading: reliability and usefulness in the management of oral squamous cell carcinoma. J Oral Pathol Med. 2003 Jan;32(1):1-9.
Elad, Sharon; Zadik, Yehuda; Zeevi, Itai; Miyazaki, Akihiro; De Figueiredo, Maria A. Z.; Or, Reuven (2010). "Oral Cancer in Patients After Hematopoietic Stem-Cell Transplantation: Long-Term Follow-Up Suggests an Increased Risk for Recurrence". Transplantation 90 (11): 1243–4. doi:10.1097/TP.0b013e3181f9caaa. PMID 21119507
Listl, S.; Jansen, L.; Stenzinger, A.; Freier, K.; Emrich, K.; Holleczek, B.; Katalinic, A.; Gondos, A.; Brenner, H.; GEKID Cancer Survival Working Group (2013). Scheurer, Michael, ed. "Survival of Patients with Oral Cavity Cancer in Germany". PLoS ONE 8 (1): e53415. doi:10.1371/journal.pone.0053415. PMC 3548847. PMID 23349710
Myers, J. N., Elkins, T., Roberts, D., & Byers, R. M. (2000). Squamous cell carcinoma of the tongue in young adults: increasing incidence and factors that predict treatment outcomes. Otolaryngology—Head and Neck Surgery, 122(1), 44-51.
Myers, J. N., Greenberg, J. S., Mo, V., & Roberts, D. (2001). Extracapsular spread: a significant predictor of treatment failure in patients with squamous cell carcinoma of the tongue. Cancer: Interdisciplinary International Journal of the American Cancer Society, 92(12), 3030-3036.
Annertz, K., Anderson, H., Biörklund, A., Möller, T., Kantola, S., Mork, J., ... & Wennerberg, J. (2002). Incidence and survival of squamous cell carcinoma of the tongue in Scandinavia, with special reference to young adults. International journal of cancer, 101(1), 95-99.
Amaral, T. M. P., da Silva Freire, A. R., Carvalho, A. L., Pinto, C. A. L., & Kowalski, L. P. (2004). Predictive factors of occult metastasis and prognosis of clinical stages I and II squamous cell carcinoma of the tongue and floor of the mouth. Oral oncology, 40(8), 780-786.
Okamoto, M., Nishimine, M., Kishi, M., Kirita, T., Sugimura, M., Nakamura, M., & Konishi, N. (2002). Prediction of delayed neck metastasis in patients with stage I/II squamous cell carcinoma of the tongue. Journal of oral pathology & medicine, 31(4), 227-233.