Q Fever
Last updated Jan. 9, 2019
Approved by: Maulik P. Purohit MD, MPH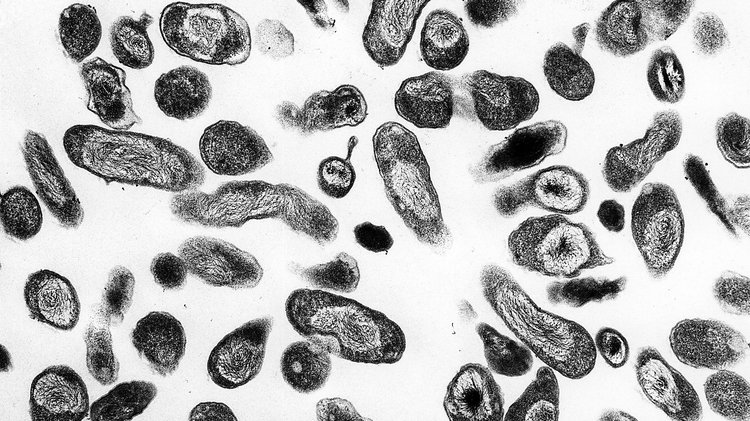 Transmission electron micrograph (TEM) reveals ultrastructural details exhibited by numerous Coxiella burnetii bacteria, which causes the worldwide disease known as Q fever.
---
What are the other Names for this Condition? (Also known as/Synonyms)
Abattoir Fever
Queensland Fever
Query Fever
What is Q Fever? (Definition/Background Information)
Q Fever (or Query Fever) is a highly contagious infection caused by Coxiella burnetii bacterium. It is commonly found in animals, such as sheep, goat, and cattle, from where the infection is transmitted to humans
The infection is transmitted to humans when they inhale infectious aerosols and contaminated dust present in the atmosphere generated by the infected animals and their products
Q Fever affects the lungs, heart, and other parts of the body. It is characterized by fever, malaise, and muscular and joint pain, and loss of appetite. Complications may include severe respiratory conditions and infections of the bone, brain, heart valves, and the liver
There are two types of Q Fever namely:

Acute Q Fever - with symptoms, lasting less than 6 months
Chronic Q Fever - with symptoms, lasting more than 6 months       

Antimicrobial medications are the mainstay of Q Fever treatment. The prognosis is generally good with appropriate treatment, but recovery from the chronic form may take more time
Who gets Q Fever? (Age and Sex Distribution)
Q Fever can affect individuals of any age group, depending on their relative risks; some are more at risk than others
Men are more likely to be affected by Q Fever than women
The condition is seen worldwide, except in New Zealand
What are the Risk Factors for Q Fever? (Predisposing Factors)
The risk of Q Fever is high in the following set of individuals:
Farmers and farm/stable hands
Livestock buyers
Abattoir or slaughterhouse workers, meat packers
Shearers, wool classers
Pelt and hide processors, tannery workers
Stockyard workers, animal transporters
Veterinary doctors
Laboratory workers handling infected veterinary samples, or those who visit abattoirs
People who cull and process kangaroos
Individuals with weakened immune systems, certain heart valve conditions
It is important to note that having a risk factor does not mean that one will get the condition. A risk factor increases ones chances of getting a condition compared to an individual without the risk factors. Some risk factors are more important than others.
Also, not having a risk factor does not mean that an individual will not get the condition. It is always important to discuss the effect of risk factors with your healthcare provider.
What are the Causes of Q Fever? (Etiology)
Q Fever is a highly contagious, zoonotic, bacterial infection caused by Coxiella burnetii (rickettsia species)
The infection mostly spreads from domestic (cattle and grazing) animals such as cows, sheep, and goat. Other animals that are hosts to this bacteria (and are affected) include horse, pigs, dogs, rodents, camels, and even some birds
The transmission occurs when humans come in direct contact with the infected animals and their products, or when they inhale contaminated dust (or air) that is present in the farm, animal shed, or barn
These animals carry Q Fever microbes in their reproductory organs (uterus), placenta, or birth fluids. They transmit the bacteria through urine, feces, milk, and birthing products. When these substances dry, the bacteria in them become part of the farm/animal shed dust that floats in the air. Humans are typically infected, when they breathe in this contaminated dust
Transmission can also take place by drinking raw unpasteurized milk, through skin contact, by inhaling dust or droplets in the air contaminated with animal feces, through blood or birth products
In some rare cases, Q Fever may spread through tick bites, through ticks that feed on the infected animals
What are the Signs and Symptoms of Q Fever?
Q Fever is an uncommon infection. 50% of the infected individuals show no signs or symptoms. The symptoms usually appear within 20 days after exposure to the bacterium.
The common signs and symptoms of Q Fever are:
High fever up to 105 F
Severe headache, nausea
Diarrhea
Dry cough
Muscle and joint pain
Chills, sweating
General feeling of sickness, fatigue
Loss of appetite
Abdominal pain, chest pain
Rashes
Sometimes, the following symptoms may occur:
Hepatitis or liver disease (jaundice)
Endocarditis: Inflammation of the heart cavity
Pneumonia
How is Q Fever Diagnosed?
The diagnosis of Q Fever requires a complete evaluation of one's medical history along with a thorough physical exam. The following tests and procedures may be necessary to diagnose Q Fever:
Serologic tests are done to detect the presence of antibodies to C. burnetii antigens. The following serologic methods are widely used:

Indirect immunofluorescence assay (IFA)
Enzyme-linked immunosorbent assay (ELISA)     

Complete blood count to check the blood cell counts
Tissue staining test is performed on infected tissues to identify the bacteria
Immunohistochemical staining tests to detect the presence of C. burnetii
Molecular detection of bacterial DNA for the presence of C. burnetii
Testing of paired serum specimens taken within a gap of 2-3 weeks may be done to observe the difference in antibodies level in the blood sample
PCR (polymerase chain reaction) assays to assess Chronic Q Fever in heart valve tissues
Culture tests may also be undertaken, by direct isolation of the agent, to check for Chronic Q Fever in heart valve tissues
Liver function test for hepatitis
Echocardiography: This test is undertaken to check the problems in the heart valves
Imaging test: Chest x-rays are used to examine if there is pneumonia
Many clinical conditions may have similar signs and symptoms. Your healthcare provider may perform additional tests to rule out other clinical conditions to arrive at a definitive diagnosis.
What are the possible Complications of Q Fever?
Q Fever can affect the heart, liver, lungs, and brain causing serious complications such as:
Infection of the retina (of the eye)
Endocarditis: Inflammation of the inner membrane of the heart that seriously affects the heart valves. It occurs due to chronic infection, sometimes months or years after initial exposure
Myocarditis: Inflammation of the covering of the heart
Pneumonia: A condition where the lungs are infected due to lack of oxygen, leading to respiratory problems
Pregnancy-related health conditions: When a pregnant women is infected with Q Fever, she carries the risk of the following:

Miscarriage
Low birth weight
Premature birth
Stillbirth          

Liver damage: Q Fever can cause liver damage and consequently hepatitis
Meningitis: Inflammation of the membranes around the brain and spinal cord
Encephalitis (brain infection)
Osteomyelitis (bone infection)
Fatigue syndrome: Q Fever may cause extreme fatigue and prolonged disability
Q Fever with severe complications can result in fatalities.
How is Q Fever Treated?
Generally the following treatments are recommended for Q Fever:
Antimicrobial medications: These are recommended for reducing the effect of Q Fever and include:

For Acute Q Fever: Tetracycline and doxycycline
For Chronic Q Fever: Doxycycline and quinolones, or doxycycline with hydroxychloroquine; these medicines may be given for several months or years       

Surgery: Individuals with Q Fever endocarditis may be recommended to undergo surgery to replace the damaged heart valves
The signs and symptoms of Q Fever provide a guide for the physician to suggest further treatment (as necessary)
Note: If Q Fever occurs during pregnancy, certain medications (such as tetracycline) should be avoided. Your healthcare provider will prescribe medications that do not affect the growing child.
How can Q Fever be Prevented?
Prevention techniques for Q fever may include:
Vaccination: Q-Vax vaccination is available to prevent Q Fever. It is mostly administered in high-risk individuals. But, before vaccination, an individual must undergo certain blood test and skin test to determine if he/she is allergic to the vaccination
Precautionary measures: The following precautionary measures have to be strictly followed to reduce the effects of Q Fever.
Wearing gloves and masks are strictly recommended, while handling animal feces or urine
Protective clothing should be strictly used at farms, barns, and other areas at high risk for infection
Respiratory protective devices should be supplied to the workers working in high risk areas, so that they don't inhale contaminated droplets or dust
Workers exposed to livestock should be educated about Q Fever (how it spreads, the common signs and symptoms, etc.)
Before employing workers in places that are at high-risk for Q Fever, they must undergo blood tests to check their immunity and resistance level status
Access to any workplace that has been categorized as 'Q Fever high-risk' must be restricted
Drinking, smoking, and eating in animal holding facilities should be strictly avoided
Animal tissues should be handled with proper care and in the proper manner
Acceptable lab techniques and safety standards to be used to process blood and tissue from animals or patients with Q Fever
Pasteurization of milk should be done to prevent infection that may spread through milk and milk products
Washing hands frequently reduces the risk of Q Fever
Work place hygiene must never be compromised in order to reduce the risk of Q Fever.
What is the Prognosis of Q Fever? (Outcomes/Resolutions)
The prognosis is good when Acute Q Fever is diagnosed early and prompt treatment is provided
Chronic Q Fever requires a long-term treatment with antibiotics
Additional and Relevant Useful Information for Q Fever:
The following DoveMed website link is a useful resource for additional information:
https://www.dovemed.com/diseases-conditions/infection-center/
What are some Useful Resources for Additional Information?
Centers for Disease Control and Prevention (CDC)
1600 Clifton Rd. Atlanta, GA 30333, USA
Phone: (404) 639-3534
Toll-Free: 800-CDC-INFO (800-232-4636)
TTY: (888) 232-6348
Email: cdcinfo@cdc.gov
Website: http://www.cdc.gov
References and Information Sources used for the Article:
http://www.nlm.nih.gov/medlineplus/ency/article/001337.htm (accessed on 5/28/2015)

http://www.cfsph.iastate.edu/DiseaseInfo/disease.php?name=q-fever (accessed on 5/28/2015)

http://www.health.nsw.gov.au/factsheets/infectious/qfever.html (accessed on 5/28/2015)

http://www.cdc.gov/healthypets/diseases/qfever.htm (accessed on 5/28/2015)

http://jcm.asm.org/content/36/7/1823.full (accessed on 5/28/2015)
Helpful Peer-Reviewed Medical Articles:
Georgiev, M., Afonso, A., Neubauer, H., Needham, H., Thiery, R., Rodolakis, A., . . . More, S. (2013). Q fever in humans and farm animals in four European countries, 1982 to 2010. Euro Surveill, 18(8).

Griffin, A. T., Espinosa, M., & Nakamatsu, R. (2012). Q fever endocarditis: an unusual presentation. Am J Med Sci, 344(6), 480-484. doi: 10.1097/MAJ.0b013e3182684979

Keijmel, S. P., Morroy, G., Delsing, C. E., Bleijenberg, G., Bleeker-Rovers, C. P., & Timen, A. (2012). [Persistent fatigue following Q fever]. Ned Tijdschr Geneeskd, 156(48), A5258.

Szablewski, V., Costes, V., Rousset, T., Mania, E., & El Aoufi, N. (2012). [Q fever: bone marrow characteristic granuloma]. Ann Pathol, 32(4), 263-266. doi: 10.1016/j.annpat.2012.05.003

Toman, R., Skultety, L., Palkovicova, K., Florez-Ramirez, G., & Vadovic, P. (2013). Recent progress in glycomics and proteomics of the Q fever bacterium Coxiella burnetii. Acta Virol, 57(2), 229-237.

Raoult, D., Tissot-Dupont, H., Foucault, C., Gouvernet, J., Fournier, P. E., Bernit, E., ... & Weiller, P. J. (2000). Q fever 1985-1998. Clinical and epidemiologic features of 1,383 infections. Medicine, 79(2), 109-123.

Raoult, D., Marrie, T. J., & Mege, J. L. (2005). Natural history and pathophysiology of Q fever. The Lancet infectious diseases, 5(4), 219-226.

Parker, N. R., Barralet, J. H., & Bell, A. M. (2006). Q fever. The Lancet, 367(9511), 679-688.

Angelakis, E., & Raoult, D. (2010). Q fever. Veterinary microbiology, 140(3-4), 297-309.

Van der Hoek, W., Dijkstra, F., Schimmer, B., Schneeberger, P. M., Vellema, P., Wijkmans, C., ... & Van Duynhoven, Y. (2010). Q fever in the Netherlands: an update on the epidemiology and control measures. Eurosurveillance, 15(12), 19520.

Hartzell, J. D., Wood-Morris, R. N., Martinez, L. J., & Trotta, R. F. (2008, May). Q fever: epidemiology, diagnosis, and treatment. In Mayo Clinic Proceedings (Vol. 83, No. 5, pp. 574-579). Elsevier.

McQuiston, J. H., & Childs, J. E. (2002). Q fever in humans and animals in the United States. Vector borne and zoonotic diseases, 2(3), 179-191.
Reviewed and Approved by a member of the DoveMed Editorial Board
First uploaded: May 17, 2015
Last updated: Jan. 9, 2019