Pityriasis Rosea
Last updated Dec. 22, 2018
Approved by: Maulik P. Purohit MD, MPH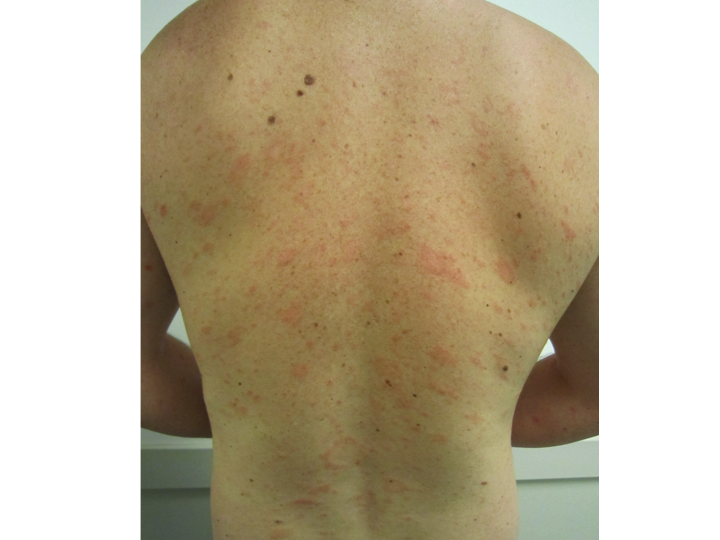 Pityriasis Rosea is a benign, skin disorder characterized by the presence of skin rashes.
---
What are the other Names for this Condition? (Also known as/Synonyms)
Pityriasis Circinata et Maculata
Pityriasis Rosea Gibert
What is Pityriasis Rosea? (Definition/Background Information)
Pityriasis Rosea is a benign, skin disorder characterized by the presence of skin rashes
It is a condition in which the skin rashes appear in the beginning with a herald patch - a single, oval-shaped patch on the chest, followed by smaller rashes after 2 weeks
Pityriasis Rosea generally affects individuals between 10-35 years of age and occurs most often during fall and spring season
The exact cause of the condition is not known, but it is linked to a viral infection
Mild cases requires no treatment, although the application of corticosteroids and antihistamines on the rashes can help control itching and redness
The disorder has a very good prognosis; the skin lesions generally resolve with no long-term complications
Who gets Pityriasis Rosea? (Age and Sex Distribution)
Although individuals of all ages and gender may be affected by Pityriasis Rosea, it is mostly seen in children, teens, and young adults 10-35 years old
Women are more susceptible to this disorder than men
The condition is observed worldwide; no racial or ethnic predilection is noted
What are the Risk Factors for Pityriasis Rosea? (Predisposing Factors)
The risk factors associated with Pityriasis Rosea are:
Children and young adults in the 10-35 age group category
Female gender
It is important to note that having a risk factor does not mean that one will get the condition. A risk factor increases ones chances of getting a condition compared to an individual without the risk factors. Some risk factors are more important than others.
Also, not having a risk factor does not mean that an individual will not get the condition. It is always important to discuss the effect of risk factors with your healthcare provider.
What are the Causes of Pityriasis Rosea? (Etiology)
Although the exact cause for Pityriasis Rosea is not known, it is believed that the rashes could be triggered by certain viral infections (such as human herpes virus type 6)
Pityriasis Rosea is not a contagious condition
What are the Signs and Symptoms of Pityriasis Rosea?
The common signs and symptoms that occur with Pityriasis Rosea include:
The herald patch: A single, large, oval-shaped patch that appears on the chest, abdomen, or back, followed by smaller lesions that develop within 2 weeks after the first rash appears
The skin rashes are pink or pale red, oval in shape, and may be itchy
The skin may be scaly
The rashes follow lines of the skin, or appear in a Christmas tree like-pattern
How is Pityriasis Rosea Diagnosed?
The diagnosis of Pityriasis Rosea includes:
Through and careful examination of the skin rash: In most cases, a diagnosis of Pityriasis Rosea can be made by a skin examination only
Skin biopsy: An examination of a tissue sample under the microscope by a pathologist. This is required in cases where the diagnosis is in doubt and cannot be made through a physical exam alone
Many clinical conditions may have similar signs and symptoms. Your healthcare provider may perform additional tests to rule out other clinical conditions to arrive at a definitive diagnosis.
What are the possible Complications of Pityriasis Rosea?
Complications of Pityriasis Rosea are very rare, but may include:
Severe itching
Brown spots remain as leftover scars on the skin
How is Pityriasis Rosea Treated?
The treatment of Pityriasis Rosea involves:
Mild cases may not require any treatment
Corticosteroids that are available in the form of ointments and creams, can be applied to ease the itching sensation and redness
Diphenhydramine, an antihistamine drug, can also be used to help with itching
Antiviral drugs, such as acyclovir, may help in reducing the duration of Pityriasis Rosea
Phototherapy: Standing in sunlight and exposing the rashes to heat, may help in fading away the rashes more quickly
How can Pityriasis Rosea be Prevented?
Currently, there are no known measures to prevent Pityriasis Rosea. Preventive activities aim at reducing the effect of the symptoms and these include:
Having a bath in lukewarm water
Taking an oatmeal bath
Applying calamine lotion the rashes to ease itching sensations
Wearing cotton or silk clothing is helpful
Gentle, mild soaps shall be used; deodorant soaps shall be avoided
What is the Prognosis of Pityriasis Rosea? (Outcomes/Resolutions)
The prognosis of Pityriasis Rosea is very good. The condition lasts only for few weeks or at the most 6 months
The skin disorder generally resolves completely on its own, without the presence of any long-term complications
Additional and Relevant Useful Information for Pityriasis Rosea:
Pityriasis alba is a common, benign, chronic skin disorder generally occurring in children and teenagers
Pityriasis rubra pilaris is a benign, chronic skin disorder in which the skin becomes red, swollen, rough, and dry, affecting any individual
What are some Useful Resources for Additional Information?
American Academy of Dermatology
930 E. Woodfield Road Schaumburg, IL 60173
Phone: (866) 503-SKIN (7546)
Fax: (847) 240-1859
Website: http://www.aad.org
References and Information Sources used for the Article:
http://www.nlm.nih.gov/medlineplus/ency/article/000871.htm (accessed on 5/4/2015)

http://familydoctor.org/familydoctor/en/diseases-conditions/pityriasis-rosea.html (accessed on 5/4/2015)
Helpful Peer-Reviewed Medical Articles:
Ayanlowo, O., Akinkugbe, A., &Olumide, Y. (2010). The pityriasisrosea calendar: a 7 year review of seasonal variation, age and sex distribution. Nig Q J Hosp Med, 20(1), 29-31.

Browning, J. C. (2009). An update on pityriasisrosea and other similar childhood exanthems.CurrOpinPediatr, 21(4), 481-485.doi: 10.1097/MOP.0b013e32832db96e

Drago, F., Broccolo, F., &Rebora, A. (2009). Pityriasis rosea: an update with a critical appraisal of its possible herpesviral etiology. J Am AcadDermatol, 61(2), 303-318. doi: 10.1016/j.jaad.2008.07.045

Drago, F., &Rebora, A. (2009).Treatments for pityriasisrosea. Skin Therapy Lett, 14(3), 6-7.

Sinha, S., Sardana, K., & Garg, V. K. (2012). Coexistence of two atypical variants of pityriasisrosea: a case report and review of literature. PediatrDermatol, 29(4), 538-540. doi: 10.1111/j.1525-1470.2011.01549.x

Sharma, P. K., Yadav, T. P., Gautam, R. K., Taneja, N., & Satyanarayana, L. (2000). Erythromycin in pityriasis rosea: A double-blind, placebo-controlled clinical trial. Journal of the American Academy of Dermatology, 42(2), 241-244.

Watanabe, T., Kawamura, T., Aquilino, E. A., Blauvelt, A., Jacob, S. E., Orenstein, J. M., & Black, J. B. (2002). Pityriasis rosea is associated with systemic active infection with both human herpesvirus-7 and human herpesvirus-6. Journal of investigative dermatology, 119(4), 793-797.

Broccolo, F., Drago, F., Careddu, A. M., Foglieni, C., Turbino, L., Cocuzza, C. E., ... & Malnati, M. S. (2005). Additional evidence that pityriasis rosea is associated with reactivation of human herpesvirus-6 and-7. Journal of investigative dermatology, 124(6), 1234-1240.

Chuh, A., Zawar, V., & Lee, A. (2005). Atypical presentations of pityriasis rosea: case presentations. Journal of the European Academy of Dermatology and Venereology, 19(1), 120-126.
Reviewed and Approved by a member of the DoveMed Editorial Board
First uploaded: May 27, 2015
Last updated: Dec. 22, 2018