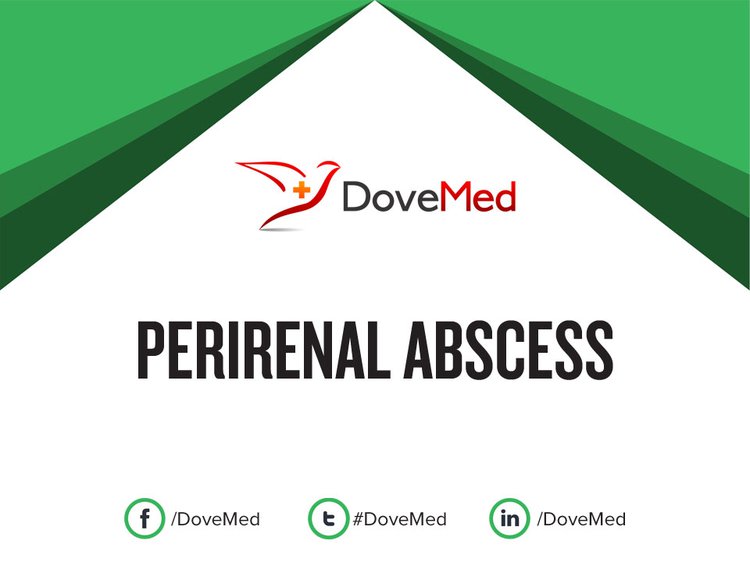 Perirenal Abscess is an infection that is characterized by the accumulation of pus around one or both the kidneys.
What are the other Names for this Condition? (Also known as/Synonyms)
Abscess near Kidney
Perinephric Abscess
What is Perirenal Abscess? (Definition/Background Information)
Perirenal Abscess is an infection that is characterized by the accumulation of pus around one or both the kidneys. The term 'perirenal' indicates the space surrounding the kidneys
Most Perirenal Abscesses occur secondary to urinary tract infections. Infection starts in the urinary bladder, spread to the kidneys, and then to the area around the kidneys
The presence of kidney stones and uncontrolled diabetes are some of the key risk factors for Perirenal Abscess, which is caused mostly by a bacterial infection
The signs and symptoms associated with Perirenal Abscess include fever with chills and abdominal and groin pain. The infection may be diagnosed through culture tests and imaging scans of the abdomen
Perirenal Abscess may be treated by antibiotics and surgical drainage of pus. If left untreated, it may lead to permanent kidney damage. In most cases, an immediate diagnosis and treatment will produce good results
Who gets Perirenal Abscess? (Age and Sex Distribution)
Perirenal Abscess can affect individuals of any age group with no gender predilection (i.e., both males and females are affected equally).
What are the Risk Factors for Perirenal Abscess? (Predisposing Factors)
Risk factors associated with Perirenal Abscess are:
Kidney stones
Urinary tract infection affecting the urinary bladder and kidneys
Uncontrolled diabetes
Congenital malformation of the urinary tract
Trauma
Bloodstream infection
Surgery in the urinary tract
It is important to note that having a risk factor does not mean that one will get the condition. A risk factor increases ones chances of getting a condition compared to an individual without the risk factors. Some risk factors are more important than others.
Also, not having a risk factor does not mean that an individual will not get the condition. It is always important to discuss the effect of risk factors with your healthcare provider.
What are the Causes of Perirenal Abscess? (Etiology)
Perirenal Abscess is an infectious formation that may be caused by microorganisms such as:
Escherichia coli, Proteus species, and Staphylococcus aureus are the typical organisms that cause the condition
Gram-negative bacteria, such as Klebsiella, Enterobacter, Pseudomonas, Serratia, and Citrobacter species, can also cause Perirenal Abscess
In very rare cases, the infection may be caused by enterococci infection
Culture negative abscesses can be caused by anaerobes such as Clostridium, Bacteroides, and Actinomyces
Fungi, such as Candida species and Mycobacterium tuberculosis, can also be responsible for the condition
What are the Signs and Symptoms of Perirenal Abscess?
The common signs and symptoms caused by Perirenal Abscess are:
Fever and chills
Abdominal pain and tenderness
Pain in the groin, legs
Sweating
Fatigue
How is Perirenal Abscess Diagnosed?
A diagnosis of Perirenal Abscess may include:
A thorough physical exam along with evaluation of the medical history
Other diagnostic tests may include:

Blood and urine culture
Urinalysis
CT scan of the abdomen
Ultrasound of the abdomen
Many clinical conditions may have similar signs and symptoms. Your healthcare provider may perform additional tests to rule out other clinical conditions to arrive at a definitive diagnosis.
What are the possible Complications of Perirenal Abscess?
Complications associated with Perirenal Abscess could include:
Damage to the kidneys with permanent loss of kidney function
Septicemia: Infection of the bloodstream
How is Perirenal Abscess Treated?
The treatment of Perirenal Abscess may involve:
Antibiotics, which are administered intravenously
The accumulated pus can be removed either using a catheter or through surgery (Perirenal Abscess surgery)
How can Perirenal Abscess be Prevented?
Preventive measures for Perirenal Abscess include:
Individuals with kidney stones should take adequate measures to avoid complications such as Perirenal Abscess formation
In order to avoid post-surgical infection after an invasive process for pus removal, the surgical wound/area should be kept as clean as possible
What is the Prognosis of Perirenal Abscess? (Outcomes/Resolutions)
In most cases, an immediate diagnosis and suitable treatment of Perirenal Abscess will result in good prognosis
Any case of kidney stones must be treated promptly, because it is the biggest risk factor that may lead to Perirenal Abscess
If immediate treatment is not administered, the infection may spread to the bloodstream from the kidney and prove to be fatal
Additional and Relevant Useful Information for Perirenal Abscess:
The following DoveMed website link is a useful resource for additional information:
https://www.dovemed.com/diseases-conditions/infection-center/
What are some Useful Resources for Additional Information?
National Institute of Diabetes and Digestive and Kidney Disorders (NIDDK)
Office of Communications and Public Liaison
Building 31, Room 9A04 Center Drive, MSC 2560
Phone: (301) 496-3583
Fax: (410) 689-3998
Email: NDDIC@info.niddk.nih.gov
Website: http://www.niddk.nih.gov
References and Information Sources used for the Article:
http://www.ncbi.nlm.nih.gov/pubmedhealth/PMH0002253/ (accessed on 5/27/2015)
http://www.nlm.nih.gov/medlineplus/ency/article/001274.htm (accessed on 5/27/2015)
http://www.umm.edu/ency/article/001274.htm (accessed on 5/27/2015)
Helpful Peer-Reviewed Medical Articles:
Lee SH, Jung HJ, Mah SY, Chung BH. Renal abscesses measuring 5cm or less: outcome of medical treatment without therapeutic drainage. Yonsei Med J, 2010 Jul;51(4):569-73
Lim, C. S., Kim, W. B., Kim, Y. S., Ahn, C., Han, J. S., Kim, S., & Lee, J. S. (2000). Bilateral emphysematous pyelonephritis with perirenal abscess cured by conservative therapy. Journal of nephrology, 13(2), 155-158.
Ahmadnia, H., & Yarmohamadi, A. (2003, November). Percutaneous drainage of perirenal abscess after kidney transplantation: a 4-year experience. In Transplantation proceedings (Vol. 35, No. 7, pp. 2670-2671).
Kazama, I., Aoshima, M., Ohmagari, N., Usui, Y., Tada, H., Chohnabayashi, N., ... & Doi, O. (2000). Psoas abscess caused by nephrolithiasis with perirenal abscess complicated with pleural effusion. Nihon Kokyuki Gakkai zasshi= the journal of the Japanese Respiratory Society, 38(11), 860-864.
Franco, N. G., Álvarez, M. F., & Collado, E. M. (2013). Perirenal abscess and ureteral foreign body. Medicina intensiva, 37(7), 502-502.
Dhaese, S., De, V. W., Snauwaert, C., & Orlent, H. (2018). Eikenella corrodens perirenal abscess resulting from a pancreatic fistula in a patient with chronic pancreatitis. Case report and literature review. Acta gastro-enterologica Belgica, 81(2), 323-326.
Hung, S. C., Chang, L. W., & Yang, C. K. (2017). Perirenal Abscess After Partial Nephrectomy Because of Migration of Upper Calix Stone and Urine Leakage: A Case Report. Journal of endourology case reports, 3(1), 138-141.
Gozdas, H. T. (2018). Perirenal Abscess after Recurrent Urinary System Infections.
Lin, I. C., Wen, Y. G., Lai, Y. J., & Yang, Y. W. Perirenocolonic Fistula Caused by Perirenal Abscess Secondary to Perirenal HematomaĈA Case Report.