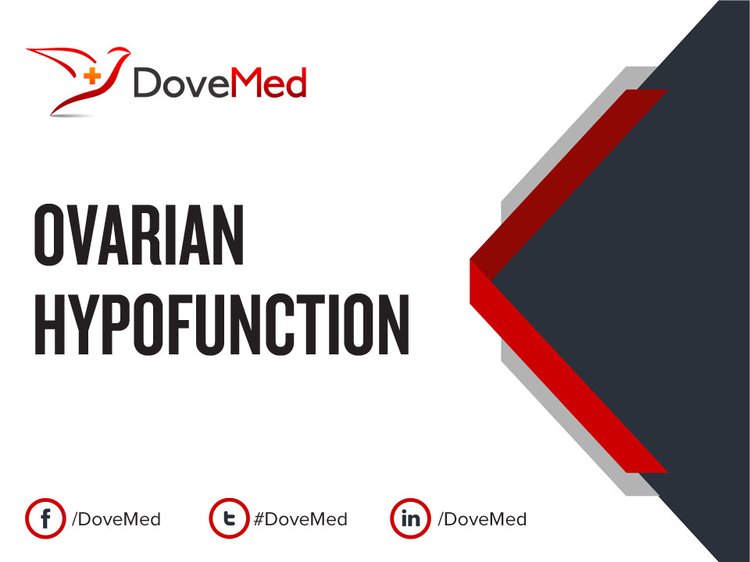 Ovarian Hypofunction is reduced production of female sex hormones due to decrease in ovarian function.
What are the other Names for this Condition? (Also known as/Synonyms)
Early Menopause
Premature Ovarian Insufficiency
Primary Ovarian Insufficiency
What is Ovarian Hypofunction? (Definition/Background Information)
Ovarian Hypofunction is reduced production of female sex hormones due to decrease in ovarian function, before the age of 40 years. The cause may be unknown or can be due to the presence of other underlying conditions such as genetic disorders or infections
It is characterized by normal serum estrogen levels with very high follicle stimulating hormone (FSH) levels indicating that the ovaries do not responds to FSH
Ovarian Hypofunction can be broadly classified into 2 types depending on follicle depletion or dysfunction:

The ovarian follicles are depleted, mostly due to unknown condition, or may be due to genetic disorder, autoimmune disease, endometriosis, infection, chemotherapy, and radiation to the pelvic region
The number of ovarian follicles are normal, but mature follicles are dysfunctional mostly due to autoimmune damage

Women with the condition experience symptoms of menopause such as hot flashes, mood swings, irregular periods, night sweats, and vaginal dryness
Ovarian Hypofunction is sometimes known as 'Premature Menopause' or 'Early Menopause'. There is a decreased chance of getting pregnant and increased chance of osteoporosis for women with this condition
Ovarian Hypofunction cannot be cured, but it may be managed through suitable treatment. The prognosis is generally good
Who gets Ovarian Hypofunction? (Age and Sex Distribution)
Ovarian Hypofunction affects nearly 1% of all female population of childbearing age, before the age of 40 years.
What are the Risk Factors for Ovarian Hypofunction? (Predisposing Factors)
The risk factors for Ovarian Hypofunction include:
Infections such as tuberculosis
Endometriosis
Administration of chemotherapy and/or radiotherapy for cancer treatment
It is important to note that having a risk factor does not mean that one will get the condition. A risk factor increases ones chances of getting a condition compared to an individual without the risk factors. Some risk factors are more important than others.
Also, not having a risk factor does not mean that an individual will not get the condition. It is always important to discuss the effect of risk factors with your healthcare provider.
What are the Causes of Ovarian Hypofunction? (Etiology)
Majority of the time, the cause of Ovarian Hypofunction is unknown. However, the following conditions may lead to either the depletion or dysfunction of ovarian follicles resulting in Ovarian Hypofunction:
Genetic disorders associated with X chromosome abnormality, such as Turner syndrome and Fragile X syndrome, can result in the absence of ovarian follicles
Infections, such as tuberculosis and gonorrhea affecting the genital tract, can damage the ovarian follicles and reduce their numbers
Chemotherapy and pelvic radiation can cause follicular damage resulting in their depletion
In certain autoimmune disorders, such as thyroiditis or Addison's disease, the ovarian follicles are either depleted or dysfunctional
What are the Signs and Symptoms of Ovarian Hypofunction?
Women with Ovarian Hypofunction prematurely develop the symptoms of menopause due to a decreased production of estrogen. These include:
Irregular, reduced, or absent periods
A sudden feeling of feverish heat called 'hot flashes'
Mood swings
Night sweats
Vaginal dryness
Inability to get pregnant
If ovarian dysfunction is due to adrenal insufficiency, the individuals may display reduced appetite, salt craving, low blood pressure, and skin pigmentation
If the ovarian dysfunction is due to hypothyroidism, the individuals may complain of hoarseness of voice and intolerance to cold
How is Ovarian Hypofunction Diagnosed?
Ovarian Hypofunction is diagnosed by a detailed medical history and physical examination. Additionally, the following examinations and tests may be performed:
A complete abdominal and gynecological examination is performed
Urine and blood test to rule-out pregnancy and measure hormonal and ovarian antibody level
Karyotyping to detect genetic cause
Imaging tests, such as ultrasound scans, are performed to look at the status of ovaries, and CT or MRI scans of the brain are undertaken to rule-out other causes  affecting menstruation such as prolactinoma
What are the possible Complications of Ovarian Hypofunction?
Infertility is the most common complication of Ovarian Hypofunction. Other complications can occur due to reduced estrogen levels such as:
Osteoporosis
Increased risk of colon and ovarian cancer
Ovarian Hypofunction can be a deeply emotional and psychological issue for many women and some may require counselling and support.
How is Ovarian Hypofunction Treated?
Currently, there is no cure for Ovarian Hypofunction. Hence the goal of treatment is to treat the underlying condition, help the individuals become pregnant (if they want to), and prevent the side effects of reduced estrogen levels such as osteoporosis.
Hormonal replacement therapy to prevent osteoporosis
Ovum donation or embryo donation to treat infertility
Counseling regarding family building plans and adoption
How can Ovarian Hypofunction be Prevented?
Presently, Ovarian Hypofunction is a condition that cannot be prevented in most cases. However, the following measures may be adopted:
For cancer patients who want to get pregnant (in future), they can preserve their ovarian tissue using cryopreservation, prior to treatment
Practicing safe sex can prevent sexually transmitted diseases and prevent Premature Menopause in some cases
What is the Prognosis of Ovarian Hypofunction? (Outcomes/Resolutions)
Currently, there is no cure for Ovarian Hypofunction. But individuals can lead a normal life and may be able to get pregnant with appropriate treatment.
Additional and Relevant Useful Information for Ovarian Hypofunction:
There are many online groups available for individuals diagnosed with Ovarian Hypofunction that provide supportive care, encouragement, and bring a measure of relief to the affected individuals and their families
Research is ongoing regarding the possible use of a hormone called dehydroepiandrosterone (DHEA) to induce pregnancy in woman
What are some Useful Resources for Additional Information?
References and Information Sources used for the Article:
http://www.mayoclinic.org/diseases-conditions/premature-ovarian-failure/basics/definition/con-20028351 (accessed on 08/06/2015)
http://www.resolve.org/about-infertility/medical-conditions/premature-ovarian-failure-what-do-i-need-to-know.html (accessed on 08/06/2015)
http://americanpregnancy.org/womens-health/premature-ovarian-failure/ (accessed on 08/06/2015)
http://www.nlm.nih.gov/medlineplus/prematureovarianfailure.html (accessed on 08/06/2015)
Helpful Peer-Reviewed Medical Articles:
Soni M, Hogervorst E.  Minerva  (2014) Premature ovarian insufficiency and neurological function. Endocrinol. 2014 Sep;39(3):189-99. Epub 2014 Jun 19
Cox L, Liu JH.  (2014) Primary ovarian insufficiency: an update. Int J Womens Health. 2014 Feb 20;6:235-43. doi: 10.2147/IJWH.S37636. eCollection 2014
Iorio R, Castellucci A, Ventriglia G, Teoli F, Cellini V, Macchiarelli G, Cecconi S.(2014)
Ovarian toxicity: from environmental exposure to chemotherapy. Curr Pharm Des. 2014;20(34):5388-97
Sammaritano LR.  (2012) Menopause in patients with autoimmune diseases. Autoimmun Rev. 2012 May;11(6-7):A430-6. doi: 10.1016/j.autrev.2011.11.006. Epub 2011 Nov 18.
Dzenis, I. G., Rozovskiĭ, I. S., & Karetnikova, N. A. (1984). Chromosomal polymorphism in patients with ovarian hypofunction of central origin. TSitologiia i genetika, 18(2), 144-146.
Antonova, L. I., & Benedoktov, I. I. (1974). Dynamics of blood and urine estrogens in pregnant women with a history of ovarian hypofunction. Sovetskaia meditsina, 37(6), 103-106.
Lysyak, D. S., & Shtel, N. N. history of ovarian hypofunction. Амурский медицинский журнал, 75.
Valiushkin, K. D., & Gukov, F. D. (1980). Vitamin A in ovarian hypofunction. Veterinariia, (2), 41.
BASSAS, M. G. (1953). Eczema due to ovarian hypofunction. Actas dermo-sifiliograficas, 44(7), 579-581.
Yaginuma, T. (1993). Ovarian hypofunction. Ryoikibetsu shokogun shirizu, (1), 778-782.