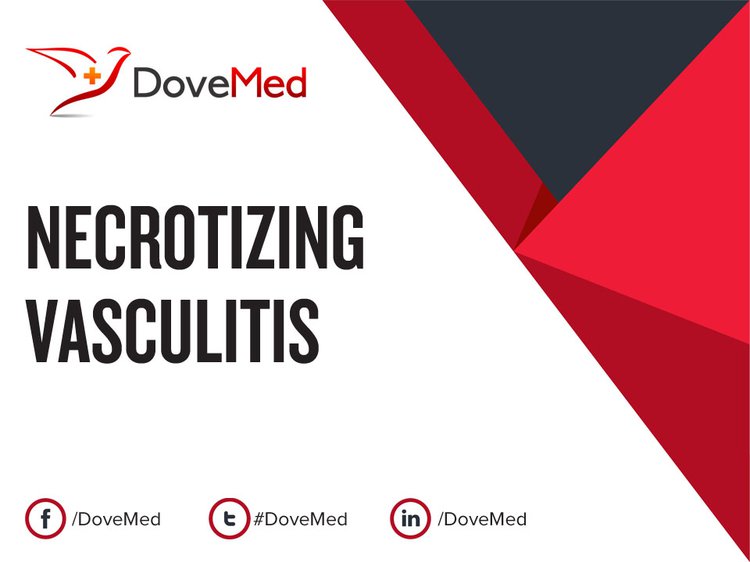 Necrotizing Vascullitis is a medical condition that results in inflammation of blood vessel walls.
What are the other Names for this Condition? (Also known as/Synonyms)
NV (Necrotizing Vasculitis)
What is Necrotizing Vasculitis? (Definition/Background Information)
Necrotizing Vasculitis (NV) is a medical condition that results in inflammation of blood vessel walls
Blood vessel inflammation restricts blood flow and oxygen supply to the body, causing damage and destruction of skin, tissue, and muscle. Often, this progresses and causes necrosis, death of tissues and organs
Who gets Necrotizing Vasculitis? (Age and Sex Distribution)
Both men and women of all ages can be affected by Necrotizing Vasculitis
Although the cause is currently unknown, medical professionals believe that people with autoimmune problems are more likely to be affected
No racial, ethnic or geographic predilection is noted
What are the Risk Factors for Necrotizing Vasculitis? (Predisposing Factors)
Common risk factors of Necrotizing Vasculitis include:
Decreased autoimmune system function
Hepatitis B
Kawasaki syndrome
Scleroderma
Rheumatoid arthritis
Wegener's granulomatosis
It is important to note that having a risk factor does not mean that one will get the condition. A risk factor increases one's chances of getting a condition compared to an individual without the risk factors. Some risk factors are more important than others.
Also, not having a risk factor does not mean that an individual will not get the condition. It is always important to discuss the effect of risk factors with your healthcare provider.
What are the Causes of Necrotizing Vasculitis? (Etiology)
Currently, the cause of Necrotizing Vasculitis is unknown
It is believed to be related to autoimmune factors, as many individuals with this condition also have other autoimmune disorders
What are the Signs and Symptoms of Necrotizing Vasculitis?
Common signs and symptoms of Necrotizing Vasculitis include:
Chills and fever
Fatigue
Weight loss
Anemia
Leukocytosis
Skin discoloration with ulcers
Kidney damage
Tissue death ( necrosis)
Muscle and joint pain
Declined brain functioning
How is Necrotizing Vasculitis Diagnosed?
The following tests and exams may be undertaken to diagnose Necrotizing Vasculitis:
A complete physical examination and thorough medical history
Blood tests: This may include tests for antineutrophil cytoplasmic antibodies (ANCA). A presence of ANCA may indicate Necrotizing Vasculitis
To confirm the diagnosis, X-rays and biopsies of the affected area may be necessary
Many clinical conditions may have similar signs and symptoms. Your healthcare provider may perform additional tests to rule out other clinical conditions to arrive at a definitive diagnosis.
What are the possible Complications of Necrotizing Vasculitis?
If diagnosis and treatment of Necrotizing Vasculitis are not undertaken immediately, then the likelihood of permanent damage to the affected area is significantly increased. It may also result in secondary infections of dead tissue, skin, or muscle.
How is Necrotizing Vasculitis Treated?
To treat Necrotizing Vasculitis, corticosteroids and immunosuppressive medications are often prescribed. These help reduce inflammation of the blood vessels, thus mitigating some of the associated symptoms
In cases of tissue infection, antibiotics are generally administered
How can Necrotizing Vasculitis be Prevented?
Since little is known about the cause of Necrotizing Vasculitis, there are no known methods of preventing the condition.
What is the Prognosis of Necrotizing Vasculitis? (Outcomes/Resolutions)
Outcomes for individuals with Necrotizing Vasculitis greatly vary depending on the location of inflammation and the severity of tissue damage
With prompt diagnosis and treatment, most affected individuals are able to improve their condition and resume normal activities
Additional and Relevant Useful Information for Necrotizing Vasculitis:
The following DoveMed website link is a useful resource for additional information:
https://www.dovemed.com/diseases-conditions/blood-disorders/
What are some Useful Resources for Additional Information?
National Organization for Rare Disorders (NORD)
55 Kenosia Avenue Danbury, CT 06810
Phone: (203) 744-0100
Toll-Free: (800) 999-6673
Fax: (203) 798-2291
Email: orphan@rarediseases.org
Website: http://www.rarediseases.org
National Institute of Allergy and Infectious Diseases (NIAID)
Building 31, Room 7A-50 31 Center Drive MSC 2520 Bethesda, MD 20892-2520
Phone: (301) 496-5717
Website: http://www.niaid.nih.gov
American Academy of Allergy, Asthma, and Immunology (AAAAI)
611 East Wells St. Milwaukee, WI 53202
Phone: (414) 272-6071
Toll-Free: (800) 822-2762
Website: http://www.aaaai.org
American College of Allergy, Asthma & Immunology (ACAAI)
85 West Algonquin Road Suite 550 Arlington Heights, IL 60005
Phone: (847) 427-1200
Fax: (847) 427-1294
Email: mail@acaai.org
Website: http://www.acaai.org
References and Information Sources used for the Article:
http://www.nlm.nih.gov/medlineplus/ency/article/000432.htm (accessed on September 9, 2013)
http://www.umm.edu/ency/article/000432all.htm (accessed on September 9, 2013)
Helpful Peer-Reviewed Medical Articles:
Arslan, F., Batirel, A., Mert, A., & Ozer, S. (2012). Cytomegalovirus (CMV)-related cutaneous necrotizing vasculitis: case report and literature review. Braz J Infect Dis, 16(5), 482-485. doi: 10.1016/j.bjid.2012.08.002
Danila, M. I., & Bridges, S. L., Jr. (2008). Update on pathogenic mechanisms of systemic necrotizing vasculitis. Curr Rheumatol Rep, 10(6), 430-435.
Sharaf, P. H., & Yazici, Y. (2009). Necrotizing vasculitis--a 2009 update. Bull NYU Hosp Jt Dis, 67(3), 303-305.
Tinazzi, I., Caramaschi, P., Parisi, A., Faccioli, N., Capelli, P., & Biasi, D. (2007). Pancreatic granulomatous necrotizing vasculitis: a case report and review of the literature. Rheumatol Int, 27(10), 989-991. doi: 10.1007/s00296-007-0314-9
Fauci, A. S., Katz, P., Haynes, B. F., & Wolff, S. M. (1979). Cyclophosphamide therapy of severe systemic necrotizing vasculitis. New England Journal of Medicine, 301(5), 235-238.
Alarcón-Segovia, D. (1977). The necrotizing vasculitides: a new pathogenetic classification. Medical Clinics of North America, 61(2), 241-260.
Gilliam, J. N., & Smiley, J. D. (1976). Cutaneous necrotizing vasculitis and related disorders. Annals of allergy, 37(5), 328-339.
Sams Jr, W. M., Claman, H. N., Kohler, P. F., McIntosh, R. M., Small, P., & Mass, M. F. (1975). Human necrotizing vasculitis: immunoglobulins and complement in vessel walls of cutaneous lesions and normal skin. Journal of Investigative Dermatology, 64(6), 441-445.
Wees, S. J., Sunwoo, I. N., & Oh, S. J. (1981). Sural nerve biopsy in systemic necrotizing vasculitis. The American journal of medicine, 71(4), 525-532.