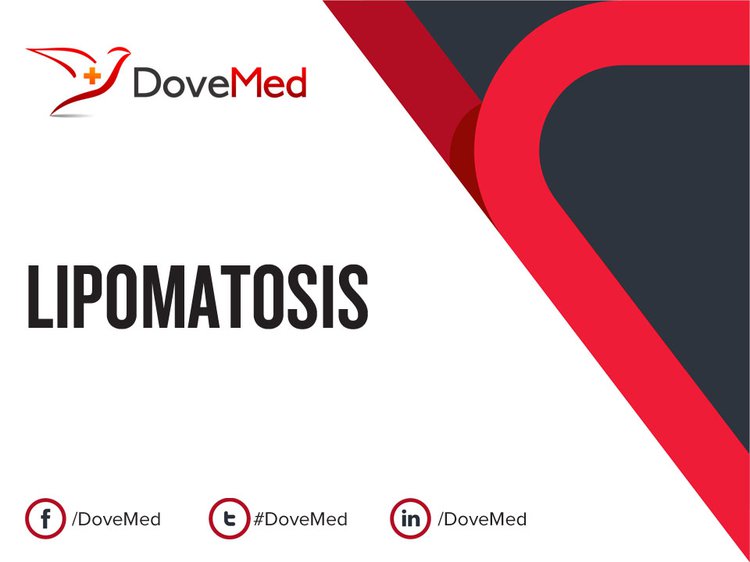 Lipomatosis is a benign condition of fatty tissue overgrowth, when abnormal levels of fat are spread over a wide area in the body.
What are the other Names for this Condition? (Also known as/Synonyms)
Diffuse Fatty Proliferation
What is Lipomatosis? (Definition/Background Information)
Lipomatosis is a benign condition of fatty tissue overgrowth, when abnormal levels of fat are spread over a wide area in the body
The condition can arise at different body locations having an uneven distribution pattern. The fatty tissues can even infiltrate the underlying or adjacent muscle layers
Generally, very young children are observed with Lipomatosis. In many cases, the affected individuals may have a history of liver disease or alcoholism
The signs and symptoms of Lipomatosis depend upon the body area that is affected. Common regions involved include the head and neck area, trunk, and pelvis
Complete excision by surgery is the preferred treatment option for Lipomatosis. Nevertheless, the recurrence rate of the tumor following surgery is very high
The prognosis of Lipomatosis depends upon the type, severity of signs and symptoms, and the underlying cause of the condition, among other factors
There are several types of Lipomatosis depending upon the pattern or region affected. These include:
Diffuse Lipomatosis: In this type, the adipose tissue (fat tissue) is spread around the region. It is mostly seen in the trunk and head and neck region
Symmetric Lipomatosis: When a symmetrical pattern of fat distribution is seen; it frequently involves the neck and chest
Pelvic Lipomatosis: Involvement of the pelvic region, such as region near the urinary bladder or rectum, is observed
Steroid Lipomatosis: It occurs against a background of abnormal hormone levels or steroids in the body. The regions affected include the face and upper trunk
HIV-associated lipodystrophy: It occurs against a background of HIV infection and is characterized by fat accumulation and fat-wasting with systemic involvement of the body
Who gets Lipomatosis? (Age and Sex Distribution)
Lipomatosis is typically seen in children below the age of 2 years, but adults may also be affected
There is no gender preference and both males and females are affected
Generally, there is no known geographical, racial, or ethnic preference. However, the following are observed:

Lipomatosis in the pelvic region is mostly seen in dark-skinned males (African), between 9-80 years of age
In middle-aged Mediterranean men, a symmetric presentation of Lipomatosis is observed
Individuals who have tested positive for HIV infection are seen with HIV-associated lipodystrophy
What are the Risk Factors for Lipomatosis? (Predisposing Factors)
The following risk factors have been identified for Lipomatosis:
Many individuals have a history of liver disease or excess alcohol consumption
Individuals on hormone therapy are associated with steroid Lipomatosis
Individuals with increased adrenocortical steroid production may also be associated with steroid Lipomatosis
Individuals with HIV infection show lipodystrophy (degeneration of fatty tissues in the body), when treated with protease inhibitors or other antiretroviral therapy drugs
It is important to note that having a risk factor does not mean that one will get the condition. A risk factor increases one's chances of getting a condition compared to an individual without the risk factors. Some risk factors are more important than others.
Also, not having a risk factor does not mean that an individual will not get the condition. It is always important to discuss the effect of risk factors with your healthcare provider.
What are the Causes of Lipomatosis? (Etiology)
The exact cause and mechanism of Lipomatosis formation is unknown
The pattern of Lipomatosis distribution may depend on the underlying cause, since the condition may occur due to HIV infection or following longstanding steroid therapy
In some cases, an autosomal dominant pattern of inheritance has been observed
Autosomal dominant: Autosomal dominant conditions are traits or disorders that are present when only one copy of the mutation is inherited on a non-sex chromosome. In these types of conditions, the individual has one normal copy and one mutant copy of the gene. The abnormal gene dominates, masking the effects of the correctly function gene. If an individual has an autosomal dominant condition, the chance of passing the abnormal gene on to their offspring is 50%. Children, who do not inherit the abnormal gene, will not develop the condition or pass it on to their offspring.
What are the Signs and Symptoms of Lipomatosis?
In a majority of cases, the individuals have excessive fat deposition that presents like a mass. The fatty tissue deposition or overgrowth can take place at any region of the body (multiple locations), giving rise to associated signs and symptoms:
Diffuse Lipomatosis:
This form is seen in the chest and back area (trunk), head and neck region, around the arm or leg, abdomen and pelvis
If the limbs are involved, then abnormally large toe or finger (digits), a condition known as macrodactyly, is seen
Symmetric Lipomatosis:
It frequently involves the neck or upper body areas
The central nervous system (CNS) may be involved with the peripheral nerves being affected causing numbness and weakness
Pelvic Lipomatosis:
The tumor mass is mostly seen around the urinary bladder (perivesical region) or around the rectum (perirectum region)
It can cause increased urination frequency and constipation
Pain in the back, abdomen, and perineum (region in the lower pelvis, between the legs) 
Steroid Lipomatosis:
It is characterized by facial fat
Involvement of the breast bone or upper back in the center (resembling a buffalo hump) may be seen
HIV-associated lipodystrophy:
Abnormal body fat affecting the breast/chest (upper body), involvement of the cervical region
Increased blood lipid levels (hyperlipidemia)
Insulin resistance resulting in sugar buildup in blood
Absence of fat in the face and limbs may be observed (fat-wasting)
Note: Excess fat collection in the neck region can lead to obstruction of the larynx and compression of adjoining structures, including the blood vessels (vena cava).
How is Lipomatosis Diagnosed?
A diagnosis of Lipomatosis is made using the following tools:
Complete physical examination with thorough evaluation of the individual's medical history
CT and MRI scan of the affected region: It can show extent of fat accumulation in various parts of the body
Nerve conduction studies, if the nervous system is affected
Tissue biopsy: A tissue biopsy is performed and sent to a laboratory for a pathological examination, who examines the biopsy under a microscope. After putting together clinical findings, special studies on tissues (if needed) and with microscope findings, the pathologist arrives at a definitive diagnosis
Many clinical conditions may have similar signs and symptoms. Your healthcare provider may perform additional tests to rule out other clinical conditions to arrive at a definitive diagnosis.
What are the possible Complications of Lipomatosis?
The complications from Lipomatosis could include:
Emotional stress from cosmetic issues
In some cases, the excess fat accumulation may compress the larynx resulting in blocked windpipe; this may result in death
Pelvic Lipomatosis can result in blocked intestinal tract. It can also cause swollen kidneys when urine is not properly drained from the kidneys
Compression of the underlying nerve, which can affect nerve function
Damage to the nerve during surgery to remove the tumor
Recurrence after surgery at the same location, is observed in almost all cases
How is Lipomatosis Treated?
The treatment measures for Lipomatosis may include the following:
Surgical excision with removal of the entire tumor can be attempted. However, since recurrence of the condition is high, surgery is undertaken to offer relief from symptoms
Steroid Lipomatosis can be treated through suitable medication or by lowering steroid levels in the body
In case of HIV-infected individuals with lipodystrophy, recombinant growth hormone therapy has been used with a measure of success
Post-operative care is important: One must maintain minimum activity levels, until the surgical wound heals
Follow-up care with regular screening and check-ups are important and encouraged
How can Lipomatosis be Prevented?
Current medical research has not established a method of preventing Lipomatosis. However, some of the risk factors for the condition may be reduced or addressed:
Avoiding consumption of alcohol in excess
Promptly addressing and treating any liver health conditions or liver diseases
Thoroughly evaluating the health and medical history of an individual prior to administering any hormonal therapy
Undertaking appropriate and early treatment in case of HIV-infection
What is the Prognosis of Lipomatosis? (Outcomes/Resolutions)
The prognosis of Lipomatosis (benign tumor) depends upon several factors including:

The underlying cause of the condition
Severity of the signs and symptoms
Overall health of the individual
Response to treatment

Lipomatosis may be treated through surgery, although the probability of tumor recurrence is very high
Some types or patterns of Lipomatosis have better prognosis than others
Additional and Relevant Useful Information for Lipomatosis:
When the neck area is affected, Lipomatosis is referred to as Madelung disease
Lipomatosis of nerve is an infrequent benign tumor occurring on the surface of a nerve due to the growth of fibrous and fatty tissue
What are some Useful Resources for Additional Information?
American Cancer Society (ACS)
1599 Clifton Road, NE Atlanta, GA 30329-4251
Toll-Free: (800) 227-2345
TTY: (866) 228-4327
Website: http://www.cancer.org
National Cancer Institute (NCI)
U.S. National Institutes of Health
Public Inquiries Office
Building 31, Room 10A03
31 Center Drive, MSC 8322 Bethesda, MD 20892-2580
Phone: (301) 435-3848
Toll-Free: (800) 422-6237
TTY: (800) 332-8615
Email: cancergovstaff@mail.nih.gov
Website: http://www.cancer.gov
References and Information Sources used for the Article:
WHO Classification of Tumours of Soft Tissue and Bone; Edited by Christopher D.M. Fletcher, Julia A. Bridge, Pancras C. W. Hogendoorn, Fredrik Mertens; 4th Ed., IARC Press, Lyon, 2013
http://surgpathcriteria.stanford.edu/softfat/lipomatosis/ (accessed on 04/10/2017)
http://www.joacp.org/article.asp?issn=0970-9185;year=2013;volume=29;issue=3;spage=410;epage=411;aulast=Rustom (accessed on 04/10/2017)
http://www.nejm.org/doi/full/10.1056/NEJMicm1316241#t=article (accessed on 04/10/2017)
Helpful Peer-Reviewed Medical Articles:
Kamal, D., Breton, P., & Bouletreau, P. (2010). Congenital infiltrating lipomatosis of the face: report of three cases and review of the literature. Journal of Cranio-Maxillofacial Surgery, 38(8), 610-614.
Kocaoglu, M., Bozlar, U., Sanal, H. T., & Guvenc, I. (2014). Replacement lipomatosis: CT and MRI findings of a rare renal mass. The British journal of radiology.
Hasegawa, T., Matsukura, T., & Ikeda, S. (2010). Mesotherapy for benign symmetric lipomatosis. Aesthetic plastic surgery, 34(2), 153-156.
Plummer, C., Spring, P. J., Marotta, R., Chin, J., Taylor, G., Sharpe, D., ... & Berkovic, S. F. (2013). Multiple symmetrical Lipomatosis—a mitochondrial disorder of brown fat. Mitochondrion, 13(4), 269-276.
Woodhouse, J., & Ferguson, M. M. (2014). Multiple hyperechoic testicular lesions are a common finding on ultrasound in Cowden disease and represent lipomatosis of the testis. The British journal of radiology.
Phi, J. H., Park, S. H., Chae, J. H., Wang, K. C., Cho, B. K., & Kim, S. K. (2010). Papillary glioneuronal tumor present in a patient with encephalocraniocutaneous lipomatosis: case report. Neurosurgery, 67(4), E1165-E1169.
Chang, S. D., Coakley, F. V., & Goldstein, R. B. (2014). Renal replacement lipomatosis associated with renal transplantation. The British journal of radiology.
Mevio, E., Sbrocca, M., Mullace, M., Viglione, S., & Mevio, N. (2012). Multiple symmetric lipomatosis: a review of 3 cases. Case reports in otolaryngology, 2012.
Tok, C. H., Kaur, S., & Gangi, A. (2011). Symptomatic spinal epidural lipomatosis after a single local epidural steroid injection. Cardiovascular and interventional radiology, 34(2), 250-255.
Singh, K., Sen, P., Musgrove, B. T., & Thakker, N. (2011). Facial infiltrating lipomatosis: a case report and review of literature. International journal of surgery case reports, 2(7), 201-205.