Lichen Sclerosus of Anus
Last updated Oct. 28, 2018
Approved by: Maulik P. Purohit MD, MPH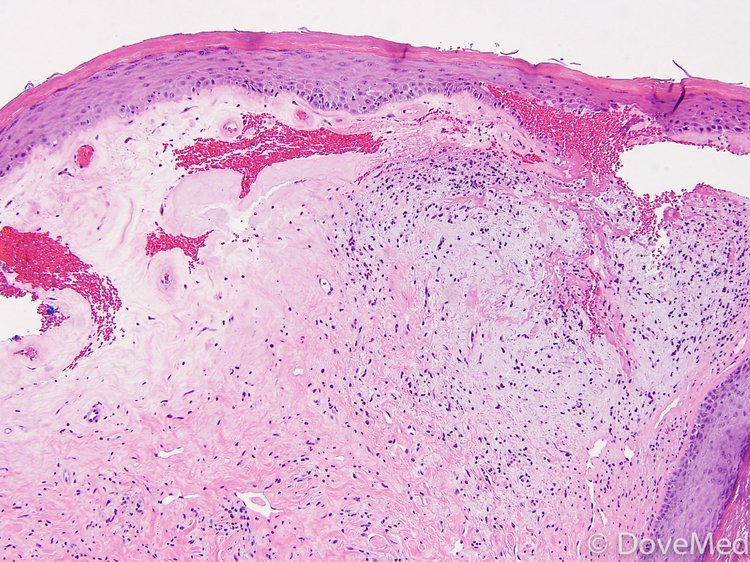 Microscopic pathology image showing lichen sclerosis.
---
What are the other Names for this Condition? (Also known as/Synonyms)
What is Lichen Sclerosus of Anus? (Definition/Background Information)
Lichen sclerosus is a clinical condition of the skin, of unknown origin (in most cases) that commonly affects the genitalia. This chronic skin disorder is 10 times more common in females than males
In Lichen Sclerosus of anus, there is the presence of white spots on the anus that usually do not ulcerate and bleed. These spots may cause itching (most common symptom) and sometimes, pain. It has been established that some cases even have the potential to develop into invasive squamous cell carcinomas
Anal Lichen Sclerosus can be diagnosed through medical history evaluations, complete physical exam, and confirmed through a skin biopsy
A majority of the cases are asymptomatic and mild, requiring no treatment. In such cases, the prognosis of mild Lichen Sclerosus of Anus is excellent. However, chronic and severe cases are difficult to treat
Who gets Lichen Sclerosus of Anus? (Age and Sex Distribution)
Lichen Sclerosus of Anus is a skin condition that can affect from young boys and girls (8-10 years old) to older men and women (60 years and over); it has a bimodal age distribution
In general, both males and females are affected by lichen sclerosus. However, the condition is seen at a much higher incidence in females (10:1 female to male ratio)
There is no racial or ethnic predilection for this condition; it is observed worldwide
What are the Risk Factors for Lichen Sclerosus of Anus? (Predisposing Factors)
Risk factors identified for Lichen Sclerosus of Anus include:
Autoimmune disorders
Certain bacterial infections have also been suggested to increase the risk for lichen sclerosus
It is important to note that having a risk factor does not mean that one will get the condition. A risk factor increases ones chances of getting a condition compared to an individual without the risk factors. Some risk factors are more important than others.
Also, not having a risk factor does not mean that an individual will not get the condition. It is always important to discuss the effect of risk factors with your healthcare provider.
What are the Causes of Lichen Sclerosus of Anus? (Etiology)
The exact cause of Lichen Sclerosus of Anus is not well-established or understood
Some researchers believe that it is due to abnormalities in cell-mediated immunity
The condition is non-infectious; it does not spread through direct physical contact from one individual to another
What are the Signs and Symptoms of Lichen Sclerosus of Anus?
The signs and symptoms of Lichen Sclerosus of Anus include the following:
The presence of white spots on the anus that are usually not ulcerated
Itching is the most common symptom associated with the lesions; sometimes, pain may be observed
With time, they grow bigger in size and may ulcerate and bleed
There may be relapse and remission of the signs and symptoms; they may appear, subside, and recur
How is Lichen Sclerosus of Anus Diagnosed?
The diagnosis of Lichen Sclerosus of Anus may involve the following procedures:
The diagnosis usually entails a good physical examination and comprehensive evaluation of one's medical history
Examination of the skin by a dermatologist using a special magnified lens (dermoscopy)
Skin biopsy: A skin biopsy is performed and sent to a laboratory for a pathological examination, who examines the biopsy under a microscope. After putting together clinical findings, special studies on tissues (if needed) and with microscope findings, the pathologist arrives at a definitive diagnosis
The condition is commonly mistaken for fungal infection of the anus
Many clinical conditions may have similar signs and symptoms. Your healthcare provider may perform additional tests to rule out other clinical conditions to arrive at a definitive diagnosis.
What are the possible Complications of Lichen Sclerosus of Anus?
The complications of Lichen Sclerosus of Anus may include the following:
Intense scratching of the lesions can lead to secondary bacterial or fungal infections
The longstanding lesions can cause self-image issues, emotional stress, and psychological trauma in some individuals, leading to depression
There is a higher incidence of the lesions developing into invasive squamous cell carcinomas
How is Lichen Sclerosus of Anus Treated?
In most individuals, lichen sclerosus is a self-limiting skin disorder that may not require any treatment. The condition subsides and goes away on its own. The symptoms may be mild and symptomatic treatment is usually not required.
In those with significant symptoms, there is no definitive cure for Lichen Sclerosus of Anus. However, the treatment strategies that may be adopted include:
Application of topical steroidal creams and topical tacrolimus
Surgical excision may be undertaken, if the condition is symptomatic and is non-responsive to treatment using topical applications
The presence of chronic skin lesions may cause psychological discomfort; individuals may require reassurance to help with stress and anxiety
Follow-up care with regular screening and check-ups are important
Despite therapy, the skin lesions persist for a long period of time, resulting in a chronic skin disorder.
How can Lichen Sclerosus of Anus be Prevented?
There is currently no effective means to prevent Lichen Sclerosus of Anus, because the cause of this disorder is unknown. Nevertheless, the following measures may help mitigate risks and avoid the condition from becoming worse:
Maintaining good personal hygiene and care
Avoiding scratching of the 'itchy' lesions
Treating autoimmune disorders adequately
What is the Prognosis of Lichen Sclerosus of Anus? (Outcomes/Resolutions)
The skin lesions in Lichen Sclerosus of Anus are not life-threatening, but the prognosis depends upon the severity of the condition; severe disorders are difficult to treat and they may become chronic (lasting for a very long period of time)
In a majority of cases, the condition is asymptomatic or mild, which subsides on its own without the requirement for any treatment
Additional and Relevant Useful Information for Lichen Sclerosus of Anus:
It has not been observed that dietary factors contribute to lichen sclerosus development
Cleaning the skin too hard with strong chemicals or soaps may aggravate the condition. Care must be taken avoid strong soaps and chemicals that could potentially worsen the condition
What are some Useful Resources for Additional Information?
American Academy of Dermatology
930 E. Woodfield Road Schaumburg, IL 60173
Phone: (866) 503-SKIN (7546)
Fax: (847) 240-1859
Website: http://www.aad.org
References and Information Sources used for the Article:
Wolff, K., & Johnson, R. A. (2009). Fitzpatrick's color atlas and synopsis of clinical dermatology. McGraw-Hill Medical.

Thiers, B. H. (1989). Year Book of Dermatology 1988. Archives of Dermatology, 125(8), 1150.

Burns, T., & Breathnach, S. (1992). Rook's Textbook of dermatology Vol 4. London: Blackwell Scientific Publications, 1992.

Bolognia, J. L., Schaffer, J. V., Duncan, K. O., & Ko, C. J. (2014). Dermatology Essentials E-Book. Elsevier Health Sciences.
Helpful Peer-Reviewed Medical Articles:
Chi, C. C., Kirtschig, G., Baldo, M., Brackenbury, F., Lewis, F., & Wojnarowska, F. (2011). Topical interventions for genital lichen sclerosus. The Cochrane Library.

Chi, C. C., Kirtschig, G., Baldo, M., Lewis, F., Wang, S. H., & Wojnarowska, F. (2012). Systematic review and meta-analysis of randomized controlled trials on topical interventions for genital lichen sclerosus. Journal of the American Academy of Dermatology, 67(2), 305-312.

Isaac, R., Lyn, M., & Triggs, N. (2007). Lichen sclerosus in the differential diagnosis of suspected child abuse cases. Pediatric emergency care, 23(7), 482-485.

Laude, T. A., Narayanaswamy, G., & Rajkumar, S. (1980). Lichen sclerosus et atrophicus in an eleven year old girl. Report of a case. Cutis, 26(1), 78-80.

Sadowska-Przytocka, A., Dańczak-Pazdrowska, A., Szewczyk, A., Czarnecka-Operacz, M., Jenerowicz, D., Osmola-Mańkowska, A., & Olek-Hrab, K. (2012). Treatment of genital lichen sclerosus in women–review. Ginekologia polska, 83(6).

Adams, B. B., & Mutasim, D. F. (2001). Annular lichen sclerosus et atrophicus. Cutis, 67(3), 249-250.

Paolino, G., Panetta, C., Cota, C., Muscardin, L., Donati, P., & Di Carlo, A. (2013). Lichen sclerosus and the risk of malignant progression: a case series of 159 patients. G Ital Dermatol Venereol, 148(6), 673-8.

Baggish, M. S., & Ventolini, G. (2006). Lichen sclerosus: Subdermal steroid injection therapy. A large, long-term follow-up study. Journal of Gynecologic Surgery, 22(4), 137-141.
Reviewed and Approved by a member of the DoveMed Editorial Board
First uploaded: Oct. 5, 2015
Last updated: Oct. 28, 2018